New Books
CSM Chair Kyle Huckins releases book of columns tackling faith, race, today's issues
Column wins national, statewide awards for excellence, including coverage of issues concerning minorities

Just released by Wipf and Stock, "Getting From Here to Eternity: A Spirit-filled View of the News" is a compilation of more than two years of newspaper columns on religion written by the Rev. Kyle Huckins, Ph.D., chair of AEJMC's Commission on the Status of Minorities. The items address virtually all major issues regarding faith across the nation and, to a more limited extent, the world during the period, including gay rights, separation of church and state, the rise of non-Christian religions and more. There also are pieces about Christian living, theology and worldview.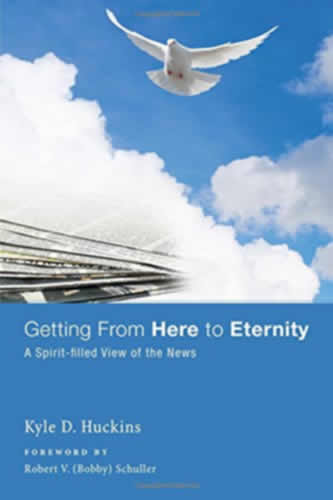 All items are written from the perspective of an evangelical Christian journalist with a quarter-century in the news business also one of the few Caucasians ordained in an African-American denomination. The column has won awards for excellence from the Religion Newswriters Association (the world's largest group of faith-focused journalists) and Evangelical Press Association (the nation's biggest organization of Christian newspeople) plus four honors from the Indiana Society of Professional Journalists, including one for best coverage of issues concerning minorities.
Huckins has written college curricula for the book for journalism/media classes as well as theology courses. A church Bible study is also available. All are free with an order of eight or more copies from the book's website, www.gettingfromheretoeternity.com.
The Church of God in Christ, the author's credentialing denomination, is enthusiastic about the volume's dealing with race, religion and reconciliation. "It is an honor to have included in this journalistically sound work both views from and stories about our church, the largest Pentecostal denomination in the U.S.," said Robert Coleman, executive director of public relations for COGIC and the managing
editor of its The Whole Truth magazine.
Huckins is a journalism professor at Azusa Pacific University in Greater Los Angeles as well as a columnist for Central Indiana Newspaper Group, feature writer for The Whole Truth magazine, and an ordained elder in the Church of God in Christ. He's been a professional newsman since 1989, winning 15 awards for his work in small, medium and large media markets. He has been teaching journalism at the college level for 15 years and specializes in religion and media in his scholarly research, for which he's been honored three times. Huckins was ordained in 2003 and has addressed congregations of more than a dozen different denominations, including all major African-American ones. He has an earned doctorate in journalism and significant graduate study in religion.


Source: Resource Publication