Hot Topic Panel
Pictures from the MAC Division's Hot Topic Panel in AEJMC 2015
Hot Topic Panel in AEJMC 2015
Coverage of the Charleston church shooting and other related events in mainstream, social and alternative media -- Research Insights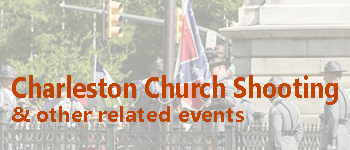 A group of AEJMC members will review how the media handled the recent shooting of nine people at a Charleston, SC church and the subsequent debate and removal of the Confederate flag from the South Carolina Statehouse grounds during a roundtable.
The events this summer heightened another national discussion about race, one that will not only be a part of our August conference, but also continue over the airwaves of public television as AEJMC members share their perspectives on an issue-oriented program on KQED-TV.
The roundtable entitled "Coverage of the Charleston Church Shooting and Other Related Events in Mainstream, Social and Alternative Media: Research Insights" will take place Friday, August 7 from 11:45 a.m. until 1:15 p.m.
The six participants represent a cross-section of voices from graduate students, faculty members and administrators from large and small institutions.
Dean Dorothy Bland is the dean of the Frank W. and Sue Mayborn School of Journalism at the University of North Texas.


Ginger Blackstone will bring her more decade of experience as a newsroom manager at CNN to the roundtable discussion. Blackstone is currently a doctoral student at The University of Florida.

A second doctoral student from University of Florida, Holly Cowart will share some of the insights from her research on race.

Doug Mendenhall is Journalist-in-Residence at Abilene Christian University.

Dr. Mia Moody-Ramirez, associate professor at Baylor University is co-author of The Obamas and The Mass Media.

Dr. Phillip Jeter is professor and chair of Department of Mass Communications at Winston Salem State University.
Following the roundtable, a group of the panelists will videotape a 30-minute discussion for a program on Bay Air PBS affiliate KQED-TV. Equal Time, is an in-depth issue-oriented program hosted by Former CNN Correspondent Bob Rucker, who now leads the School of Journalism and Mass communications at San Jose State University.
By broadening the audience beyond those attending the conference in San Francisco, the roundtable participants play a key in fulfilling the professional freedom and responsibility role of the Association.
NOTE: The association's Minorities and Communication Division is the main sponsor of this panel while Cultural and Critical Studies Division is the co-sponsor.

Written by moderator of this panel Dr. George Daniels at University of Alabama, also the recipient of Robert Knight Multicultural Recruitment Award in 2015.