Stroman Award
MAC introduces "Dr. Carolyn Stroman New Graduate Student Membership Award"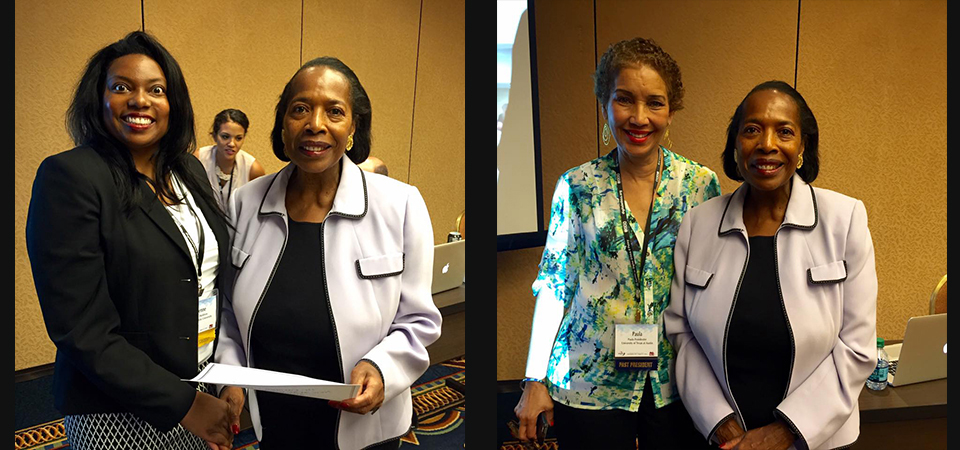 Dr. Carolyn Stroman with the award winner Adrienne Muldrow (Left); Dr. Stroman with Dr. Paula Poindexter, sponsor of the award.(Right)

(Aug. 19, 2016) - With generous financial support from Dr. Paula Poindexter, MAC Division has launched "Dr. Carolyn Stroman New Graduate Membership Award" to recruit more graduate student members.
The award was formally introduced in the division's members meeting in Minneapolis on Aug. 5, when Dr. Carolyn Stroman at Howard University handed over certificates to five inaugural recipients of the award -- Aqsa Bashir, Earlesha Butler, Christopher Frear, Adrienne Muldrow, and Ricardo Valenica.
The rationale of this award is to engage new graduate student members with the goal of developing life-long MAC members which is vital for the future of MAC and AEJMC.
Therefore, a goal of this award program is to offer free membership to 15 new graduate students every year.

Award Criteria:
A. Automatic for graduate students who submit conference papers to MAC Division

B. Automatic for Barrow Doctoral Minority Student Scholarship Recipient

C. Offering free membership to graduate student AEJMC members who are interested in researching, teaching, and/or participating in activities related to race and ethnicity. MAC Division will identify

2016 recipients of the Award:
| | |
| --- | --- |
| Aqsa Bashir | University of Florida |
| Earlesha Butler | University of Florida |
| Christopher Frear | University of South Carolina |
| Adrienne Muldrow | Washington State University |
| Ricardo Valencia | University of Oregon |