50th Anniversary Events
MAC Division's 50th Anniversary Events
In this year, 2021, the AEJMC's Minorities and Communication Division (MACD) celebrates its 50th anniversary. As part of the observance of its 50th anniversary, the division has planned for four special panels in four journalism and mass communication conferences.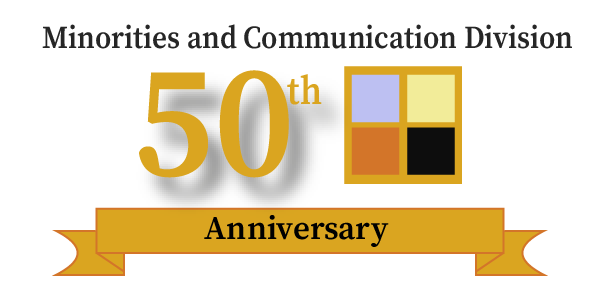 2021 AEJMC Annual Conference: MAC's Golden Anniversary- Trailblazers, Troublemakers and Traditions
Virtual: Friday August 6, 2-3:30 (CST)
Moderating/Presiding
Sydney Dillard, DePaul
Panelists:
Melody Fisher, Mississippi State
Denetra Walker, South Carolina
Mas Biswas, Loyola
Jannette Dates, Howard (Emeritus)
---
2021 AEJMC Midwinter Conference Panel: "A disproportionate crisis: Race and COVID-19-related communication needs and concerns"
Virtual Conference Panel: Saturday, March 6, 2021 11:10-12:20 (CST)
Various faculty and graduate students will apply the health belief model to communication strategy. Specifically panelists will discuss perceptions of disease susceptibility, disease severity, and issues of access, benefits of, and barriers to vaccination. While this panel will be theory-guided, the hope is to provide discussion that will also inform best practices in addition to directions for future research.
Moderator: Monique Luisi, Ph.D., Missouri

Panelists:

Rebekka Schlichting, University of Kansas
Vincent Peña, UT Austin
Tiffany Jones, Missouri
Ashley Jones, Mississippi State
Antonio Gardner, Mississippi State
Midwinter Conference Registration
---
2021 AEJMC Southeast Colloquium: "MAC: The Voice in AEJMC for Racial and Ethnic Diversity"
Virtual Conference Panel: Friday, March 19, 5:00-6:15 p.m. (EST)
For all of its 50 years, the MAC Division has worked valiantly to make marginalized voices and perspectives more prominent in media communications education, research, and the profession. In this panel, former MAC heads will focus on (1) Diversity, Equity and Inclusion (DEI) efforts within and outside of AEJMC, (2) how MAC has provided an outlet for research and inclusiveness, (3) how MAC has helped young scholars of color connect with mentors, engage in a supportive community and find leadership opportunities, and (4) how MAC has helped keep AEJMC, college journalism and the profession held accountable.
Moderator: Melody Fisher, Mississippi State

Panelists:

Phil Jeter, Winston-Salem State
Sharon Bramlett-Solomon, Arizona State
Paula Poindexter, University of Texas at Austin
Ilia Rodriguez, 2010-2011, University of New Mexico
---
Media & Civil Rights History Symposium: Social Justice & the Media
(Virtual), free registration, Friday, March 26, 2021.
This session celebrates the 50th anniversary of the founding of the Minorities and Communication Division (MAC) of the Association for Education in Journalism and Mass Communications.
Research Papers
- George L. Daniels, Alabama – The Movement before MAC: 1960s Change Agents for Media Education Diversity

- Sage Meredith Goodwin, Oxford – The Lily-white Television Newsroom: Civil Rights on Screen and the Colour Line Behind the Scenes in 1960s America Research-in-Progress

- Denetra Walker, South Carolina – Soldiers for Social Justice: NABJ Championing the Call from the Civil Rights Movement to Black Lives Matter

- Bala James Baptiste, Miles College – African American and Civil Rights Radio: Chicago vs. New Orleans

- James West, Northumbria University – Let's Get It Together: The Greyhound Corporation, Civil Rights, and Corporate Social Responsibility in Postwar America

- Joyce Farley, Universities Allied for Essential Medicines – In Absentia: Black Detroit & The Story of Sunday, July 23, 1967
---