Race and the free-speech diversion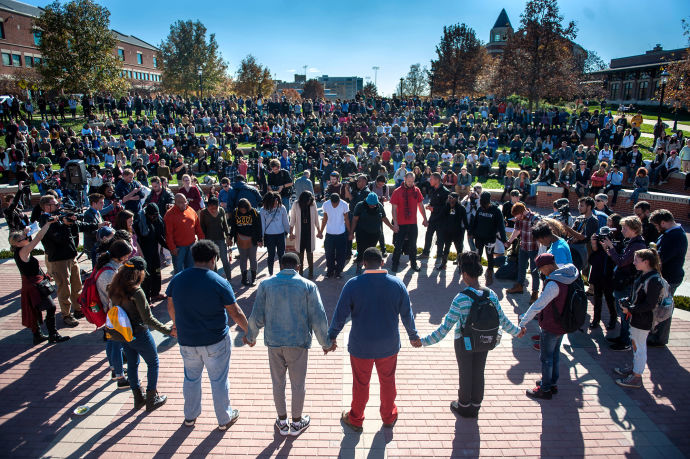 By Jelani Cobb
(Nov. 10, 2015 | New Yorker) - Of the many concerns unearthed by the protests at two major universities this week, the velocity at which we now move from racial recrimination to self-righteous backlash is possibly the most revealing. The unrest that occurred at the University of Missouri and at Yale University, two outwardly dissimilar institutions, shared themes of racial obtuseness, arthritic institutional responses to it, and the feeling, among students of color, that they are tenants rather than stakeholders in their universities. Read more
Related Article
- Why Tim Wolfe's resignation from the University of Missouri is a warning for all universities (Source: Chris Parr | LinkedIn Pulse)
---
Racial disparities in higher education: An overview
By Beckie Supiano
(Nov. 10, 2015 | Chronicle of Higher Education) - Racism on American campuses is a matter of national concern again this week following protests at the University of Missouri at Columbia that led on Monday to the resignations of both the campus's chancellor and the system's president. Read more
---
Racist cartoon disgraces State University in New York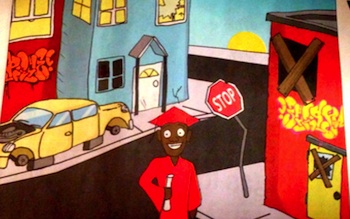 By Sheryl Estrada
(Oct. 30, 2015 | DiversityInc.) - Last week, the cover of the State University of New York's (SUNY) Plattsburgh campus' student newspaper featured a cartoon portraying a Black male with a wide smile and bulging eyes in a cap and gown walking through a run-down urban neighborhood. Read more
---
Building the first Slavery Museum in America
By David Amsden
(March 1, 2015 | The New York Times) - Louisiana's River Road runs northwest from New Orleans to Baton Rouge, its two lanes snaking some 100 miles along the Mississippi and through a contradictory stretch of America. Read more
---
How the New York Times covered Ferguson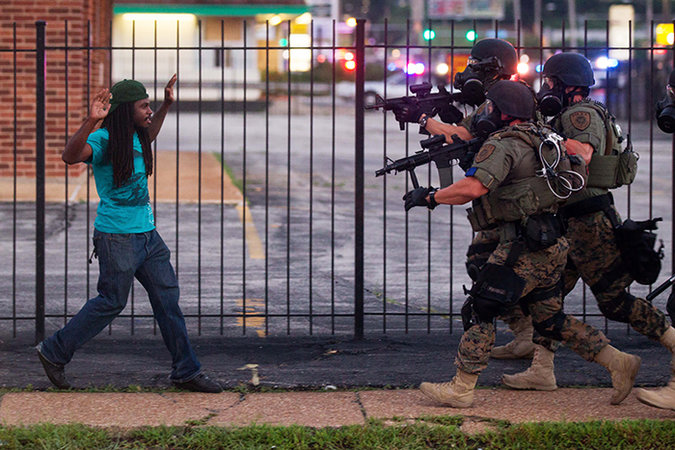 (Oct. 5, 2015 | Times Insider) - The Times recently passed one million digital-only subscribers. To celebrate, Times Insider this week is checking in with the reporters and editors behind some of our biggest stories and core coverage areas of the past four years.
When an unarmed black teenager was shot by a white police officer on Aug. 9, 2014, kicking off unrest in Ferguson, Mo., the first New York Times reporter on the scene flew 300 miles from Chicago.
The story escalated, and The Times kicked into high gear. We needed coverage, and quickly.
Reporters came from St. Louis, but also flew in from New York, New Orleans, Houston and Atlanta. Photographers and videographers captured the scene. Our journalists filed day and night to a team of editors in New York. Read more
---
Human Rights, Hate Crimes and Hashtags: Evaluating Community Discussions on Social Media
By Katie Lever, Research Assistant, and Victoria LaPoe, Western Kentucky University

It is obvious that culture and time shape language. The word "tweet" was once used to exclusively describe communication between birds, but now millions of humans tweet on a daily basis. These tweets still send messages but they resonate much louder than a simple chirp. Although flighty like birds, tweets can hold tremendous weight in spite of their short window of relevance (Tweets are extremely replaceable and hard to find in the time after they are posted due to the massive circulation of tweets around the world) with the aid of the pound sign. Read more
---
CNN democratic debate backlash: Journalists Of color blast network's 'ghettoizing' reporters on race, immigration questions
By Aaron Morrison
(Oct. 14, 2015 | International Business Times) - As a black journalist, Zuri Berry has often been asked if he wanted to take a story assignment because it involved the African-American community. On at least one occasion he has said no. Other times, he has happily accepted the assignment. Read more
---
Evelyn Hsu appointed Executive Director of Maynard Institute
(Sept. 25, 2015 | MIJE ) - The Maynard Institute for Journalism Education's board of directors has named Evelyn Hsu as its executive director.Read more
---
Remembering Dori J. Maynard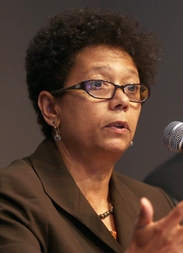 Dori J. Maynard has been a model for those of us working on the Media Diversity Forum. We have appreciated her advice and sharing of information, and we value the leadership she and the Maynard Institute have provided to efforts across this country to increase diversity and social justice in the media. We knew she always would be available when we reached out to her. But most of all we will miss her as a wonderful person and a true friend.

- Ralph Izard
Executive Director, Media Diversity Forum
Feb. 25, 2015.


Related Stories:
- Sally Lehrman on Dori Maynard: "A Legacy of Fierce Love" (Maynard Institute | March 3, 2015)

- Dori J. Maynard, longtime champion of diversity, died Tuesday, Feb. 24 (Source: Maynard Institute)

- Social media reaction: How we remembered Dori J. Maynard @djmaynard (Source: San Jose Mercury News)


---