Evelyn Hsu appointed Executive Director of Maynard Institute
(Sept. 25, 2015 | MIJE ) - The Maynard Institute for Journalism Education's board of directors has named Evelyn Hsu as its executive director.
Hsu was named acting director after the death in February of MIJE president Dori Maynard, under whom Hsu had served as director of programs and operations. They created training programs such as the Media Academy for managers, which conducted sessions at the Nieman Foundation at Harvard University and at Northwestern University. Read more
---
#DalitWomenFight comes to NYC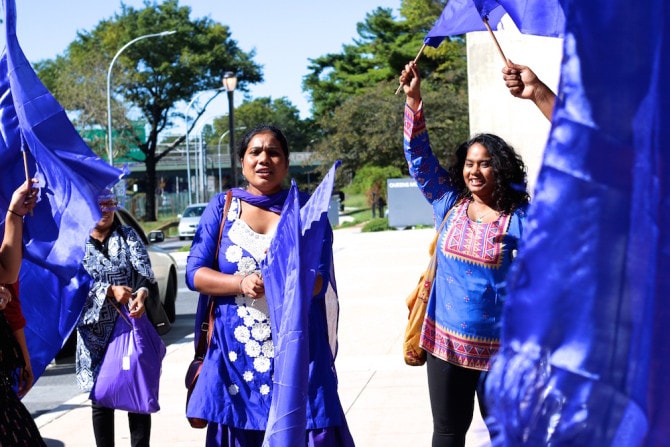 By Rahimon Nasa
(Sept. 25, 2015 | Voices of NY) - Echoes of the Dalit greeting Jai Bhim could be heard in the lobby of the Queens Museum as a group of Dalit activists made their way through the borough for a panel on Sept. 20. Read more
---
Diversity and inclusion in advertising: Moving from talking to doing
By Roxanne Hobbs
(Sept. 11, 2015 | Huffington Post Blog) - Diversity seems to be a bit of a buzzword in the industry at the moment. There is a general sense that we must be able to do better and that diversity and inclusion are organizational imperatives that we should embrace. Read more
---
Jo Ellen Green Kaiser: Do independent news outlets have a blind spot when it comes to ethnic media?
By Jo Ellen Green Kaiser
(Aug. 21, 2015 | Nieman Lab) - Last May, I attended a retreat on independent journalism with the hope of bringing more infrastructural support to the field. I came out of that convening, however, with the realization that the very way we talk about independent journalism contains an unspoken racial bias — a bias we need to correct. Read more
---
PBS NewsHour launches year-long conversation on race, diversity and intolerance
(Aug. 31, 2015 | PBS.org) - Michael Brown. Freddie Gray. Eric Garner. These are just three names that have dominated news coverage in the past year. Different stories and different circumstances, provoking similar conversations about race on a national and international level. They underscore the reality that America's deepest wound is far from healed. Read more
---
When discrimination is baked into algorithms
By Lauren Kirchner
(Sept. 6, 2015 | The Atlantic) - A recent ProPublica analysis of The Princeton Review's prices for online SAT tutoring shows that customers in areas with a high density of Asian residents are often charged more. When presented with this finding, The Princeton Review called it an "incidental" result of its geographic pricing scheme. The case illustrates how even a seemingly neutral price model could potentially lead to inadvertent bias—bias that's hard for consumers to detect and even harder to challenge or prove. Read more
---
Racially disparate views of New Orleans's recovery after Hurricane Katrina
By Campbell Robertson
(Aug. 24, 2015 | The New York Times) - As the 10th anniversary approaches of Hurricane Katrina and the catastrophic levee breaches in New Orleans, a new survey finds a stark racial divide in how residents here view the recovery. Read more
Related article
- Katrina 10 years later: New Orleans disrespects its Black community (DiversityInc. | Aug. 28, 2015)
---
TV's slow embrace of diversity
By Alyssa Rosenerberg
(Aug. 18, 2015 | The Washington Post) - Last Thursday, NBC presented its slate of new fall television shows, including sitcom "Truth Be Told," on the final day of the Television Critics Association press tour. "Truth Be Told" centers on two couples — played by Tone Bell and Bresha Webb, who are African American, Vanessa Lachey, who is mixed-race, and Mark Paul Gosselaar, who is white — who are close friends and neighbors. The show's conceit is that the characters are close enough to be able to have honest conversations, including about issues of race. Read more
---
Tech Diversity: Apple more than doubles hiring of women and minorities
By Brandon Bailey
(Aug. 13, 2015 | The Washington Post) - Apple says it more than doubled the numbers of women, blacks and Hispanics hired in the last year, although that barely moved the needle in terms of improving the diversity of its total workforce. Read more
Related Stories:
- Tech Diversity: Hewlett-Packard Adds Numerous Women, African-Americans To The Boards Of Its New Companies (International Business Times | Aug. 12, 2015)
- Jesse Jackson escalates Silicon Valley diversity campaign (USA Today | Aug. 10, 2015)
---
Racial wealth gap persists despite degree, study says
By Patricia Cohen
(Aug. 16, 2015 | The New York Times) - Even with tuition shooting up, the payoff from a college degree remains strong, lifting lifelong earnings and protecting many graduates like a Teflon coating against the worst effects of economic downturns. Read more
---
#EndTheAwkward: breaking the discomfort around disability
(Aug. 4, 2015 | Channel4.Com) - Do you know how to act around a disabled person? A new poll for for disability charity Scope's End the Awkward campaign shows the majority of disabled people - 62 per cent - say they are treated differently because they are disabled. Read more
---
Diverse hiring practices earns BuzzFeed the best practices award
(Aug. 6, 2015 | Marketwatch.Com) - The National Association of Black Journalists (NABJ) announces that BuzzFeed received the organization's Best Practices Award. The honor was presented at the association's 40th Annual Convention and Career Fair in Minneapolis, MN the nation's largest annual gathering of minority journalists. Read more
---
'Freddie Gray's Baltimore' inspires college course at University of Maryland
By Kaitlyn D'Onofrio
(Aug. 14, 2015 | DiversityInc.) - The University of Maryland Francis King Carey School of Law will be offering a unique class this fall: a course inspired by the events following the tragic death of 25-year-old Freddie Gray. The class, entitled "Freddie Gray's Baltimore: Past, Present, and Moving Forward," will be offered to University of Maryland law and social work students. Read more
---
Hollywood projects stunning lack of diversity
By Sheryl Estrada
(Aug. 10, 2015 | DiversityInc.) - It's not a news flash that major Hollywood films lack diverse characters. The acting nominees for this year's Academy Awards were solely white actors and actresses. Read more
---
Asheesh Saksena: Strategically making an impact
By Sheryl Estrada
(June 16, 2015 | DiversityInc.) - In 2011, Asheesh Saksena joined Cox Communications as Executive Vice President and Chief Strategy Officer, where he routinely uses strategic thinking to make important choices, which affect corporate strategy, strategic partnerships and incubating new businesses. Read more
---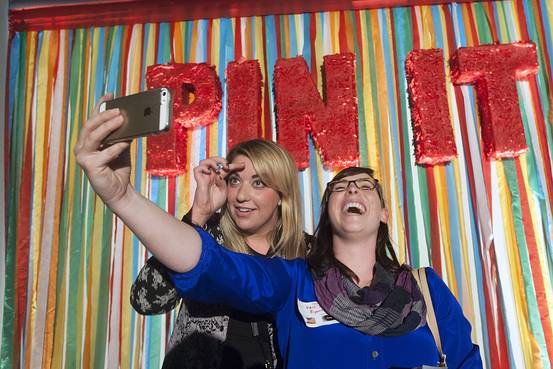 Where are all the minority journalists?
By Gillian White
(July 24, 2015 | The Atlantic) - Landing an entry-level gig in a newsroom is no easy task. Positions that are truly open to the public are hard to come by, and when one pops up, competition is fierce. So what does it take to get a job in the industry right now? Applicants just need to be savvy, persistent—and it also helps a lot if they're white. Read more
Related Stories:
-13 top editors on how they think about diversity in their newsrooms (BuzzFeed | Aug. 11, 2014)

- Building a diverse newsroom is work
---
Pinterest sets a diversity target for 2016
(July 30, 2015 | WSJ Blog) - The image-sharing site today said it has put in place specific diversity goals for 2016, including increasing the hiring rate for full time engineering roles to 30% women and 8% underrepresented minorities. For non-engineering roles, it aims to hire 12% of workers from underrepresented minorities. Read more
---
Facebook shares its internal diversity training
(July 28, 2015 | Wall Street Journal Blog) - Facebook Inc. is sharing best practices from its diversity training – though its employment of women and minorities has barely budged. Read more
---
#RealDiversityNumbers challenges tech on diversity efforts
By Jessica Guynn
(July 21, 2015 | USA Today) - A new hashtag on Twitter, #RealDiversityNumbers, is challenging technology companies on their efforts to create more diversity.
Started by Erica Baker, a former Google employee who is now an engineer at start-up Slack and who goes by Erica Joy on some publishing platforms, the hashtag is both letting people vent frustration about the industry's lack of progress and offer solutions on how to approach the problem. Read more
---
South Carolina House votes to remove Confederate flag from statehouse grounds
By Elahe Izadi and Abby Phillip
(July 9, 2015 | The Washington Post) - South Carolina Gov. Nikki Haley signed a bill that will bring down the Confederate flag on the statehouse grounds, less than a day after lawmakers in the state House of Representatives voted to remove it. Read more
---
Why Silicon Valley is failing miserably at diversity, and what should be done about it
By Salvador Rodriguez
(July 7, 2015 | International Business Times) - When Angelica Coleman, a young African-American woman, walked into the offices of Dropbox Inc. for a job interview in October 2013, one of the first things she noticed was how nobody there looked like her. When she quit this February, one of the last things she was told by her direct manager was that if she wanted to keep climbing the Silicon Valley corporate ladder, "you need to go somewhere else." Read more
---
8 of 10 U.S. prosecutors are white males, study shows
By Kaitlyn D'Onofrio
(July 9, 2015 | DiversityInc.) - A study released Tuesday by the Women Donors Network's Reflective Democracy Campaign draws a poor conclusion when it comes to diversity among American prosecutors. Read more
---
The Washington Post: The ugly truth about hate crimes — in 5 charts and maps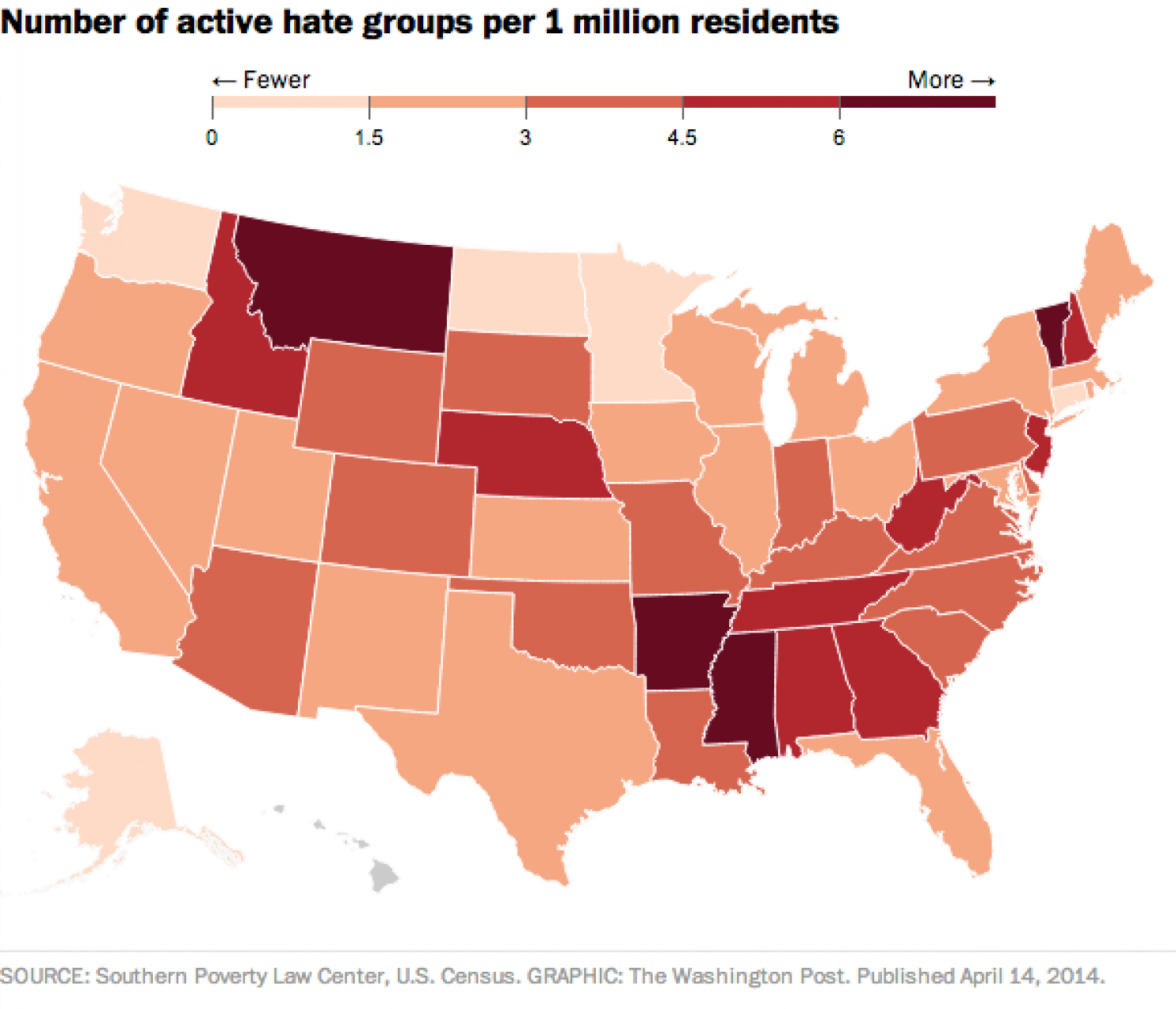 By Christopher Ingraham
(June 18, 2015 | The Washington Post) - Nine black church congregants were killed by a white shooter last night in Charleston, S.C., a shocking event that local police are characterizing as a hate crime. Below are several pieces of critical context on hate crimes and hate groups from the Southern Poverty Law Center, the FBI and other sources. Read more
New Development:
S.C. Gov. Haley calls for removal of Confederate flag near the state Capitol (The Washington Post | June 22, 2015)


---
Jon Stewart's blistering monologue about race, terrorism and gun violence after Charleston church massacre
Source: The Daily Show via The Washington Post

---
Multiracial voices on identity
Pew Research Center Resource: Black. White. Asian. American Indian. Pacific Islander.
Related Article:
- Pew study: Whites with Native American ancestry largest multiracial group in United States (Source: USNews.Com)


---
Pew study: "U.S. Smartphone Use in 2015"
---
Nieman Report resource on race and reporting
This web section of the Nieman report includes articles on the case of more inclusive newsroom. Click here to access the website.


---
This non-verbal teen gave his school's graduation speech with the help of his tablet
(AutismSite.Com's Blog) - As a non-verbal teen with autism, Dillan Barmache's ideas remained trapped inside his head for years. From a young age, his inability to express himself increased Dillan's anxiety — his family knew he was desperate to communicate that he was more than the few sounds that left his lips. Read more


---
Racial bias and news media reporting: New research trends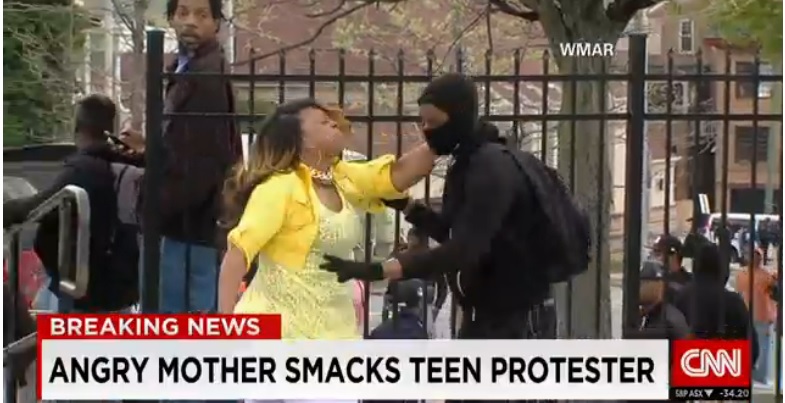 (May 20, 2015 | Journalist's Resource) - As issues of crime and race again came into the national spotlight during the 1990s, many social scientists and communications scholars sought to study the portrayal of racial minorities within news media. Numerous studies documented the high rate at which persons of color were typically portrayed as violent or dangerous in newspapers and television. Read more


---
New Reginald Stuart Diversity Management Fellowship to offer access to training
By April Bethea
(May 29, 2015 | SPJ Blog) - The Society of Professional Journalists (SPJ), with funding support from the Sigma Delta Chi Foundation, is announcing the creation of a fellowship to cover management training for SPJ members who are journalists of color, those who identify as LGBTQ or have disabilities.

The 2015 Reginald Stuart Diversity Management Fellowship will cover the expenses for two SPJ members to attend the Poynter Institute's Leadership Academy, a weeklong training for managers held each October in St. Petersburg, Fla. Applications are due July 15. Read more


---
New America Media's 2015 equal voice journalism fellowship and scholarship
Funded by the Marguerite Casey Foundation, this offers a new opportunity for emerging and established journalists from ethnic and mainstream media who cover issues on poverty.

(May 29, 2015 | New America Media) - The fellowship aims to expand and increase the public's understanding of poverty in the United States. Nearly 50 million Americans are struggling at or below the poverty line. That means there are 50 million stories to be told from different perspectives. Read the full media advisory


Racist Dr. Seuss drawing up for auction
By Melonyce McAfee
(May 29, 2015 | CNN) - A California auction house is selling an early drawing by Dr. Seuss that's sure to disappoint the parents and children who adore his later work.

The 1929 color illustration for "Judge" magazine depicts a blatantly racist scenario and uses a slur to describe black people. It's being auctioned for a minimum bid of $20,000. Read more


---
Black Miss Japan fights for race revolution
Source: AFP Photo/Toru Yamanaka
By Alastair Himmer
(May 12, 2015 | Yahoo! News via AFP) - Ariana Miyamoto entered the Miss Universe Japan beauty contest after a mixed-race friend committed suicide. And she endured abuse after winning the crown because of her skin colour.
Far from being put off by the backlash, Miyamoto resolved to use her new-found fame to help fight racial prejudice -- in much the same way British supermodel Naomi Campbell broke down cultural barriers in the fashion industry a generation ago. Read more


---
A special journal issue on "Minority Media Context"
A Sweden-based schoalrly journal -- Journal of Applied Journalism and Media Studies -- has published a special issue on "Minority Media Context" in January this year. Click this link to access the article information included in the special issue.


---
From 'Cleopatra' to 'Exodus': 10 Hollywood casting decisions that are totally racist
By Rebecca Raber
(December 9, 2014 | TakePart.Com) - By now you've probably heard about the whitewashed casting of Ridley Scott's upcoming biblical epic, Exodus: Gods and Kings, which stars pale Brit Christian Bale as Moses and pasty Aussie Joel Edgerton—in an awful lot of bronzer—as pharaoh-to-be Ramses II. Some defenders have argued that the decision to cast non-Egyptian/Arab/Semitic/African actors in these roles is less about race than about money. Read more


---
Higher Ed institutions that conferred most degrees to minority students
Source: Diverse Issues in Higher Education
For several years now, Diverse: Issues In Higher Education has produced the Top 100 Degree Producers rankings of the institutions that confer the most degrees to minority students. Using the links included in this report, you will be able to generate rankings according to the total number of degrees awarded to minority students across all disciplines as well as in specific disciplines.


---
Race, class and neglect
By Paul Krugman
(May 4, 2015 | The New York Times) - Every time you're tempted to say that America is moving forward on race — that prejudice is no longer as important as it used to be — along comes an atrocity to puncture your complacency. Almost everyone realizes, I hope, that the Freddie Gray affair wasn't an isolated incident, that it's unique only to the extent that for once there seems to be a real possibility that justice may be done. Read more


---
Mind the racial gap: On the NRA and Standing Your Ground
By Latoya Peterson
(May 12, 2015 | Fusion) - On Monday, May 11, 26-year-old Byrant Heyward called the police for assistance as two men forced their way inside his Hollywood, South Carolina home. After the men fled and police arrived, Heyward exited the house, still holding the firearm he had to defend himself from the intruders. According the The Guardian, two seconds after deputy sheriff Keith Tyner — working from 911 call information that described the suspects as "black males" — barked an order for the African-American Heyward to drop his weapon, Tyner shot him in the neck. Heyward was rushed to the hospital with critical injuries; one of the thieves was found and arrested later that day. Read more


---
CNN: After Baltimore riots, some leaders slam 'thug' as the new n-word
By Josh Levs
(April 29, 2015 | CNN) - A term used by President Barack Obama and Baltimore Mayor Stephanie Rawlings-Blake to characterize rioters has given new life to a debate over the word "thug." "Of course it's not the right word, to call our children 'thugs,'" Baltimore City Councilman Carl Stokes told CNN's "Erin Burnett OutFront." Read more


---
From Ferguson to Baltimore: The Fruits of government-sponsored segregation
By Richard Rothstein
(April 29, 2015 | Economic Policy Institute) - In Baltimore in 1910, a black Yale law school graduate purchased a home in a previously all-white neighborhood. The Baltimore city government reacted by adopting a residential segregation ordinance, restricting African Americans to designated blocks. Read more


---
Independent production company launched in UK to tackle TV diversity deficit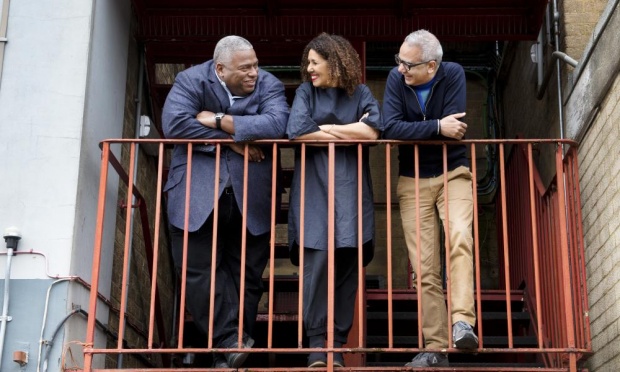 By Haroon Siddique
(April 9, 2015 | The Guardian) - A new independent television production company is to put race, gender and sexual diversity at the top of its agenda in a bid to challenge the lack of diversity in Britain's creative industries.
Sugar Films has been formed by three senior TV executives following a campaign led by Lenny Henry highlighting the fact that only 5% of employees in the creative industries are black and minority ethnic (BME), despite BMEs making up 12.5% of the total UK population. Read more


---
The misery that is Black Baltimore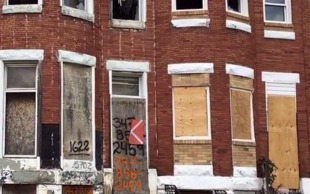 By Michael Nam
(April 28, 2015 | DiversityInc.) - Baltimore's current dire situation can find its roots in a history of crushing poverty, a segregated populace, and long-running police brutality. The Black population of the city has suffered considerably through booms and busts of the U.S. economy, with little in the way of relief. Read more
---
Alva James-Johnson: Consumers to blame for media stereotypes
(April 16, 2015 | Ledger Enquirer) - Last week, I sat in a workshop about stereotypes in the media. It was held at Columbus State University as part of an annual diversity conference.
The walls were decorated with sheets of paper with labels based on race, gender, sexual orientation and ethnicity. Read more


---
"Yidl in the Middle" trailer: Growing up Jewish in Iowa
Source: YouTube Channel of New Day Films


---
Leading journalists talk tech, transformation and diversity: Highlights from the Shorenstein Center, 2015
(April 17, 2015 | Journalist's Resource) - Throughout the academic year, the Harvard Kennedy School's Shorenstein Center on Media, Politics and Public Policy hosts a weekly speaker series. Over the spring 2015 semester, these events have featured a variety of journalists and media thinkers, from David Skok of the Boston Globe to Anna Holmes of Fusion. A common topic addressed during this semester's events was the role of journalists and editors in a rapidly evolving digital media industry. The following are highlights from this spring's discussions, with a focus on advice and tips for journalists and reflections on the media landscape.
Related Article
The numbers behind the broadband 'homework gap' [April 20, 2015 | Pew Research Center]


---
George Takei and Company to Hollywood gatekeepers: Fix your diversity problem
By Kat Chow
(April 20, 2015 | NPR) - Remember that Deadline article from a few weeks back? In which the writer pointed out that Hollywood is diversifying — and claimed that's a bad thing?

At least one good thing may come of it:

A media coalition of multi-ethnic Hollywood watchdogs — including the American Indians in Film and Television, Asian Pacific American Media Coalition, NAACP Hollywood Bureau and National Hispanic Media Coalition — is calling on the industry's talent agencies to meet with the coalition and talk about how to inject more color into their lineups, not less. Read more
Related Article:
2015 State of on-screen diversity [National Urban League | April 15, 2015]


---
Clorox 'Apologizes' for tweet about diverse emojis
By CEO of DiversityInc Luke Visconti and Sheryl Estrada
(April 16, 2015 | DiversityInc.) - The Clorox Company recently had a social media clean up to do.

Responding to criticism that emojis were not diverse, Apple released racially diverse emojis with its new iOS 8.3 on April 8. By tapping and holding down on emoji symbols that look like humans, users and choose from up to six skin tones that can be used in text messages and emails. Read more


---
Racially divided communities, voting patterns and new research on threat perceptions
(April 15, 2015 | Journalist's Resource) - For more than a half-century, social scientists have been exploring and debating the idea of "racial threat," in which white citizens adopt more racist attitudes, and support more racially biased policies, as their perceived dominance becomes "threatened" by the growth of African-American or other minority populations in or near white communities. Read more


---
Class and age: Growing older and getting poorer
(April 21, 2015 | New America Media) - This special section focuses on issues that can help ethnic elders live with dignity and security with the essential income seniors need to maintain their homes, health and peace of mind as they age. The Atlantic Philanthropies supported the New America Media (NAM) in creating this website. This section is edited by NAM Ethnic Elders Newsbeat Director Paul Kleyman. Read more


---
Image repair campaign strategies addressing race: Paula Deen, social media, and defiance
María E. Len-Ríosa, Teri Finnemana, Kyung Jung Hana, Manu Bhandaria & Earnest L. Perrya

Abstract
This multi-method study examines how the use of social media in a crisis campaign involving race-related issues may affect a public figure's credibility and perceived response appropriateness. First, image repair theory is used to analyze Paula Deen's image repair campaign in the wake of the National Enquirer's revelation that she admitted to using the "N-word" during a lawsuit deposition. Our analysis shows her response strategies were unsuccessful because her apology did not center on the allegations, and she was contradictory in her bolstering, minimization, and mortification strategies. We build on the Deen case study results by exploring the effectiveness of tweeted message strategies in a race-related crisis via Twitter. We use a mixed-design experiment examining how public figure type (politician v. TV celebrity) and response strategy (moral defense, performance defense, defiance defense, no defense) affect perceptions of a female public figure's credibility and perceptions of the appropriateness of the response. Results show that any of the three responses are better than no response when addressing charges of racial insensitivity. A defiance defense, as newly tested strategy, and moral defense worked better for the TV celebrity condition than the politician condition. Implications are discussed.
Source: International Journal of Strategic Communication, 9(2)
Related Article:
Changing the Image Repair EquationImpact of Race and Gender on Sport-Related Transgressions