(January 16, 2019 | Pew Research Center) - Did you know that fewer than half of Americans in a 2018 Pew Research survey know that most immigrants in the U.S. are here legally? Check out this recommended reading by Pew Research Center's John Gramlich.
---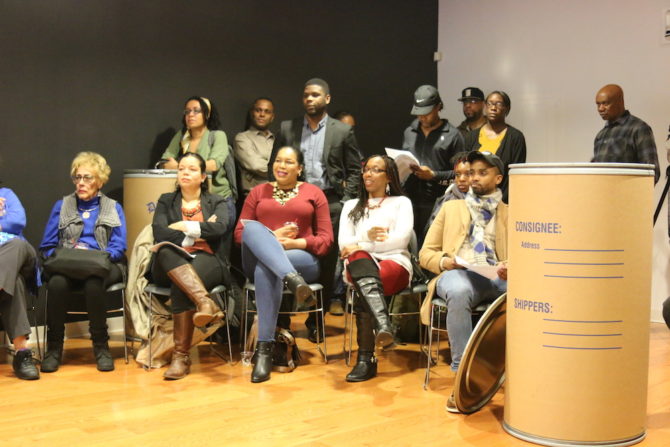 Photo Credit: Voices of NY
By Melissa Noel
(September 28, 2018 | Voices of NY) - What does it mean to build community around an issue? This is the question I asked myself over and over as I explored the long-term psychological impact of parental separation due to migration on "barrel children" and their families, both in the Caribbean region and in the United States.
---
By Chloe Reichel
(July 24, 2018 | Journalist's Resource) - As senior editor for Global Nation, the immigration vertical for Public Radio International, Angilee Shah knows how difficult it can be to find information about immigration in the U.S.
Take, for example, immigration court, which is known formally as the Executive Office for Immigration Review (EOIR). Read more
---
By Ellen Barry and Martin Selsoe Sorensen
(July 1, 2018 | The New York Times) - When Rokhaia Naassan gives birth in the coming days, she and her baby boy will enter a new category in the eyes of Danish law. Because she lives in a low-income immigrant neighborhood described by the government as a "ghetto," Rokhaia will be what the Danish newspapers call a "ghetto parent" and he will be a "ghetto child."
---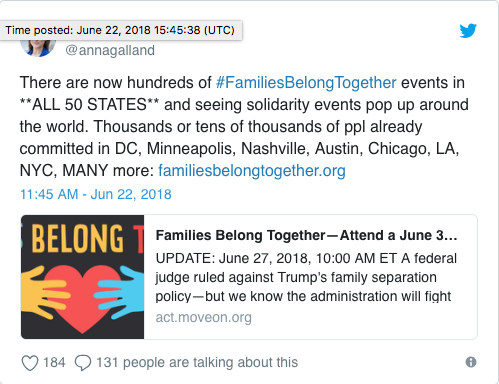 By Amanda Arnold
(June 26, 2018 | The Cut) - On June 30, organizers throughout the country will host "Families Belong Together" protests in response to the Trump administration's zero-tolerance immigration policy. Under the initial iteration of the policy, over 2,000 immigrant children were ripped away from their parents while attempting to cross the border, and placed in detention centers alone.
---
(June 20, 2018 | High Country News) - This story by Sarah Tory is the third in a series published by High Country News. First installment and second installment of this series.
This story documents the life of a DACA program beneficiary -- Lucia Gaspar -- and her contribution to rural community. Lucia Gaspar, an immigrant from Guatemala, is a teacher's aide at Ortega Middle School in Alamosa, Colorado, who helps kids learn two key skills to survive in this world -- basic math and reading. CLICK on the heading of this story to read the report.
---
By Sarah Ruiz-Grossman
(April 4, 2018 | HuffPost) - A new series of animated films from the American Civil Liberties Union seeks to help immigrants know their rights so they can better protect themselves when interacting with Immigration and Customs Enforcement agents.
---
By Stephen A. Nuno
(Feb. 15, 2018 | NBC News) - Some Republican candidates' campaigns have defended their use of controversial immigration-related ads and messaging by saying it reflects their voters' hard line stances on the issues, but two studies find it also works the other way around.
A study from University of California-Riverside found that ads and inflammatory language are actually "activating" voters' latent stereotypes about Latinos and immigrants and those sentiments in turn are influencing how voters feel about immigration policies.
Related Research
Tone Matters: Effects of Exposure to Positive and Negative Tone of Television News Stories on Anti-Immigrant Attitudes and Carry-Over Effects to Uninvolved Immigrant Groups
By Laura Jacob & Meta van der Linden
International Journal of Public Opinion Research | 2017
The Effects of Anti-Immigrant Right-Wing Populist Ads on Implicit and Explicit Attitudes: A Moderated Mediation Model
Jörg Matthes, Desirée Schmuck
Communication Research | 2015
---
'We Want To Stay': Haitian Immigrants In U.S. Fear End Of Temporary Protected Status
By Carrie Kahn
(Nov. 5, 2017 | NPR) - For decades, the United States has provided immigrants from 10 countries, mostly in Central America, what's known as Temporary Protected Status. Under this status, temporary visas allow them to stay and work in the U.S. and prevent them from being forced to return to home countries at war or devastated by natural disasters. Read more
---
DACA, the DREAM Act and undocumented immigrants: A primer for journalists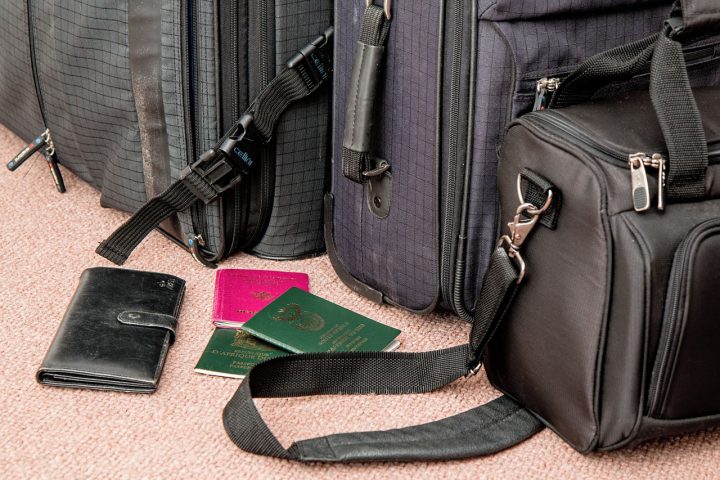 By Denise-Marie Ordway
(Sept. 8, 2017 | Journalist's Resource) - On Sept. 5, 2017, the U.S. Department of Homeland Security began phasing out a program that gives undocumented immigrants who came to the United States as children a two-year reprieve from deportation. The federal government immediately stopped accepting new requests for DACA, or Deferred Action for Childhood Arrivals. Meanwhile, President Donald Trump challenged Congress to make immigration reforms within the next six months, before work permits begin to expire for those who were granted DACA. Between 2012 and early 2017, the federal government approved nearly 800,000 DACA requests as well as hundreds of thousands of requests to renew a DACA upon its expiration. Read more.
---
NYT story: "He became a hate crime victim. She became a widow."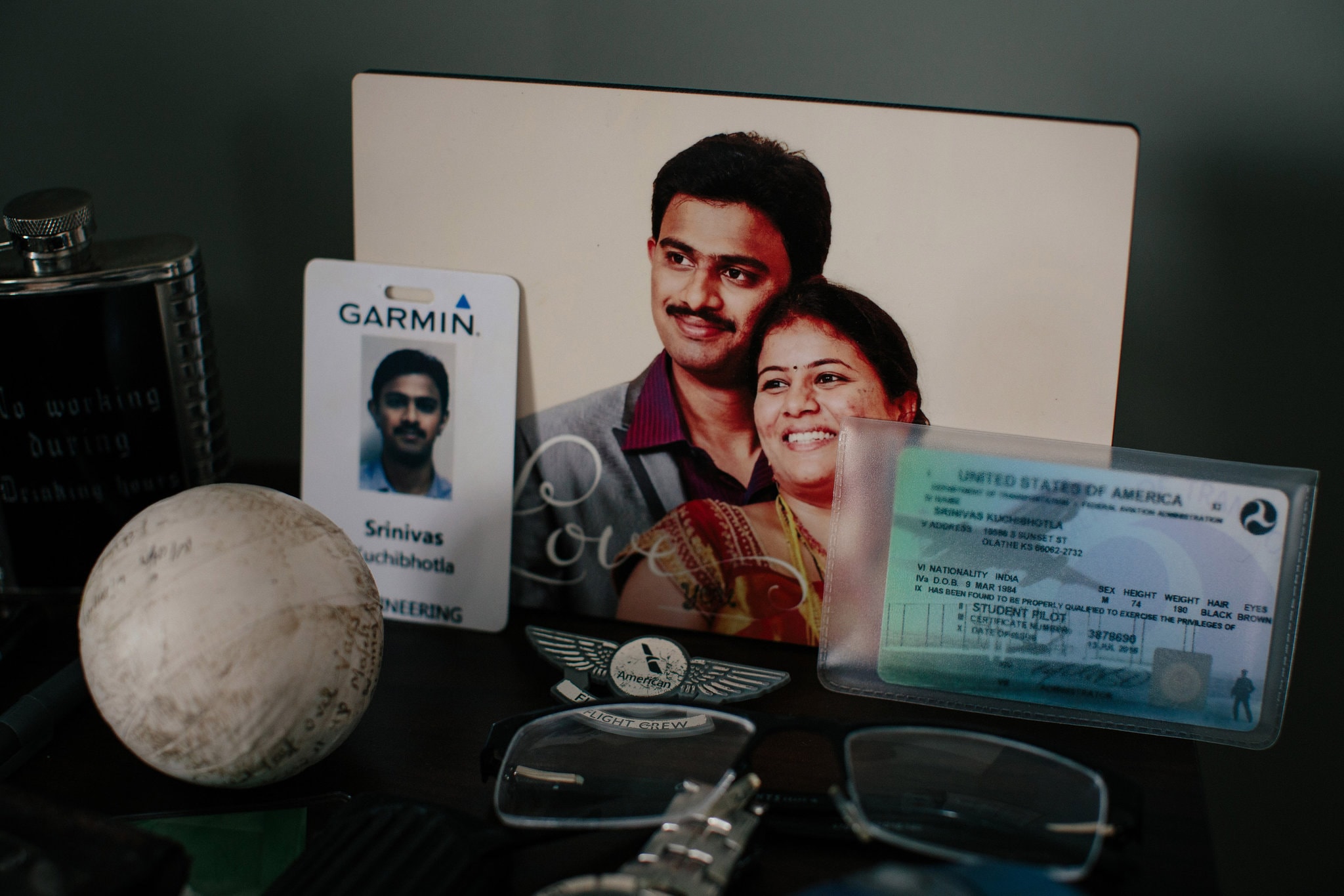 By Audra Burch
(July 8, 2017 | The New York Times) - Sunayana Dumala tried once again to enter the worship room she and her husband, Srinivas Kuchibhotla, had created in their home for daily prayers. Mr. Kuchibhotla had built an intricate wooden shrine by hand two years ago, a small sacred edifice where they would kneel each morning. Months after his death, it became a place where she would honor him. Read more
---
John Legend, Juanes perform outside of immigration detention center in Arizona
By Astrid Galvan
(Jan. 20, 2016 | HuffPost Latino Voices) - Colombian musician Juanes and singer John Legend met immigrants at a jail in Arizona on Wednesday before performing for a small crowd outside the facility to draw attention to immigration. Read more
---
Immigration: Impact on childcare prices, U.S. women's fertility
By Chaz Kelsh
(Jan. 12, 2016 | Journalist's Resource) - Though immigration is credited — or blamed — for many changes in American society, research into the accuracy of these assertions oftentimes finds a different story. Read more
---
New America Media: In favor of sanctuary cities
(Oct. 20, 2015 | New America Media ) - The U.S. Senate on Tuesday voted 54-46 against a bill that would have defunded so-called "sanctuary cities" that offer protection to undocumented families by preventing local police from turning them in to immigration authorities. The measure blocked by Senate Democrats today is similar to a bill that passed in the House of Representatives in July. Read more
Related Article
- Ted Cruz reintroduces legislation to crack down on sanctuary cities (Oct. 22, 2015 | Fox News Latino)
---
Univision Contigo launches annual citizenship campaign to empower influential Hispanic community
(July 2, 2015 | Univision PR) - Univision Communications Inc. (UCI), the leading media company serving Hispanic America, launched its annual citizenship campaign, to commemorate the U.S. Independence Day holiday. ¡Hazte Ciudadano! (Become a Citizen!), a campaign under the Company's award-winning Univision Contigo empowerment platform, will educate eligible individuals about the benefits of becoming a U.S. citizen, and guide them to resources that can help them navigate the process. Read more
---
Hispanic groups show unity, strength in response to Trump
By Moses Frenck
(July 1, 2015 | DiversityInc.) - The continuing blowback to Donald Trump's comments that Mexicans are "rapists" and "drug dealers," among other things, has grown to proportions Trump himself may not have anticipated, with pressure from Latino groups coming on very strong. Read more
---
A documentary film: "I Learn America"
A documentary film by Jean-Michel Dissard & Gitte Peng
At the International High School at Lafayette, a Brooklyn public high school dedicated to newly arrived immigrants from all over the world, five teenagers strive to master English, adapt to families they haven't seen in years, and create a future of their own while coming of age in a new land. Read more
---
A study: More prioritize border security in immigration debate
How to accommodate undocumented Central American children in the U.S.?
(Sept. 3, 2014 | Pew Research Center for the People and the Press) - As President Obama considers executive action to delay the deportation of millions of undocumented immigrants, the public's priorities for U.S. immigration policy have shifted, with more people favoring a focus on better border security and tougher enforcement of immigration laws. Read more
---
Storytelling in Queens: Immigrants shared how they came to Queens
Queens Documented from Voices of NY on Vimeo.
Read the story [Source: Voice of NY]

---
Public attitudes toward immigration: Research review
By Carol Tan
(July 16, 2014 | Journalist's Resource) - The immigration debate in the United States is driven by unique dynamics — nearly all U.S. residents were once immigrants, yet opposition to immigration is anything but rare; the country has a long, hard-to-police southern border that has recently seen an influx of unaccompanied child migrants; and a web of local, state and federal laws make enforcement difficult and can lead to unintended effects. Read more
---
Immigrants use storytelling approach to become leaders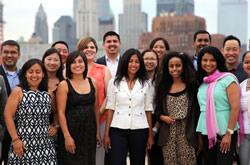 By Aine Pennello
(June 28, 2014 | Voices of NY) - When California native Uduak Ntuk ran for a seat on the school board of the Long Beach Unified School District in April, he knew he wouldn't win based on name recognition.
"What does Uduak mean? Where does that come from?" said Ntuk, recalling questions from the campaign. During phone calls to voters, some assumed Ntuk was Muslim and told him they would not vote for him. Read more
---
Catholic Bishops push on immigration reform again
(May 29, 2014 | RNS) - Catholic bishops returned to Capitol Hill on Thursday (May 29) with a renewed push for immigration reform, as Miami Archbishop Thomas Wenski called the failure to address immigration reform "a stain on the soul of our nation." Read more
Ramos: 'Latinos will remember' Republican stalling on immigration reform
By Rachel Maddow
(May 22, 2014 | MSNBC) - Jorge Ramos talks with Rachel Maddow about his confronting the leaders of the House and Senate on not moving immigration reform legislation and how he thinks Republican foot-dragging will play with Latino voters in the midterms and 2016 elections. Read more
---
Jose Antonio Vargas' film 'Documented' will be in theaters
(March 19, 2014 | Colorlines via New America Media) - Jose Antonio Vargas' remarkable journey from Pulitzer Prize-winning journalist to leading undocumented activist is coming to the big screen. "Documented" is a documentary film that chronicles Vargas' path to becoming a crusader for immigration reform. Read more
---
Immigration reform talk fuels "hike in fraud cases"
(March 19, 2014 | New America Media) - Cecilia, an undocumented Mexican immigrant, never anticipated that her life in the United States would turn into a real-world telenovela, the popular Spanish language dramas. Read more
---
Oklahoma Latinos setting the record straight after outrageous local news reporting
By Juan Miret
(Feb. 14, 2014 | Latina Lista) - On February 3, 2014, two CBS stations and affiliates in Oklahoma – News on 6 in Tulsa and News on 9 in Oklahoma City – aired a story connecting the increase of the undocumented population in the state, with the local activity of Mexican drug cartels. No specific numbers, no formal studies. Read more
---
Israeli immigrants make way into American Jewish community
(Jan. 16, 2014 | By Voices of NY via The Jewish Daily Forward) - Cultural gaps once separated Israeli immigrants and American Jews but the two communities are starting to warm up to each other, reports Nathan Guttman for The Jewish Daily Forward. Recently, local synagogues and community centers have started to hold programs catering to Hebrew-speakers, with religion taking a back seat to Israeli and Jewish culture. Read more
---
Funding low, future uncertain at Filipino Immigrant Center
(Jan. 17, 2014 | Voices of NY via Filam) - Since 2007, the volunteer-run Bayanihan Filipino Community Center (BCC) in Woodside, Queens, has served as a haven for local immigrants, offering classes and other services. With the increasing scarcity of grants and contributions, however, The FilAm's Cristina DC Pastor reports that it is facing a precarious future. Read more
---
El Diario La Presna: Long Island Republican softening position on immigration
By Marlene Peralta | Via El Diario La Prensa
Translated by Emily Leavitt from Spanish
(Dec. 26, 2013 | Voices of NY) - Congressman Peter King, a Republican representing Long Island, used to be known as one of the most vocal opponents of immigration reform. In fact, he was the main advocate for building a wall along the border with Mexico. In 2007, he objected to the path to citizenship, part of the bill sponsored by senators John McCain and Ted Kennedy. Read more
---
U.S. immigration laws and immigrants' location choice
By Crissie Long
(Jan. 2, 2014 | Journalist's Resource) -The bipartisan Senate bill on U.S. immigration laws included a 13-year path to citizenship for the 11 million unauthorized immigrants in the United States . . . Read more
---
Immigration reform bill passes Senate, moves to skeptical House
By Liz Goodwin
(Yahoo! News | June 27, 2013) - The Senate passed a sweeping immigration reform bill on Thursday afternoon, after a recently hashed-out compromise on border security helped persuade a total of 14 Republicans to vote for the measure. The bill, which passed 68-32, could face a steep uphill climb in the Republican-controlled House. Read more
Nowy Dziennik Editorial : Permanent residents should speak English (via Voices of NY)
---
Joint editorial on immigration reform by ethnic and community media publications
By Voices of NY Staff
(July 11, 2013 | Voices of NY) - Ethnic media and community publications representing diverse readers and audiences throughout the nation are urging Congress to agree on a policy solution that will end legal limbo for millions of undocumented immigrants.
Beginning July 10, ethnic media outlets started publishing the same editorial in their papers, an effort spearheaded by New York's El Diario-La Prensa.

The list includes that paper's sister publication in Los Angeles, La Opinión, the New York weeklies Irish Echo and Bangla Patrika along with the Polish daily Nowy Dziennik and the Puerto Rican daily Primera Hora. Read more.
---
In Mexico, families hope immigration reform will trigger reunions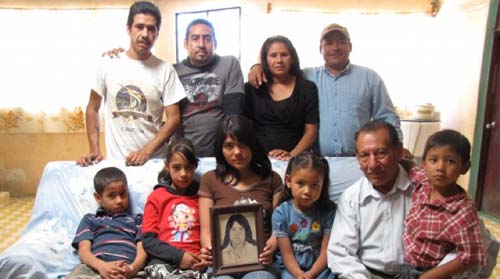 By Jude Joffe-Block,Fronteras Desk/PRI's The World via New America Media
(May 13, 2013) - It's a typical Sunday in the town of Tepeapulco, in Mexico's central highlands. Families gather, cook and catch up.
And that's the scene at Santiago Domínguez's home. At 82-years-old, he's the family patriarch. He's wearing pressed slacks, his dark hair smoothed back. By lunchtime, he's surrounded by relatives. Read more
More Stories on Latino/Hispanic Issues:
Hispanics in the U.S., not only Mexicans
How American films are chasing elusive Hispanic dollars?
Hispanic High School Graduates Pass Whites in Rate of College Enrollment
---
AP's dropping of "Illegal Immigrant" could have wide ramifications for media
By Jack Mirkinson
(April 3, 2013 | Source: Huffington Post) - The decision by the Associated Press to drop the term "illegal immigrant" could have far-reaching ramifications for the media industry.
The AP said on Tuesday that it has decided to abandon the contentious term, which many Latino and immigrant-rights activists have long called dehumanizing. The wire service's decision is bound to be influential; it has perhaps the most widely-used style guide in the country. The Huffington Post, for instance, uses a modified version of the AP guide. (HuffPost uses the term "undocumented immigrant.") Read more.
Related Stories:
Who is afraid of immigrants with criminal records?
AP dumps "illegal immigrants" but not neutrality
---
Juan Gonzalez speaks about immigration policy at Shippensburg University
By Anna Seils*
(March 28, 2013) - "We need to confront intolerant views that still think everything should be the way it was." Well-known Latino journalist and Democracy Now co-host Juan Gonzalez made this comment while sharing his insights on immigration policy in the United States at a lecture hosted by Shippensburg University's Ethnic Studies program on March 27.
"The reality is over the last 60 years, the third world has come to the west," Gonzalez said. He also observed that the political influence of new immigrants, particularly Latino voters, is growing.
Gonzalez said Americans usually use three categories to group immigrants. One of the categories is the level of communication in English. The second category is to "get to the back of the line." This is the thought that those who are undocumented should not jump ahead of those who are applying for United States citizenship the legal way. Gonzalez said that all lines are not equal, and, for Chinese, Indians and Mexicans, the line is 20 years long.
*This is an excerpt from a learning note of Diversity and the Media student at Shippensburg University.
---
Immigration reform, Latinos and emerging dynamics: Research roundup

By Leighton W. Klein


(Jan. 31, 2013 | Journalist's Resources) - As the November 2012 national election demonstrated, the Hispanic electorate has increasing political clout, and projections show that this power will only increase in the coming decades. Read more

Related story
Day laborers fear being left out of immigration reform
---
AP memo explains how to use the phrase "illegal immigrant"
By Mallary Jean Tenore
(Source: Poynter Institute | Oct. 19, 2012) - In a memo to staffers, the Associated Press clarified its stance on the term "illegal immigrant." Read more
---