CAIR report on rise in anti-Muslim bias and hate crimes
U.S. Rep. IIhan Omar, D-Minn., is one of only two Muslim women in the U.S. Congress. She has faced death threats and come under increasing attack from President Donald Trump. He has suggested she downplayed 9/11 terrorist attacks. If you are teaching race, gender and media, a discussion about Islamaphobia would be useful given all the rhetoric. Here's a link to learn more about the Council on American-Islamic Relations report about the rise in anti-Muslim bias and hate crimes.
Related article:
- Islam is the nation's fastest growing religion. Here's a link from a 2017 Pew Research Center story titled "Muslims and Islam: key findings in the U.S. and around the world."
---
100 Questions and Answers about Muslim Americans
Joe Grimm's students at Michigan State University also have done a great public service by compiling "100 Questions and Answers About Muslim Americans." The guide can be accessible through this link.
---
By Debra L. Mason, PhD and Cathy Ellen Rosenholtz, MDiv.
(April 11, 2012) - "A three-year sample of news reports about key political issues within the lesbian, gay, bi-sexual and transexual (LGBT) community showed that media outlets consistently quoted or interviewed sources from Evangelical organizations to speak about LGBT issues, and the messages from those sources were significantly more negative than positive."
Click here to read the entire study report.
---
Snake and stranger: Media coverage of Muslims and refugee policy
By Meighan Stone, Entrepreneurship Fellow, spring 2017, and former president of the Malala Fund

(June 22, 2017 | Shorenstein Center on Media, Politics and Public Policy) - A new paper by Meighan Stone, Entrepreneurship Fellow (spring 2017) and former president of the Malala Fund, argues that the predominantly negative coverage of Muslims and refugees on U.S. TV news contributes to negative public opinion of Muslims, and in turn, policies such as President Trump's "Muslim ban." Click here to read more about Meighan Stone's paper. By visiting this page, you also will be able to listen to Stone discuss her paper on Shorenstein Center's Media & Politics Podcast).
---
Catholic Archdiocese cuts ties with Girl Scouts, troubled by feminist 'role models'
By Carol Kuruvilla
The Catholic Archdiocese of Kansas City has decided to cut ties with the Girl Scouts.
Archbishop Joseph F Naumann announced on Monday that he's asked churches in his archdiocese to transition away from hosting Girl Scout troops, in favor of partnering with the Christian scouting organization, American Heritage Girls. Read more
---
Americans see discrimination in radically different ways
By Debra Mason
Why don't all Americans believe Muslims face discrimination? Watch the above video from Atlantic staff writer, Emma Green, who explains the different perspectives Americans take on regarding religious discrimination in the United States following the 2016 election.
Bibliography:
The Atlantic. (2017, April 11). Why Don't All Americans Believe Muslims Face Discrimination? Retrieved from The Atlantic: https://www.theatlantic.com/video/index/522588/why-dont-all-americans-believe-muslims-face-discrimination/
---
Pew Research: Global restrictions on religion rise modestly in 2015, reversing downward trend
By Debra Mason
A Pew Research Center study indicates that restrictions and social hostilities involving religion increased for the first time in three years; research suggest this is partially as a result of government harassment and use of force against religious groups among the refugees entering Europe. Countries with high or very high levels of government restrictions against religious beliefs and practices only increased from 24 to 25 percent, while those with social hostilities against religious groups increased from 23 to 27 percent. To read the full study, click here.
Bibliography:
Pew Research Center. (2017, April 11). Global Restrictions on Religion Rise Modestly in 2015, Reversing Downward Trend. Retrieved from Pew Research Center: http://www.pewforum.org/2017/04/11/global-restrictions-on-religion-rise-modestly-in-2015-reversing-downward-trend/
---
An unorthodox gift to Notre Dame from Muslim philanthropists
By Debra Mason
Rafat and Zoreen Ansari had a goal to make an impact on promoting improved understanding of religion with equal respect. By way of a $15 million gift to the University of Notre Dame, they are providing the means to create the Rafat and Zoreen Ansari Institute for Global Engagement with Religion; "the institute will aim to deepen knowledge of religion and look to explain how the traditions and practice of various religions influence world events." As Muslims, they acknowledge that this gift has come at a "politically charged time" given the national "debate over Muslim immigration in America and Europe," though this was not intended to be a political statement. Click here to read the full story.
Bibliography: Sullivan, P. (2017, March 17). An Unorthodox Gift to Notre Dame from Muslim Philanthropists. Retrieved from The New York Times: https://www.nytimes.com/2017/03/17/your-money/norte-dame-muslim-philanthropists.html?rref=collection%2Ftimestopic%2FReligion%20and%20Belief&action=click&contentCollection=timestopics&region=stream&module=stream_unit&version=latest&contentPlacement=4&pgtype=collection
---
Reza Aslan and the risks of making religion relatable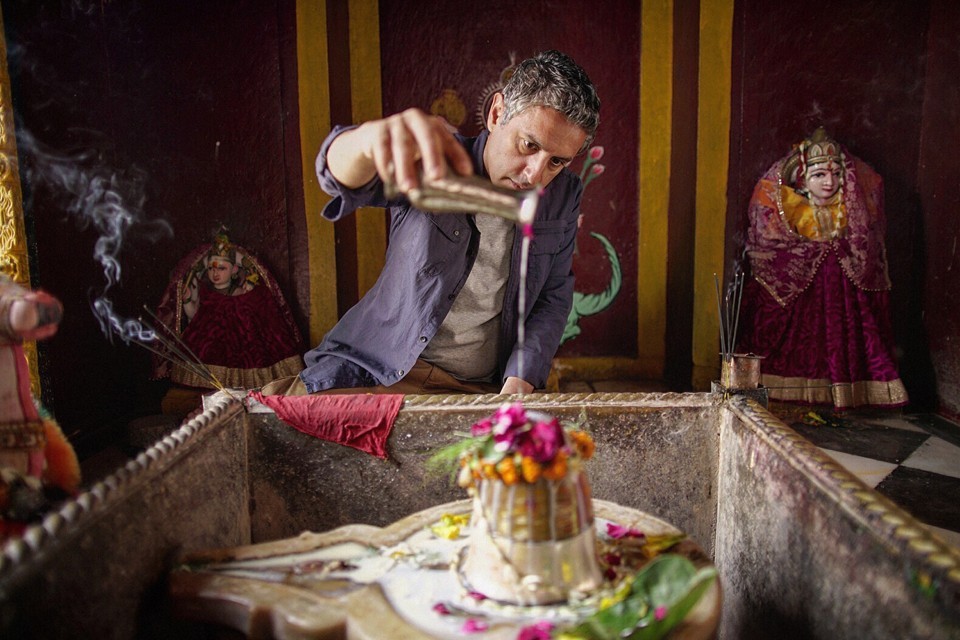 By Sigal Samuel(March 12, 2017 | The Atlantic) - Believer, a six-part series on CNN by Reza Aslan featured on CNN, seeks "to show that all religions are, at their core, expressions of the same faith and the same existential questions." Aslan sees this an opportunity to benefit minorities and make religion relatable, while others criticize this approach believing it to be sensationalistic and possibly detrimental to various religious communities. To read more from The Atlantic's Sigal Samuel, click here.
Bibliography: Samuel, S. (2017, March 12). Reza Aslan and the Risks of Making Religion Relatable. Retrieved from The Atlantic: https://www.theatlantic.com/international/archive/2017/03/reza-aslan-cnn-believer-make-religion-relatable/519147/
---
How the FBI is hobbled by religious illiteracy
By Debra Mason

(Feb. 27, 2017 | The Atlantic) - In the interview between The Atlantic reporter Emma Green and University of Pennsylvania professor, Steven Weitzman, the history of the FBI and religion and its relevance in today's political climate is discussed (Green, 2017).
With a relatively contentious past of negative interactions with various religious groups, often in efforts to protect Christianity, "…the Bureau has shaped American religious history through targeted investigations and religiously tinged rhetoric about national security" (2017). This was done through its support of religious leaders, introduction of "religious rhetoric into the broader culture," and by "delegitimizing religious actors" who were believed to be of a significant threat to the nation (2017).
With 9/11 changing the role of the FBI from an investigative role to one of "preempting crime," the pressures soared to an entirely new level (2017). To read more on the FBI's relationship with various religious groups explained in this interview, click here.
Bibliography:
Green, E. (2017, February 26). How the FBI is Hobbled by Religious Illiteracy. Retrieved from The Atlantic: https://www.theatlantic.com/politics/archive/2017/02/the-fbi-and-religion/517746/
---
The new atheists of the Philippines
By Debra Mason
(March 5, 2017 | The Atlantic) - Jahziel Tayco Ferrer, like many in the Philippines, is involved in educational aid projects to assist the more than 26 million living in poverty; however, she's different in that she is an atheist in the midst of several Christian-run groups (French, 2017).
Volunteering on behalf of the Humanist Alliance Philippines, International, or HAPI, she is involved in one of only three secular groups in the Filipino society (2017). Less than 0.1 percent in the Philippines claim to have "no religion," while 80% of the population identifies as Catholic (2017). Adapting their approach from Baptist missionary work, HAPI volunteers believe their perspective of not relying on a deity is needed to end the Filipino economic disparity (2017).
Ferrer, having been brought up in a Christian educational setting, states that the fear of going to hell is what caused her such discomforrt and is a key reason why she believes people remain involved in religion (2017). This belief is not well-met or respected in the Christian society of the Philippines (2017). To read the rest of the article, click here.
Bibliography:
French, M. (2017, March 5). The New Atheists of the Philippines. Retrieved from The Atlantic: https://www.theatlantic.com/international/archive/2017/03/new-atheists-philippines/518175/
---
Hate groups on the rise in U.S., with a tripling of anti-Muslim groups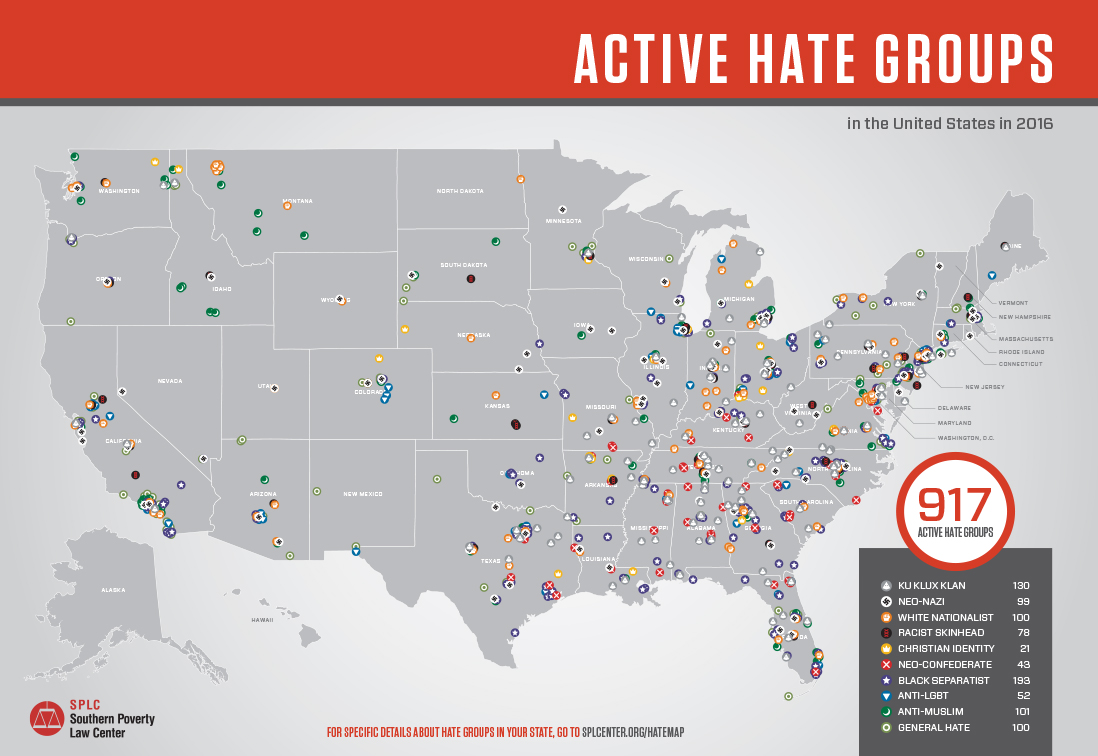 By Moses Franck
(Feb. 16, 2017 | DiversityInc.) - The number of hate groups in the United States reached near-historic highs in 2016, rising for the second straight year, with the amount of anti-Muslim hate groups tripling from 2015, according to the Southern Poverty Law Center's (SPLC) annual Year in Hate report released Wednesday.
Much of the increased hate, the report noted, could be attributed to the rhetoric and fear-mongering espoused by President Donald Trump during his presidential campaign. Read more
---
Pew survey: Americans express increasingly warm feelings toward religious groups
By Debra Mason
Even as Americans become less religious and partisan politics lead to heated discussions of beliefs, a new Pew Research Center survey reveals that Americans are expressing even "more positive feelings toward various groups today" than what was the case in 2014 (Pew Research Center, 2017). At the top of the spectrum with the warmest feelings are Jews and Catholics while Atheists and Muslims remain at the bottom of the spectrum with regard to these sentiments (2017).
In fact, over half of U.S. adults rated Jews and Catholics very warmly, despite the fact that Jews only comprise 2% of the American population (2017). Despite their current rankings, Atheists and Muslims are two of the religious groups with the greatest gains jumping from 41 to 50 degrees and 40 to 48 degrees respectively on this scale (2017). However, when evaluating the ratings of religious groups between different age groups, the sentiments are of a more condensed scale for the younger Americans than what is seen with older Americans (2017).
For the 18-29 segment, the warmest feelings are with Buddhists at 66 degrees, while Mormons are the coolest at 54 degrees (2017). Meanwhile, the 65+ division rated Mainline Protestants at 75 degrees, while Atheists and Muslims were tied for coolest at 44 degrees. Unsurprisingly, "religious groups tend to rate their own group[s] most positively," with views of other religious groups ranging significantly according to the religious affiliation (2017). Overall, if the person knew a person belonging in the religious group, they were more likely to rate that person's religious group more warmly due to having a personal connection (2017). To read the rest of the study, click here.
Bibliography:
Pew Research Center. (2017, February 15). Americans Express Increasingly Warm Feelings Toward Religious Groups. Retrieved from Pew Research Center: http://www.pewforum.org/2017/02/15/americans-express-increasingly-warm-feelings-toward-religious-groups/
---
Harvard launches free online class to promote religious literacy
By Debra Mason
In light of the attacks of extremist groups such as those of 9/11 and the recent attacks on Paris, people have sought answers in the midst of the dispelling of the alarm that often accompanies stereotyped views of the Islamic faith. In order to educate the public and promote understanding of the world's religions, six "…professors of religion from Harvard University, Harvard Divinity School and Wellesley College…" have taken the initiative to begin an online series to stimulate religious literacy and work to combat the inherent biases that often accompany fear (Blumberg, 2016).
"Religious Literacy: Traditions and Scripture", the first course to be offered on the edX, the platform that will house this course, "…will include six classes on different subjects that will each run for four weeks" (Blumberg, 2016). While the course is free of charge for those auditing, a "…certificate of achievement…" can be obtained with a $50 charge by individuals who choose the option of the "non-audit track" (Blumberg, 2016). Read more
Bibliography:
Blumberg, A. (2016, February 19). Harvard Launches Free Online Class to Promote Religious Literacy. Retrieved February 22, 2016, from Huffpost Religion: http://www.huffingtonpost.com/entry/harvard-world-religions-online-class_us_56c76b55e4b041136f16dd0a?utm_hp_ref=religion
---
Is artificial intelligence a threat to Christianity?
By Debra Mason
Pope Francis has been revolutionary in his extensive approach to welcome all spiritual seekers regardless of past discrepancies (Merritt, 2017). In one of his masses, he even suggested in a playful manner that Martians' emergence onto Earth would warrant baptism if they sought to be Christians; however, in doing this, the question is raised as to whether Christianity should be extended to all forms of intelligent life—including hyper-intelligent machinery (2017).
As Artificial Intelligence machines continue to race toward a possibility of autonomy, with companies like Google developing "'artificial moral reasoning,'" Christianity may be quick to experience what some would refer to as "the greatest threat to Christian theology since Charles Darwin's On the Origin of Species (2017). The more rapidly AI is developed, the more biological evolution has the potential to no longer compete with machines that have the capability to think for themselves—thus causing "a serious theological disruption" (2017). Kevin Kelly, co-founder of Wired magazine states, "'If humans were to create free-willed beings…. absolutely every single aspect of traditional theology would be challenged and have to be reinterpreted in some capacity" (2017).
Furthermore, the discussion of whether a machine with full Artificial Intelligence capabilities can too have a soul and thus a relationship with God, despite the soul having previously being identified as a "uniquely human element," becomes a legitimate question (2017). Could autonomous AI feel the need to glorify God, attend church services, pray, etc. (2017)? "The Christian Bible never anticipates non-human intelligence, much less addresses the questions and concern it creates. It does, however, teach that God has established a special relationship with humans that is unique among all creates" (2017). Some believe that this would not necessarily destroy Christianity and religion, but rather could have the potential to "bolster a person's faith" (2017). To read the full story, click here.
Bibliography:
Merritt, J. (2017, February 3). Is AI a Threat to Christianity? Retrieved from The Atlantic: https://www.theatlantic.com/technology/archive/2017/02/artificial-intelligence-christianity/515463/
---
"Faith: Few strong links to national identity"
By Debra Mason
According to a new Pew research study, Greece is the only country of 13 asked where over 50% of its respondents found faith to be important to their national identity (Stokes, 2017). Conversely, only 7% of respondents from Sweden found religion to be important regarding their connection to their national identity (2017). In the United States where, as of 2014, Christians made up 70.6% of the population, only 32% of the respondents said "it is very important for a person to be a Christian in order to be considered truly American" (2017). Of the different denominations measured, white evangelical Protestants were most likely to connect being Christian to be an American at 57%, with the next highest denomination being the white mainline Protestants at 29% (2017).
However, unsurprisingly, those who found the greatest link between faith and nationality were those who found religion to be of crucial important in everyday life (2017). In fact, there is a 40% disparity between those who find religion to be important personally and those who find religion to be less important on a personal level (2017). Finally, when measuring the study between different age groups, the greatest gaps between the oldest and youngest and their view of this importance was seen in Greece, UK, and Canada. To read the entire study, click here.
Bibliography:
Stokes, B. (2017, February 1). Faith: Few strong links to national identity. Retrieved from Pew Research Center: http://www.pewglobal.org/2017/02/01/faith-few-strong-links-to-national-identity/
---