By Felice Leon
(June 9, 2021 | The Root) - Granted, the trailer (and film) showcased Black dancers and there were certainly Black women in the hair salon, but where are the dark-skinned Black Latinx folks with a storyline? After all, this film is placed in Washington Heights, N.Y., right?!
Related article:
- Rita Moreno backtracks on 'dismissive' comments about Afro-Latinx representation on screen, says she's 'Disappointed' in herself (The Root, June 17, 2021)

- Beyond "In the Heights," colorism persists, rarely addressed (AP, June 18, 2021)
---
"Selena: The Series" follows the rise of the young Mexican American singer from South Texas who leaned into her roots and learned Spanish phonetically to sing Tejano music, achieving mainstream success that has endured long past her untimely death in 1995.
It's an intrinsically American story that seemed primed to join Netflix's roster of big-budget U.S. originals. Instead it was ordered as a Latin American original, with a modest budget to match — well under $2 million per episode, according to multiple sources, for a period drama with specific costume, makeup and set needs.
---
(June 2, 2021 | NAHJ) - The National Association of Hispanic Journalists (NAHJ) is deeply disturbed with reports by NAHJ members and other journalists of color at The Arizona Republic and Gannett about significant pay inequities and a lack of advancement opportunities within the company's newsroom.
---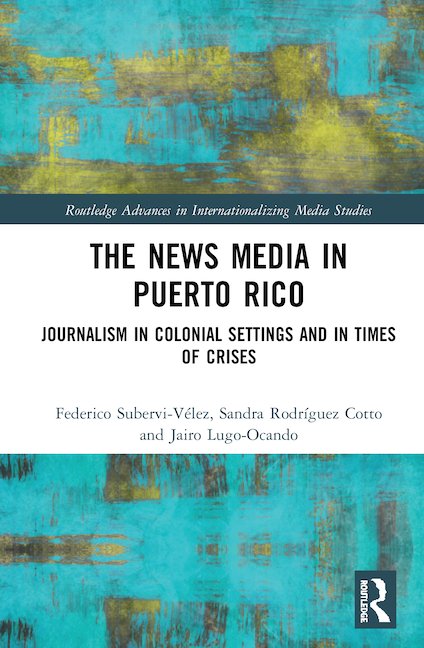 (Oct. 5, 2020) - Forthcoming book, News Media in Puerto Rico: Journalism in Colonial Settings and in Times of Crises, co-authored by Federico A. Subervi-Vélez, Sandra Rodríguez-Cotto, and Jairo Lugo-Ocando, will be "an essential read for students and scholars interested in learning not only about the Puerto Rican and Latin American mass media, but also the media systems of other colonial/neo-colonial countries."
According to Routledge's website, this book is now available for pre-order and will be shipped after October 27, 2020.
Among others, chapters of this book will cover these topics: the factors influencing the mass media system, media outlets & audiences in Puerto Rico, Hurricane María's impact and the media landscapes, the challenges and the future of journalism in Puerto Rico, and improving journalism education in Puerto Rico.
---
(July 30, 2020 | CTLatinoNews.Com) - Radio is a cultural asset to the Latino community. Latinos in Connecticut, and in the U.S. as a whole, listen to the radio more frequently and for longer durations than any other ethnic group. This is not a trend. This is not a fad. This is part of Latino culture.
---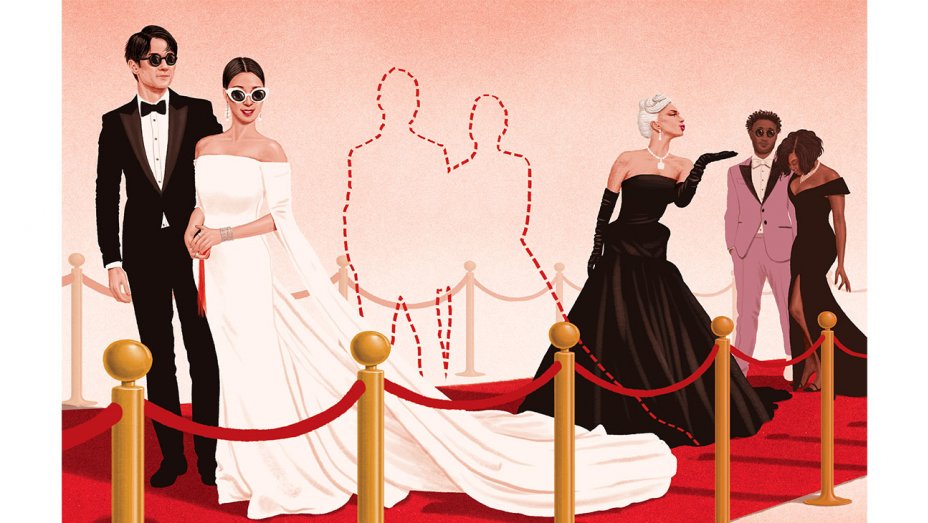 By Mia Galuppo
(May 3, 2019 | The Hollywood Reporter) -Despite an audience that goes to the movies more than any other demo ("a sure thing," notes one studio exec), insiders say onscreen representation won't improve until Hollywood sheds some prejudices and takes a chance — "like they do all the time for white actors."
---
By Teresa Mioli
(May 8, 2019 | Journalism in the Americas Blog) - A Spanish journalist is the latest foreign correspondent covering the sociopolitical crisis in Venezuela to be ordered to leave the country by the government of President Nicolás Maduro, according to local and international media.
Related story:
- Venezuela detains and expel Spanish journalist Joan Guirado
---
Does Latinx Twitter exist?
(Nov. 10, 2018 | Wired) - A few months back, I began following the #nomames hashtag on Twitter. It's Spanish slang that was born out of a bit of vulgarity; the words literally translate to "don't suck," a phrase that can have … certain connotations. But the term has evolved into a flippant response, a phrase that roughly means, "no way" or "you've got to be f—ing kidding me."
---
Research: Rise of U.S. Spanish-Language Radio (1920s - 1970s)
This media history research explains the growth of Spanish-Language radios in U.S. from the 1920s through the 1970s. Not only demography, other factors behind the growth of Spanish-language radios in U.S. in those 50 years are: proximity of Latin America to U.S., "mutual attitudes between Anglos and Hispanics," "circular flows of entertainers," and "creative initiatives by Hispanic radio executives, brokers, and advertisers."
Reference:
- Paxman, Andrew. "The Rise of U.S. Spanish-Language Radio from 'Dead Airtime' to Consolidated Ownership (1920s-1970s). Journalism History.44, no. 3 (Fall 2018): 174-186.
---
Research: How the media criminalizes immigrants through images
In this study, Emily Farris and Heather Mohamed find that "the press frequently portrays immigrants as undocumented, presenting images of the border as well as immigrant arrests and detentions. Moreover, when immigrants are working, they are disproportionately engaged in low-skilled activities". Study sample includes images appeared in three major U.S. news magazines' articles about immigration or immigrants in the U.S. from 2000 - 2010.
Reference:
- Farris, Emily M. & Heather Silber Mohamed. (2018). "Picturing Immigration: How the Media Criminalizes Immigrants." Politics, Groups and Identities 6, no. 4, 814-824.
---
By Teresa Mioli
(May 1, 2018 | Journalism in the America's Blog) - Latin Americans are among the ranks of journalists selected to spend the upcoming academic year at distinguished U.S. universities to study and develop special projects.
The John S. Knight Journalism Fellowships at Stanford University, Nieman Fellows at Harvard University and Knight-Wallace Journalism Fellows at the University of Michigan were announced in recent days.
---
By Susan Cheng
(May 8, 2018 | BuzzFeed News)- When casting director Carla Hool moved to Los Angeles from Mexico City in 2011, she found stereotypical roles for Latino actors written without much depth: "The gardener, the immigrant who crossed the border, the gangster, the chola… It was pretty disappointing," Hool told BuzzFeed News, about the roles she'd see most often.
---
Why aren't more people talking about Latinos killed by police?
By Kenya Downs
(July 14, 2016 | PBS) - As videos of Alton Sterling and Philando Castile — two African-American men shot and killed by police last week –went viral and their names became hashtags, many called out a lack of media attention for Latinos who were killed by officers that same week. Organizations like the National Council of La Raza (NCLR), Voto Latino and even Black Lives Matter, are raising awareness of police use-of-force in Latino communities. Police killings of brown people often go underreported, says Eric Rodriquez, vice president of the NCLR's office of research, advocacy, and legislation.
---
(Feb. 4, 2018 | Reuters via DiversityInc.) - Hollywood directors named Guillermo del Toro the best film director of 2017 for "The Shape of Water" on Saturday, placing the Mexican filmmaker and the film in a strong position for the movie world's top honors, the Oscars, in March.
The Directors Guild of America (DGA), the leading industry group representing film and television directors, chose Jordan Peele as best first-time feature film director for the offbeat horror film "Get Out," which has four Oscar nominations including best picture and for Peele as best director.
---
(January 24, 2018 | Variety) - The glaring absence of Latino nominees in any of the Oscar acting categories announced Tuesday underscores the struggle of activists who have long called on the major studios to do more to serve their most loyal film audience.
---
RESEARCH
"On naming ourselves, or: When I was a spic"
(Source: "Cultural Dynamics," Sage Publications) - "A Colombian-American writer contemplates labels that have been applied to the Latino/a/x community over the years."
Bibliography:
Engel, Patricia. "On Naming Ourselves; Or: When I was a Spic." Cultural Dynamics, Sage, Volume: 29 issue: 3, page(s): 193-201. Article first published online: October 4, 2017; Issue published: August 1, 2017 https://doi.org/10.1177/0921374017727854
---
NEWS & ARTICLES
To be or not to be Latinx? For some Hispanics, that is the question.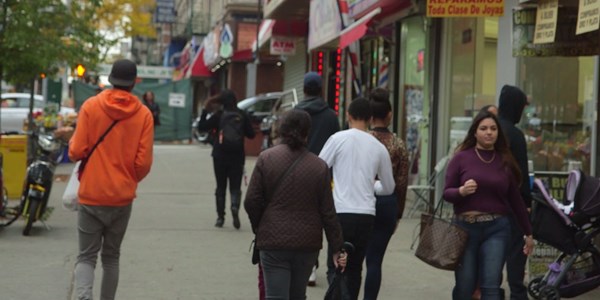 By Raul Reyes
(Nov. 7, 2017 | NBC News) - It is a word that has been both embraced and scorned by Latinos. It often sparks conversations about identity, gender and privilege. Its usage has led to innumerable social media spats, and the debate shows no sign of dying down. The word in question is "Latinx," which some Hispanics are using as a more inclusive term for Latinos. Read more
---
Neglecting the Latino community is Hollywood's multibillion-dollar missed opportunity
By Herb Scannell
(Nov. 16, 2017 | AdWeek) - Diversity has become a watchword in Hollywood—just look at this year's Emmy's, which was touted as the "most diverse award show" in years despite the lack of Latino representation in any major award category.
Whether you're celebrating how far Hollywood has come in representing diverse voices or lamenting how far it still has to go, and I firmly believe you can do both at once, one fact remains indisputable. The Latino community is still almost completely shut out of Hollywood, both in front of and behind the camera. Read more.

---
Three Latinas seek to lead Belleville Board of Education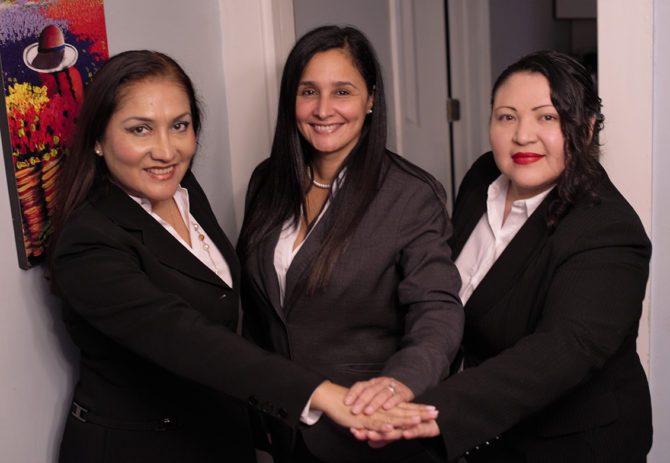 By Gery Vereau
(Nov. 6, 2017 | Voices of NY) - For the first time in the city's history, a group of Latina women – formed by Belleville Board of Education trustee Liza M. López (LL), from Puerto Rico, Olga Torres (OT), from Peru and Erika Jacho (EJ), from Ecuador – are coming together to do something about education in an area where 70 percent of students are also Latino. Here are their proposals for the Belleville Board of Education, offered before the election scheduled for Nov. 7. Read more.
---
Zoe Saldana launching Latino-focused digital media brand
By Rebecca Ford
(July 27, 2017 | The Hollywoold Reporter) - The 'Guardians of the Galaxy' star's BeSe will create content targeting millennial and Gen Z audiences for distribution across social and digital platforms. Read more
---
How Chrissie Fit and 'Pitch Perfect 3' are challenging Latino stereotypes
By Jennifer Drysdale‍
(Oct. 6, 2017 | ETOnline.Com) - Chrissie Fit is challenging the status quo.
The 33-year-old actress portrays a different kind of Latina character in Pitch Perfect -- and one that will only evolve when the franchise's third installment hits theaters in December. Read more
---
Latinos in TV network news 2008-2014: Still mostly invisible and problematic
By Federico Subervi (with the collaboration of Vinicio Sinta)

Click here to access the report.

---
A Latina disney movie princess? The wait isn't over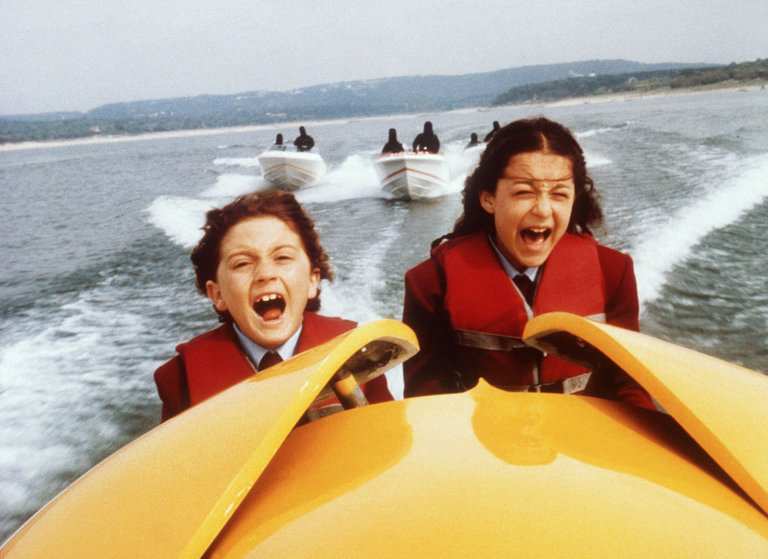 By Monica Castillo
(Nov. 25, 2016 | The New York Times) - I'm not part of Disney's target audience for its latest princess movie, "Moana," but I don't care. I've been excited about this film since Dwayne Johnson previewed it last year at the D23 Expo for all things Disney. As much as the new Lin-Manuel Miranda music sounds promising, what's really exciting is the chance to see a Disney princess who doesn't look like those we have already. Read more.
---
'Feeling Latino' spotlights artistic diversity

By Paul Hyde
(October 6, 2016 | Greenville Online) - Greenville's Hispanic community may be a unified presence but it speaks in a diversity of voices.
That's the impression one is likely to have at "Feeling Latino," an exhibition of 12 Greenville-based Hispanic artists at the Metropolitan Arts Council. Read more


---
The Washington Post: This couple didn't tip their Latina server. They left a hateful message instead.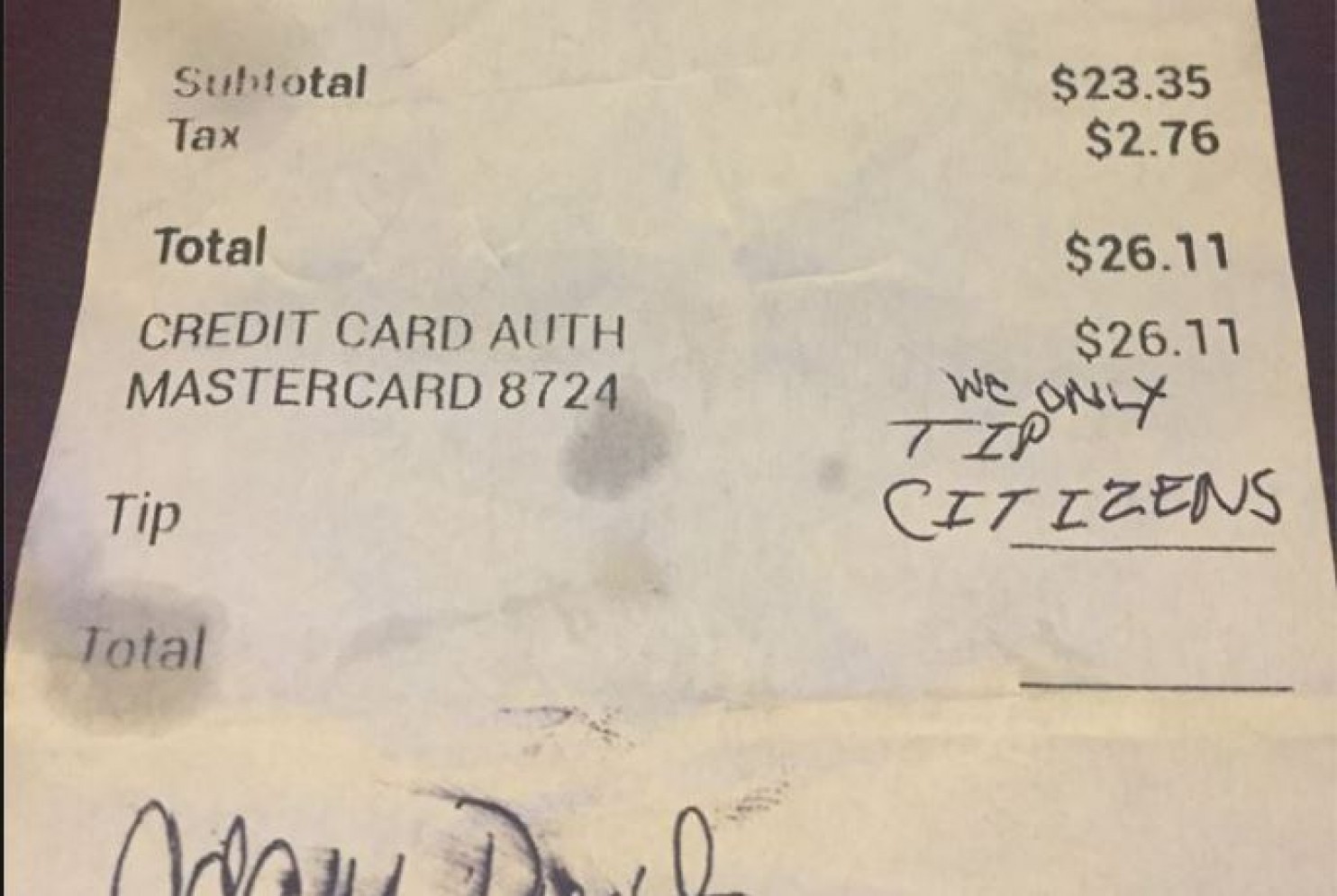 By Cleve Wootson Jr.
(Aug. 21, 2016 | The Washington Post) - The message on the receipt rattled Sadie Karina Elledge, but it made her grandfather see red.
Instead of leaving a gratuity on Monday, a couple eating at the Harrisonburg, Va., restaurant where Sadie works scrawled: "We only tip citizens."
The dig was aimed at Sadie, 18, who was born in America, but is of Honduran and Mexican descent. So, John Elledge took a photo of the grease-stained receipt left for his granddaughter and posted it on Facebook. Read more
---
UNIDOS app encourages Latino millenials to vote
By Pilar Marrero, Translated by Elena Shore
(Jul 19, 2016 | La Opinion via New America Media) - The launch of UNIDOS, a mobile app that features news, videos and emojis, aims to increase voter participation of what is potentailly one of the most influential segments of Latino voters: Millenials.
The goal of the app is to get the attention of young people between 18 and 34 years old by providing them with information and convincing them of the importance of getting involved, explained John Rudolph, professor and founder of Feet in 2 Worlds, a journalism project that has promoted the work of immigrant journalists since 2004. Read more
---
National Hispanic Media Coalition teams up with Latino Media to boost diversity
By Robert Schoon
(July 7, 2016 | Latin Post) - The National Hispanic Media Coalition announced this week it had created a new coalition with a few major Latino media businesses and organizations in an effort to boost Latino diversity in media and technology. Read more
---
Move over JLo, there's a Puerto Rican superhero and she can fly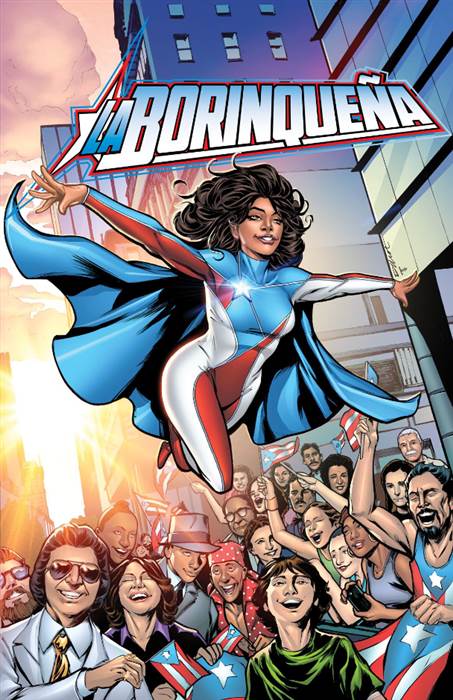 By Sandra Guzman
(May 11, 2016 | NBCNews.Com) - With a crushing debt and a health care and humanitarian crisis in the making, the beautiful island of Puerto Rico could use a superhero right now. And thanks to Brooklyn-based Marvel Comics writer and comic book nerd, Edgardo Miranda-Rodriguez, it got one. Her name is La Borinqueña, a New York-born superhero who discovers her superpowers when she visits the island. Click here to read rest of the article.
---
Eva Longoria's 'Telenovela' and family comedy 'Crowded' cancelled at NBC
By Elizabeth Wagmeister
(May 13, 2016 | Variety.Com) - NBC has cancelled Eva Longoria's "Telenovela" after one season, plus freshman comedy "Crowded," Variety has learned.
"Telenovela" gave a behind-the-scenes look at a fictional telenovela and its star who does not speak Spanish, played by Longoria.
"Telenovela" was the vehicle set to bring Longoria back to TV, following her stardom on ABC's "Desperate Housewives." The Latino-themed sitcom was one of the hottest projects last development season, entering a bidding war between a couple of networks, before landing at NBC with a straight-to-series 13-episode order — the only way Longoria would commit to the project. Read more


---
Becerra: In this town, it's as if Hollywood tries not to cast Latinos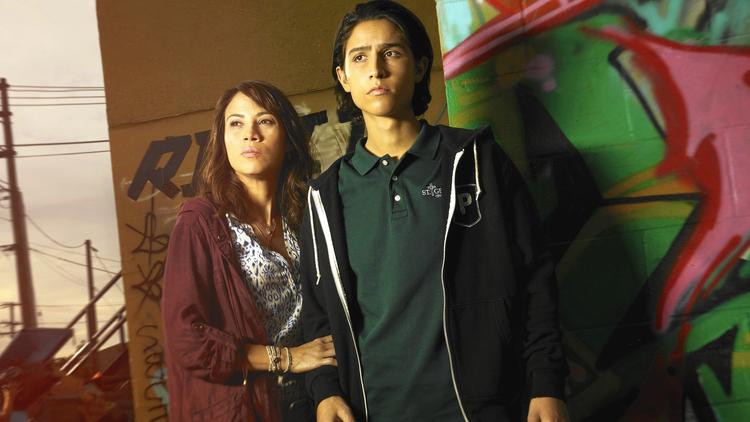 By Hector Becerra
(Feb. 27, 2016 | Los Angeles Times) - In Hollywood, there is no Magical Latino.
That honey-tongued Mexican American dude who can help the white guy with his golf game while, more important, imparting life lessons before disappearing over the horizon? He doesn't exist. That Salvadoran woman wisely guiding the "Chosen One" — another white guy — through an alternate-reality maze to his appointed destiny? You won't find her. Read more
---

Pasadena-based national Hispanic media coalition honors positive portrayals of Latinos in media
(Feb. 27, 2016 | PasadenaNow.Com) - On the evening of Friday, the 26th, the National Hispanic Media Coalition (NHMC) celebrated its 30th year anniversary and honored outstanding contributions to the positive portrayals of Latinos in media at its 19th Annual NHMC Impact Awards Gala at the historic Beverly Wilshire Hotel in Beverly Hills, California. NHMC promoted and passed out brown ribbons as part of #HollywoodBrownout. Read more
---

What it's really like to work in Hollywood
By Melena Ryzik
(Feb. 24, 2016 | The New York Times) - The statistics are unequivocal: Women and minorities are vastly underrepresented in front of and behind the camera. Here, 27 industry players reveal the stories behind the numbers — their personal experiences of not feeling seen, heard or accepted, and how they pushed forward. In Hollywood, exclusion goes far beyond #OscarsSoWhite. (Interviews have been edited and condensed.) Read more
---

Latinos may be the least represented in Hollywood
By Ma. Elena
(Feb. 23, 2016 | Latin Post) - Latinos are the least represented in Hollywood's film and TV projects, according to a research published this week.
The study, titled the "Comprehensive Annenberg Report on Diversity," was conducted by the Media, Diversity and Social Change Initiative at the USC Annenberg School for Communication and Journalism. The research found that even though Latinos account for 17.4 percent of the United States population, the community is among the least represented in terms of speaking roles in film and TV. Read more
---

[DRAFT REPORT] Latinos in TV network news 2008-2014: Still mostly invisible and problematic
Study funded by Communication Workers of America (CWA) and the Newspaper Guild. Click here to read the draft report.
---

Yes, Latinos are rising, but so are Latino nonvoters
(Jan. 19, 2016 | The New York Times) - Here's the reality of Latino political power today: It's not what it could be.
Even though 27 million Latinos will be eligible to cast a ballot in November — an increase of 17 percent since 2012 — the Latino population is becoming more distant from the American political process, according to a new report from the Pew Research Center. Read more
---

Donald Trump's SNL garners biggest ratings as protesters make noise
Click here to read the story (By Zayda Rivera, Latina, Nov. 8, 2015)
---

Still no Latinas at SNL, but will that ever change?
(Nov. 5, 2015 | CNN Money) - Amid protests demanding that NBC "Dump Trump" as host of Saturday Night Live this weekend, Latino protesters are also shining a light on another issue: the lack of Hispanic cast members on the show. Read more
---

How journalists can change what TV says about Latinos
By Tara Garcia Mathewson
(Oct. 19, 2015 | Education Writers Association) - A study in the 1990s found less than 1 percent of the leading English language TV news broadcast stories were either about or related to Latinos. A similar study, conducted from 2008 to 2014 by retired Kent State University journalism professor Federico Subervi, found there was no change in that number. Read more
---

Advocates for Latino community call on media to improve Hispanic representation
By Cristina Lopez
(Sept. 21, 2015 | Media Matters for America) - Prominent advocates for the nation's Latino community highlighted how badly America's second-largest demographic is underrepresented in the media during a September 17 Media Matters-sponsored event to mark the start of Hispanic Heritage Month. The panelists underscored how the media's nearly complete lack of Latino representation ranges from the dearth of Latino voices and perspectives included in English-language news to the absence of substantive coverage of issues that matter most to Latinos -- and how that underrepresentation is mirrored by underrepresentation in the government, which deeply impacts "the quality of life of the Latino community." Read more
---
Five reasons marketers must target U.S. Hispanics on mobile
By Lee Vann
(Sept. 10, 2015 | MediaPost) - In 2011, I stressed that mobile was a must for reaching U.S. Hispanics. Back then, few brands were proactively targeting U.S. Hispanics on their mobile devices despite the growing evidence that Hispanics were becoming mobile first consumers.
Today, a mobile strategy is an essential component of any marketing plan striving to connect with the 55 million Hispanics in the U.S. that spend over $1.5 trillion per year. Read more
---
Donald Trump gets earful in Spanish as Latino outlets air disdain
By Ashley Parker
(Aug. 26, 2015 | The New York Times) - Ricardo Sánchez, known as "El Mandril" on his Spanish drive-time radio show in Los Angeles, has taken to calling Donald J. Trump "El hombre del peluquín" — the man of the toupee. Read more
Related Stories
- Jorge Ramos equates Donald Trump to a dictator (Aug. 26, 2015 | The Huffington Post)

- Why are Latino children scared of Donald Trump? (Aug. 18, 2015 | The New York Times)
---
Latinos still owning key digital technology user trends
By Robert Schoon
(Aug. 18, 2015 | Hispanic Trending) - A 2015 study of Latinos' digital habits confirms that U.S. Hispanic consumers are still leading key technology and digital trends.
It was 2013 when Pew Research found that Latinos tended to own smartphones at a higher rate than the national average. Media researcher Nielsen called Latinos "Ahead of the Digital Curve" in 2014, after finding Hispanic consumers in the U.S. particularly tended to stream more online video and were more likely to use mobile devices as "second screens", among other key measures of digital habits that Latinos over-indexed for. Read more
---
Puerto Ricans seeking new lives put stamp on Central Florida
By Lizette Alvarez
(Aug. 24, 2015 | The New York Times) - When Manuel Hernandez, a teacher in Puerto Rico, looked at the reasons to stay home or to take a chance on joining the ever-growing Puerto Rican diaspora in Central Florida, it was not a hard call. Read more
---
Serving the needs of the Latina community for health information
By R. A. Yaros, J. Roberts, E. Powers, L. Steiner

Abstract

Latinos remain the largest US population with limited health literacy (Andrulis D.P. & Brach, 2007). Concerned with how local media can meet the information needs of underserved audiences, we interviewed Latinas who were pregnant or mothers of young children living in a Spanish speaking community, and surveyed 33 local health professionals. Findings are that Latina women's most common source of health information was family and friends. They said they tune to Spanish television and radio programs, but gave low grades to news media for health information. Medical professionals agreed that Latinas generally get their health information through friends and family, and rated the media poorly in terms of serving Latinas' needs. Since the data indicate that the local news media are not serving Latinas' health information needs as much as they could, we offer recommendations to potentially exploit new technological affordances and suggest expansion of conventional definitions of health literacy.
---
Avoid being lost in translation with Spanish-language media
By Alejandro Alvarado Bremer
(Aug. 10, 2015 | Campaigns & Elections) - Univision's Jorge Ramos graced the April cover of Time Magazine—the issue highlighting the 100 most influential people in the world.
Ramos, who was born in Mexico City, used his time at the podium during the magazine's coinciding gala to demand the resignation of Mexican President Enrique Peña Nieto. Some in the crowd were undoubtedly surprised to hear a prominent broadcast journalist pronounce such an outspoken view, but Ramos' activism is not isolated. Read more
Related Article:
- Census Bureau reports congressional voting turnout is at lowest mark since 1978 (U.S. Census Bureau)
---
11 incredible Latina musicians you won't find on mainstream radio
(June 12, 2015 | Mic.Com) - When you ask most people about popular Latino musicians, you'll probably hear a lot about Shakira and J. Lo. Latinos, who made up 17% of the American population as of 2013, have a varied palette when it comes to music (salsa, cumbia, reggaeton, rock). Yet unless Latino artists make American-sounding pop, they're always relegated to Hispanic outlets and never the American mainstream. It was just this year that Juanes, the Colombian rock-pop superstar, performed a song in Spanish at the 2015 Grammys — the first time anybody had done so in 10 years. Read more


---
Univision Contigo launches annual citizenship campaign to empower influential Hispanic community
(July 2, 2015 | Univision PR) - Univision Communications Inc. (UCI), the leading media company serving Hispanic America, launched its annual citizenship campaign, to commemorate the U.S. Independence Day holiday. ¡Hazte Ciudadano! (Become a Citizen!), a campaign under the Company's award-winning Univision Contigo empowerment platform, will educate eligible individuals about the benefits of becoming a U.S. citizen, and guide them to resources that can help them navigate the process. Read more
---
Hispanic groups show unity, strength in response to Trump
By Moses Frenck
(July 1, 2015 | DiversityInc.) - The continuing blowback to Donald Trump's comments that Mexicans are "rapists" and "drug dealers," among other things, has grown to proportions Trump himself may not have anticipated, with pressure from Latino groups coming on very strong. Read more
---
'Jane the Virgin' and the efforts to attract Latino audiences

(June 5, 2015 | Kuow.Org ) - This week, the CW's breakout hit "Jane the Virgin" was honored with a Peabody award. The comedy-drama series is about a religious young woman, Jane, who is a virgin but discovers she's pregnant after a mix-up at the gynecologist's office. Read more
---
Upcoming film set in East LA draws criticism over portrayal of Latinos
By Sophia Kunthara and Kim Baldonado
(Source: NBC Los Angeles | June 8, 2015) - As film crews strike the set at an East Los Angeles auto body shop, controversy in the community lingers over the film's storyline.
Eastside Cafe, an El Sereno community organization, has criticized the film with Eva Longoria and Demian Bichir on the acting roster, saying the movie perpetuates Latino stereotypes. Read more
---

Can you be a Latino politician if you don't speak fluent Spanish?
By Suzanne Gamboa
(NBC News | June 6, 2015) - The prospect that he might be a running mate to Hillary Clinton made Housing and Urban Development Secretary Julián Castro a target over his Spanish speaking skills, something that many Latino politicians are all too familiar with.
In a story published Thursday, Politico paraphrased an unnamed source saying Castro's ethnic background "may not be as effective in appealing to Hispanic voters as some believe." Read more
---

James M. McNamara: "Big Media Has Not Been Friendly to Hispanics Because it is All About Preserving the Status Quo"
(April 20, 2015 | Portada) - James M. McNamara, Chairman of Panamax Films and Pantelion Films, will be a keynote speaker at AHAA's Annual Conference next week. Portada interviewed Mc Namara ahead of this speaking engagement to ask him about the evolution of the marketplace, motion picture marketing, TV Everywhere . . . Read more
---

Poverty, fertility and health among Hispanics in America's new immigrant destinations
(March 26, 2015 | Journalist's Resource) - Nearly a quarter of all babies born in the United States are now Hispanics, yet many of these newborns start life's race behind the starting line, poor and disadvantaged. This issue might seem relevant only to longstanding metropolitan gateways for new immigrants, such as San Diego, New York, Chicago and Miami. But today it matters for rural areas and small towns as well, because new immigrants have spread out all over the United States. Read more
---

Hispanics at the starting line: Poverty among newborn infants in established gateways and new destinations
By Daniel T. Lichter, Scott R. Sanders and Kenneth M. Johnson
Abstract
Source: Social Forces (2015) doi: 10.1093/sf/sov043 First published online: February 24, 2015
High rates of Hispanic fertility raise an important question: Do Hispanic newborn babies start life's race behind the starting line, poor and disadvantaged? To address this question, we link the newborn infants identified with the new fertility question in the 2006–2010 American Community Survey (ACS) to the poverty status of mothers. Our results document the disproportionately large share (40 percent) of Hispanic babies who are born into poverty. The prospect of poverty is especially high in new Hispanic destinations, especially those in rural areas. For Hispanic newborn babies, poverty cannot be reduced to supply-side explanations that emphasize maladaptive behavioral decision-making of parents, that is, nonmarital or teen childbearing, low educational attainment, acquisition of English language skills, or other dimensions of human capital. Hispanics in new destinations often start well behind the starting line—in poverty and with limited opportunities for upward mobility and an inadequate welfare safety net. The recent concentration of Hispanic poverty in new immigrant destinations portends continuing intergenerational inequality as today's newborn infants make their way to productive adult roles.
---
More >>> 1