Judge Ketanji Brown Jackson and Teachable Moments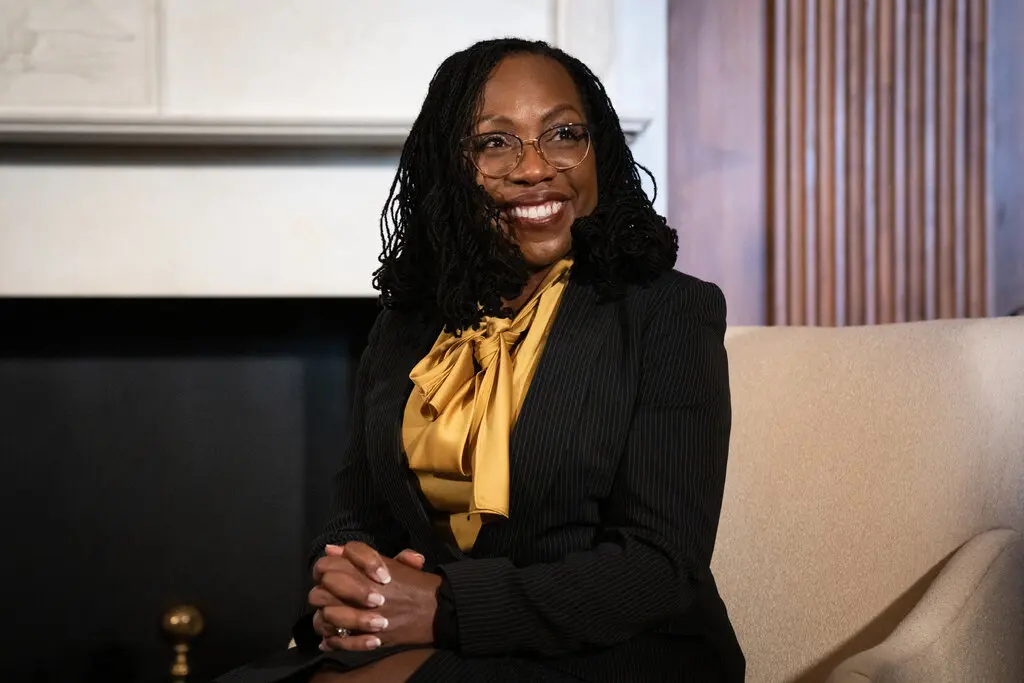 Judge Ketanji Brown Jackson (Photo Credit: Sarahbeth Maney/The New York Times)
By Dorothy Bland,
Media Diversity Forum
(April 19, 2022) - Judge Ketanji Brown Jackson's journey to the Supreme Court of the United States (SCOTUS) is historic in a variety of ways as well as an incredible opportunity for a lifetime of teaching and research for journalism, media and communication scholars and students.
As she said in an emotional speech outside of the White House on April 8, "It has taken 230 years and 115 prior appointments for a Black woman to be confirmed to serve on the Supreme Court of the United States." With cameras rolling and social media buzzing, it was a field day for journalists as she was flanked by U.S. President Joe Biden and Vice President Kamala Harris. Jackson's nomination was confirmed by a 53-47 Senate vote with the full support of Democrats in the U.S. Senate and only three Republican senators, Lisa Murkowski of Alaska, Susan Collins of Maine and Mitt Romney of Utah voted to confirm her.
During the grueling confirmation process, Judge Jackson displayed dignity and grace under pressure in contrast to the meltdown observed in 2018 when then Judge Brett Kavanaugh was questioned about allegations that he sexually assaulted Christine Blasey Ford, a psychology professor, when they were teens. Kavanaugh denied the allegations. He was confirmed by a 50-48 Senate vote, and now serves on the SCOTUS. In 1991, Clarence Thomas faced sexual harassment allegations from Anita Hill, an attorney, during his confirmation hearings. Thomas denied the allegations and was confirmed in a 52-48 Senate vote. Thomas is now the longest serving associate justice on the SCOTUS with more than 30 years on the job.
When Jackson replaces Associate Justice Stephen Breyer, who is retiring this summer, she will be one of four women on the SCOTUS. The other three females on the court are Sonja Sotomayor, Elena Kagan and Amy Coney Barrett. While Jackson was nominated by Biden and Barrett was nominated by former U.S. President Donald Trump, both women jurists are wives and mothers. Jackson and Barrett also will be the two youngest members of the court as Barrett is 50 and Jackson is 51.
The SCOTUS nomination and confirmation hearings are increasingly politically charged processes. Although some Republicans tried to frame Brown as a liberal who is lenient on pedophiles and launched an ad campaign to try and block her confirmation, Democrats also launched an ad campaign recently leading into the midterm elections with ads in the Black Press and online outlets in five major markets in Georgia, Pennsylvania, Florida, Wisconsin and North Carolina with this tag line: "Senate Republicans tried to stop her. We must defend the Democratic Senate."
It is no surprise that Jackson and most of the SCOTUS justices have Ivy League law school credentials, served as U.S. court of appeals judges, and worked as Supreme Court clerks before their appointments. Jackson is a Harvard University graduate who once clerked for Breyer. She also served as a district judge in Washington, D.C., and will be the only member of the court who has experience working as a public defender. She and three others (Breyer, Alito and Kagan) are products of public high schools, according to The Washington Post.
When Jackson officially takes her seat on the SCOTUS, conservatives are still expected to have a majority on the court. However, just as the late Associate Justice Ruth Bader Ginsburg became a pop star icon, it would not be surprising to see Jackson become the subject of much research, books and even a biopic film. On April 9, Saturday Night Live's cold open featured a sketch with Ego Nwodim doing an impression of Jackson with other SNL cast members playing Biden, Ginsburg and trailblazers such as Thurgood Marshall, the first black Supreme Court justice, Harriet Tubman, conductor of the Underground Railroad, and Jackie Robinson, the baseball player who broke the Major League Baseball color barrier.
In the nation's capital, The Washington Post already has produced a feature story headlined "What Ketanji Brown Jackson's sisterlocks means to Black women," and a block party was held with the unveiling of a mural on April 9 to celebrate Jackson. She also has trended on social media with hashtags such as #KetanjiBrownJackson, #KBJ, #SheWillRise and #InKBJWeTrust. See three examples of the reaction on Twitter:
Links to six articles and news-related videos that were used for discussion in my Race, Gender and Media class to discuss framing during the historic week follow.
- New ad campaign accuses Judge Ketanji Brown Jackson of being too lenient on pedophiles | Fox(Fox News)
- How Ketanji Brown Jackson's path to the Supreme Court differs from the current justices - Washington Post(Washington Post)
- The 19th Explains: What to know about Ketanji Brown Jackson's Supreme Court confirmation hearing(The 19th News)
- Ketanji Brown Jackson's nomination brings renewed attention to lack of Black judges on the federal bench(CNN)
- Why Judge Ketanji Brown Jackson's Locs Are About More Than Just Hair(Oprah Daily)
- Making HERstory: Judge Ketanji Brown Jackson's Journey To The Supreme Court(Source)

The Association for Education in Journalism and Mass Communication has nearly 30 divisions/ interest groups plus a Commission on the Status of Minorities and the Commission on the Status of Women. There are so many more future research opportunities and collaborations ranging from History and Visual Communication to Cultural Critical Studies and Law/Policy to name a few. Indeed, what a privilege to be researchers and teachers in this historic time.
---