Juneteenth Reflections on Three R's: Respect, Resilience and Research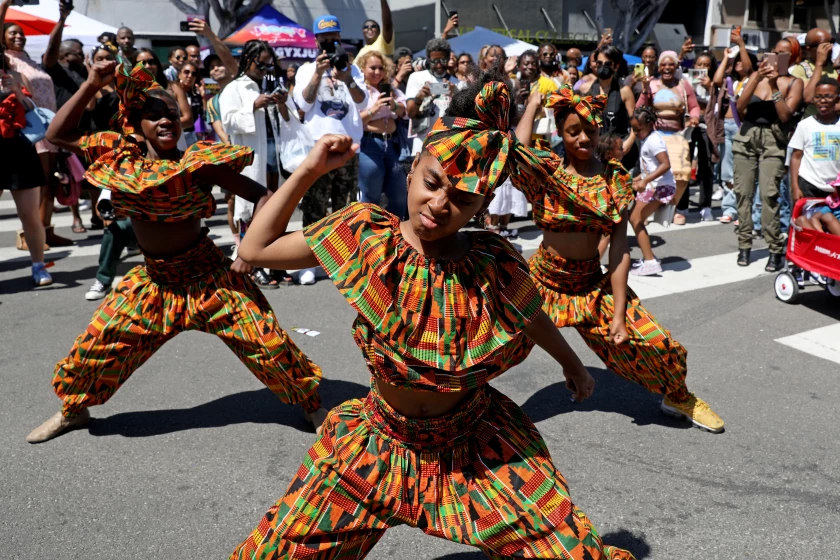 Zoria Gardner, left, Kaylen Brown and Phynnesc Jackson of the Victory Dancers Crenshaw District dance team perform at Saturday's Juneteenth celebration in Leimert Park.(Gary Coronado / Los Angeles Times)
(June 21, 2022) - With Juneteenth and Father's Day falling on the same Sunday, June 19, in 2022, much news coverage was celebratory of Black joy. From coast to coast, images of folks celebrating the federal holiday with parades, parties and festivals filled social media as well as traditional media outlets over the weekend.
Even CNN devoted a three-hour special titled "Juneteenth: A Global Celebration of Freedom" that night from the Hollywood Bowl in Los Angeles. Like most folks, I love a good party and enjoyed dancing to entertainers such as Earth Wind and Fire as well as listening to Jill Scott's spoken words about the importance of agitation and education.
Juneteenth isn't a performative Black folks' holiday. It is an official federal holiday honoring our slave ancestors in Texas who learned of their freedom on June 19, 1865, nearly two and a half years after the Emancipation Proclamation marked the end of slavery. Juneteenth is about respect and resilience plus the need for more research about American history. Two more R's that struck a chord were found in an essay by Venneikia Williams and Diamond K. Hardiman in Yes! Magazine. They wrote about reparations and the need to reclaim our stories. Read more From Juneteenth to Reparations.
Juneteenth also celebrates the importance of democracy and freedom for all people. Although Juneteenth is a federal holiday, it is noteworthy that only 18 states (Colorado, Connecticut, Delaware, Georgia, Illinois, Louisiana, Maine, Massachusetts, Maryland, Nebraska, New Jersey, New York, Ohio, Oregon, South Dakota, Texas, Virginia and Washington) observe it as a paid state holiday and that only 30% of private employers made it a paid holiday in 2022, according to Axios. Still, it is encouraging that a recent Gallup Poll showed nearly six in 10 adults (about 17% know a lot and 42% know something) say they're familiar with Juneteenth compared to about 37% combined in May 2021. That's a sign there is progress and more work to do.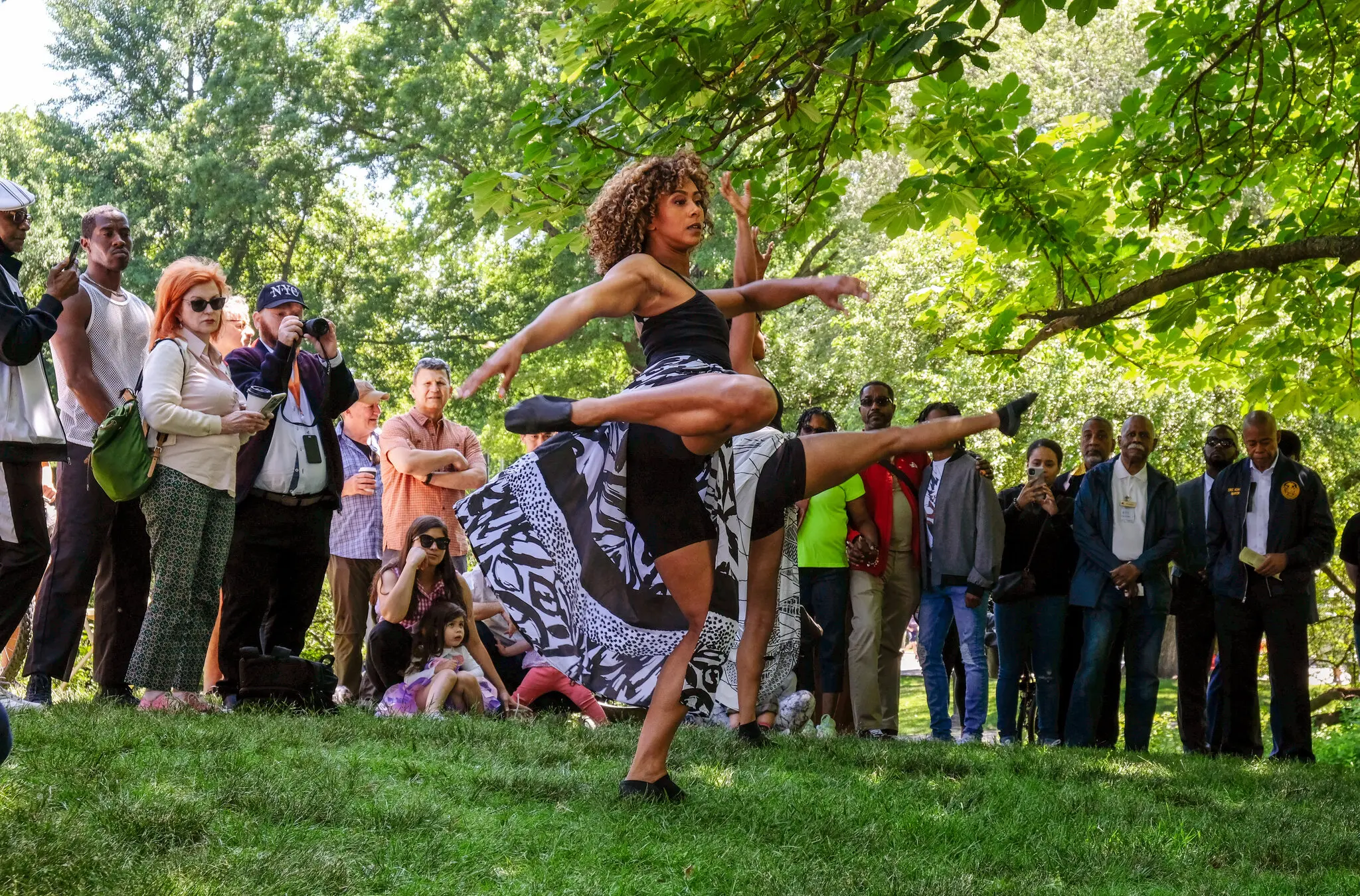 An interpretive dance presented by the Central Park Conservancy at the Juneteenth event on Sunday in what was Seneca Village. Photo Credit: Laylah Amatullah Barrayn for The New York Times
It is especially important that we take time to listen and learn from the legacy of Opal Lee, the 95-year-old retired teacher, counselor, author and activist, known as the grandmother of Juneteenth. She is the University of North Texas alumna who led the national movement to make it a federal holiday with walks across the nation. She's a phenomenal role model as she led the 2.5-mile celebratory Juneteenth walk held Saturday, June 18, 2022, in Fort Worth. In her words, "We should guard freedom with our life." In another network TV soundbite, she reminds folks, "If people can be taught to hate, they can be taught to love."
In Fort Worth, plans for a 50,000 square-foot National Juneteenth Museum were unveiled recently and the groundbreaking for the project is scheduled for 2023. It is expected to be a catalyst for more economic growth on the Southside of Fort Worth. To learn more, go to National Juneteenth Museum.
Just as the Fourth of July and Christmas have become hyper-commercialized events, vendors trying to capitalize on the estimated $1.6 trillion in buying power of Black folks in the United States have been busy with Juneteenth. However, Walmart recalled a Juneteenth ice cream after a backlash on Twitter. A quick check of Amazon found more than 30 Juneteenth-themed books ranging from children's coloring books to cookbooks, and several documentaries have been released.