Impact of Keystone XL on Native American tribes
(Source: MSNBC) - Native Americans in South Dakota fear that building of the Keystone XL Pipeline could disrupt their fragile land and culture. Ed Schultz travels to the reservation.
Shoni Schimmel represents what is right with American Indian youth
By Levi Rickert
(April 19, 2014 | Native News Online) - It is not every day an American Indian enters the WNBA, the women's professional basketball league, as Shoni Schimmel did this past Monday. As a matter of fact, no American Indian woman has ever been drafted in the first round of the WBNA as Shoni was when the Atlanta Dream selected her. Schimmel represents what is right with American Indian youth across Indian country. Read more


The invisibles: Seattle's Native Americans
By Toyacoyah Brown
(March 7, 2014| PowWows.Com) - Matt Driscoll from Seattle Weekly News takes an in-depth look of what it's like to be a member of Seattle's urban Native community. For urban Natives it can be lonely when they're less than 1% of the overall population. Luckily there are services in the city for Natives looking to connect with each other such as Urban Native Education Alliance . . . Read more
AFN Applauds Supreme Court decision on Katie John case
(March 31, 2014 | Alaska Federation of Natives) - On March 31st the Supreme Court of the United States decided to reject the State of Alaska's petition in the legal case State of Alaska v Sally Jewell, Secretary of the United States Department of Interior et al, widely known as one of the Katie John Cases. Read more
National Congress Of American Indians releases anti-Redskins ad

(Jan. 30, 2014 | Deadspin.Com) - Just in time for the Super Bowl, the National Congress of American Indians has released a simple, yet powerful, commercial directed right at Dan "you can use caps" Snyder. For nearly two minutes we see video and images of American Indians living their everyday lives while the narrator lists the various names they use to refer to themselves.
Related Story: Makers of this Ad don't have the money to show during Sunday's superbowl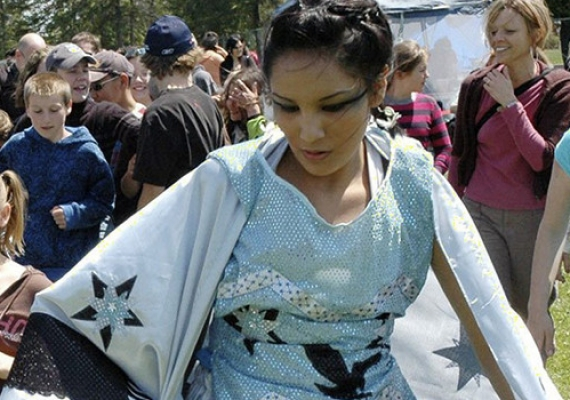 New DC comics superhero inspired by young Cree activist
By Toyacoyah Brown
(Jan. 7, 2014 | Pow Wows) - DC Comics author Jeff Lemire is working on a new superhero team, Justice League Canada, and as he develops a female First Nations character he's looking to the late activist Shannen Koostachin for inspiration. Read more


Brenda Child examines "powerful" Ojibwe women roles
(March 22, 2014 | Native News Online) - American Indian men have long understood women within American Indian families, tribes and communities play a very influential role. Brenda J. Child in "Holding Our World Together: Ojibwe Women and the Survival of Community" brings this concept to life. Read more


Film to tell story of last living Navajo code talker
By Megan Cruz
(March 17, 2014 | KOAT.Com) - Some say without them, the United States and its allies would have lost World War II. The last of the original Code Talkers spoke to KOAT Action 7 News about a documentary that will chronicle his life. Read more


Schimmel "Sister Act" began NCAA tournament
By Levi Rickert
(March 23, 2014 | Native News Online) - Louisville Cardinals women's basketball team—with Shoni and Jude Schimmel—begin their NCAA Tournament on March 23, 2014, against the No.14 Idaho Vandals in Iowa City, Iowa. Read more