AEJMC Minorities and Communication Division's Spring 2019 Newsletter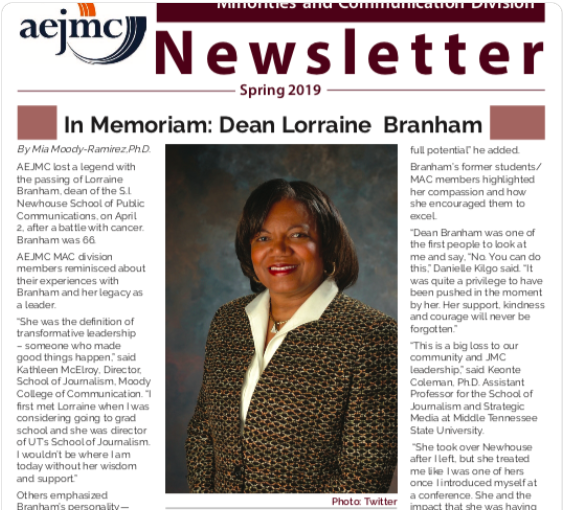 Click here to access the electroic version of electronic newsletter.
Forum's Activities
(June 29, 2018 | Adopted from SPLC Press Release) - After the deadly shootings on June 28 at the Capital Gazette newsroom in Annapolis, Maryland, 500 organizations and individuals, including Media Diversity Forum, have signed a statement spearheaded by the Student Press Law Center calling for an end to the environment which threatens journalists.
Campus Events
Errin Haines Whack, national writer for The Associated Press, discusses coverage of minorities during the era of President Donald Trump at the 10th annual Schuneman Symposium at Ohio University. The program was sponsored by the E.W. Scripps School of Journalism and the School of Visual Communication. Whack, NABJ's emerging journalist of the year, was among 14 speakers at the two-day program on "Covering Trump." Photo by Robert Stewart.
Engagement
Forum's Mission
The Media Diversity Forum is designed to serve inclusiveness by seeking resources, supporting research, stimulating dialogue, sponsoring programs and sharing techniques.
A project of the Manship School of Mass Communication, LSU.