The Mormon feminist fighting for priesthood

(The Atlantic | Ordain Women) - Filmmaker Kristine Stolakis, M.F.A. graduate of Stanford University's Documentary Film and Video program, takes on the often contentious subjects of feminism and religion in her latest documentary, Where We Stand. The 20-minute film follows the life of Abby Hansen, a key advocate of the organization Ordain Women, an organization seeking to address the subject of ordaining Mormon women to the priesthood.
However, this activism has not come without many consequences for Abby and the other Mormon feminists who are taking place in this progressive work. This documentary is currently in post-production. More information about this project can be found on Stolakis's Indiegogo page.

---

Hijabis Of New York: An initiative to dispel misconceptions about hijab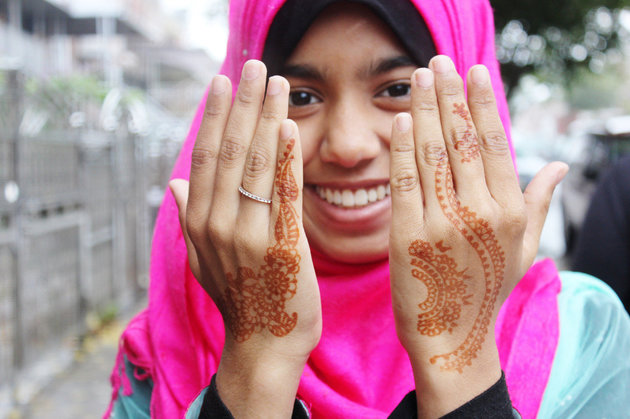 By Antonia Blumberg

(Jan. 19, 2016 | HuffPost Religion) - The popular arts/humanities website and blog, Humans of New York, has gained popularity since its launch in November 2010. There seems to be a widespread appreciation for reading excerpts from interviews of random subjects contacted throughout New York City, thus receiving the opportunity to take a glimpse into each person's unique life story through words and photography.
Rena Abdelhamid, inspired by this site, decided that she could utilize a similar approach to help "…dispel common misconceptions about the hijab…", which is often accompanied by negative and confusing associations, through her newly developed Tumblr and Facebook page, "Hijabis of New York" (Blumberg, 2016). This concept was initially brought about in October 2014 to serve a couple of purposes: first of all, she hopes this effort will raise awareness globally in order to combat the inherent intolerance and prejudice that exists towards Muslim Americans. Read more
---
5 key findings about faith and politics in the 2016 presidential race
By David Masci
(Jan. 27, 2016 | Pew Research Center) - One of the five key findings is:

Roughly two-thirds of Republicans – as opposed to about four-in-ten Democrats – say it is important for a president to share their religious beliefs.
---
Can Hobby Lobby buy the Bible?
By Joel Baden and Candida Moss
(Jan/Feb. 2016 | The Atlantic) - The president of Hobby Lobby, David Green, became a household name over the last year following Burwell v. Hobby Lobby Stores, the renowned case that debated the "insurance coverage for some forms of birth control" for the company's employees (Baden and Moss, 2016). While it quickly became common knowledge that Green is an evangelical Protestant who views the company as God's success that prospers in order to enable ministry, it may not be as widely-known that Green is the name behind the many Biblical events and stores. Read more
---
H&M's new scarf looks remarkably like a Jewish holy garment
By Emma Green
(Jan. 8, 2016 | The Atlantic) - The tallit, a Jewish religious garment that is commonly worn during times of worship, seems to be informing current popular fashion trends according to those who have noticed recent additions to the accessory collection at the clothing store, H&M. While not referred to as a tallit but rather a "striped scarf" in this commercial setting, this item has many stylistic elements that resemble the religious garment, including stripes, fringe, and knots (the latter of which is a universally defining element to the traditional tallit, making the secularized piece appear sacred). Read more
---
Why this Diwali-observing Hindu family also celebrates Christmas?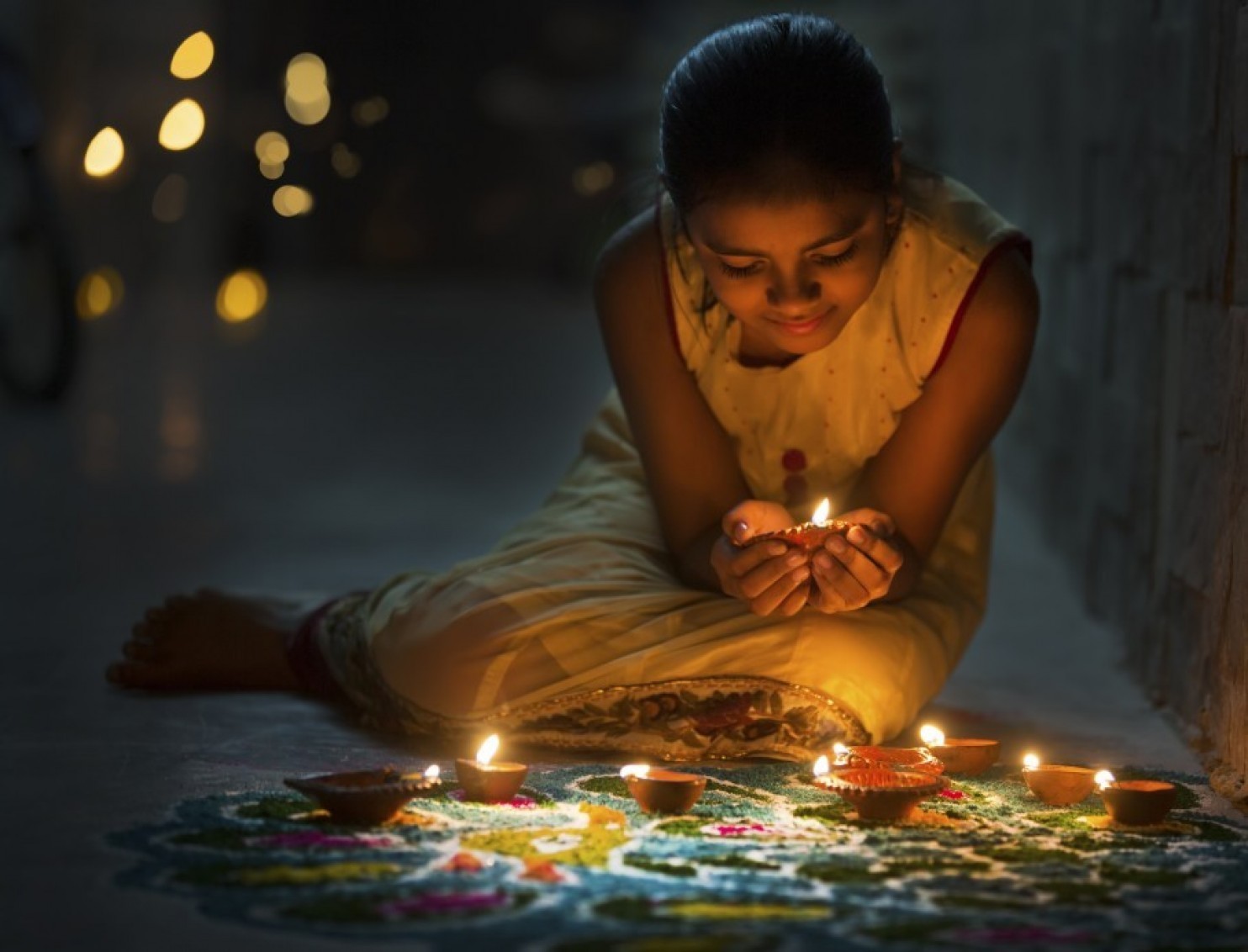 By Rudri Patel
(Dec. 21, 2015 | The Washington Post) - The Christmas carols play in the background while my 9-year-old daughter and I decorate the tree. It's propped up in a corner of our living room, the green limbs stretching their reach while the mini-lights create constellations on the branches. As a sweet treat, I've made hot chocolate with marshmallows. My iPhone is tuned into the Christmas station and we sing Jingle Bells, while holding hands and shimmying across the floor. Read more
---
"Religious groups' policies on transgender members vary widely"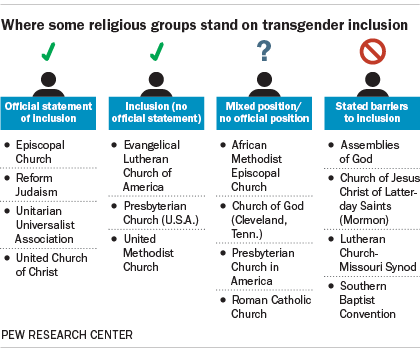 By Aleksandra Sandstrom
(Dec. 2, 2015 | Pew Research Center) - The majority of LGBT adults experience sentiments of less acceptance and friendliness from certain religious institutions than they do from society as a whole. Furthermore, transgenders are perceived by the community as less accepted as compared to lesbians, gay men, and bisexuals.
This is also carried into the scope of religious organizations as well. "The 2013 Pew Research Center survey also found that LGBT adults are less religious than the general public" (Sandstrom 2015). In Ms. Sandstrom's studies, churches that have official statements of inclusion for transgenders include the Episcopal Church, Reform Judaism, Unitarian Universalist Association, and the United Church of Christ. Those have insinuated inclusion, but have no released an official statement, include the Evangelical Lutheran Church of America, the Presbyterian Church (U.S.A.), and the United Methodist Church. Those who have mixed or no official position include the African Methodist Episcopal Church, Church of God (Cleveland, Tenn.), Presbyterian Church in America, and the Roman Catholic Church. Finally, those churches with clearly stated barriers of inclusion include Assemblies of God, Church of Jesus Christ of Latter-day Saints (Mormon), Lutheran Church-Missouri Synod, and the Southern Baptist Convention (Sandstrom, 2015). This article provides specific examples of different religious institutions' steps taken to either include or exclude transgenders. Click here to read the original report.
---
"Prayer shaming after a mass shooting in San Bernardino"
By Emma Green
(Dec. 3, 2015 | The Atlantic) - In the midst of a time when mass shootings are becoming increasingly prevalent, political leaders and citizens alike are tending to respond in two different ways: calling for an increase in gun control or expressing the need for prayer during these difficult times. This is causing some controversy and political division as the more liberal leaders, while not necessarily being hateful towards those who call for prayer, are saying that a greater action needs to be taken in order to see change.
Republicans tend to more commonly be the political affiliation that publicly makes statements encouraging and offering prayers. Many people, in considering these two "reactions" or approaches to deal with crises, view these two areas as "mutually exclusive" (Green, 2015). In fact, some individuals are using social media platforms to bring about "prayer shaming," proclaiming that prayer is not enough (Green, 2015). These statements often come packed with assumptions that religious individuals are gun supporters, and those who have more secular beliefs tend to be more in favor of gun control. Read the entire report.
---
"Religious colleges obtain waivers to law that protects transgender students"
By Liam Stack
(Dec. 11, 2015 | The New York Times) - More than two dozen religiously affiliated colleges and universities are receiving exemptions for protections included under Title IX that are considered "inconsistent with their religious beliefs on a range of topics, including gender identity, sexual orientation, martial status and where a person has had an abortion" (Stack, 2015).
Gay and transgender activists view this as "an open door to discrimination" and find it to be an "unfair treatment" to the transgender community, in particular (2015). While this exemption policy is not new to Title IX enforcement, this concern stems from how frequently they are now being applied. Some would attribute this influx of exemptions as an attempt to discriminate specifically against the transgender community. According to Minnesota's The Column, 27 of the 30 "exemption applications" have been approved (2015). Click here to read the entire report.
---
"God may forgive ads that offend, but customers probably won't"
By Michael McCarthy
(Dec. 14, 2015 | The Atlantic) - Religion is typically not a topic that is addressed in the majority of advertising campaigns due to its controversial nature. However, everyone once in a while, a company decides to incorporate religion, especially the idea of God and prayer, strategically in order to try to inspire those who are drawn to religious/spiritual mentality without offending and forever losing the business of those who are not of those beliefs.
Some companies in the past who have incorporated religious material include McDonald's following the 9/11 terrorist attacks, and Dodge Ram commercials in 2013 with the copy, "So God made a farmer." Overall, the latter was very well-received as it seemed to incorporate the sentiments of the Ram's core consumer, resulting in the perception of authenticity within the spot.
A similar welcome reception came about when "Saint Thomas Health, a chain of Catholic hospitals in Tennessee", quoted the Gospel of Luke (McCarthy, 2015). Unsurprisingly, this did not appeal to all audiences, as some backlash was obtained. Another notable commercial that aired during Super Bowl KLIX was the Mophie "All-Powerless" commercial that insinuated God used a smartphone, trying to create a universal appeal of the feeling that everyone experiences when their phone's battery is about to run out of charge.
However, it is essential when dealing with religion/spirituality in commercials to avoid material that can be considered blasphemous. Red Bull was highly criticized when their commercial insinuated that Jesus did not walk on water, but rather on hidden stones (McCarthy, 2015). John Hegarty of Bartle Bogle Hegarty ad agency is quoted as saying the following: "There are moments in time when brands really do need to stand back and be very, very careful about how they're trying to impose themselves or get in on a conversation…" (2015). Read the entire article here.
---
OWN's new series on religions: BELIEF
The Oprah Winfrey Network featured a new project each evening from October 18-24th entitled BELIEF at 8/7c on OWN. This week-long program featured personal stories of believers of different faiths and cultures, providing insight into how beliefs are able to create unity within humanity despite many differentiations.
By hearing the accounts from two evangelical Christians, a young Jewish boy from Hungary, a pastor and an imam in Nigeria, and a Catholic sojourn, viewers will be exposed to impactful encounters with belief/spirituality and how it affects billions globally. Supplementary to this documentary, Oprah and others hosted a conference call on October 12th to further describe and reflect on the series. Those who are motivated to get further involved are invited to join the "Belief Team", which could involve anything from hosting a watch party to writing a blog about belief and the series.
There are no current plans to stream the event online or create a purchasable DVD. However, the series will be re-airing on OWN on December 25th, and will be airing internationally in 220 countries beginning in December.
---
Pope lectures Catholic elders at closing of synod on family
By Anthony Faiola
(Oct. 25, 2015 | The Washington Post) - Pope Francis on Sunday appeared to lecture church elders at the closing of a landmark summit on the family here, suggesting they should not be quick to exclude a broad array of people deserving of God's grace. Read more
---
Pope Francis hails America's freedoms, but saves strongest praise for the nation's immigrants
By David Gibson
(Sept. 26, 2015 | Religion News) - Standing at a lectern once used by Abraham Lincoln and speaking to a crowd in front of Independence Hall, in the city that gave birth to the United States, Pope Francis on Saturday (Sept. 26) hailed the fundamental freedoms that have undergirded America's greatest achievements. Read more
---
Ben Carson's anti-Muslim talk and a gallup poll findings
By Moses Frenck
(Sept. 23, 2015 | DiversityInc.) - Despite the fact that the U.S. Constitution clearly states "no religious test shall ever be required as a qualification to any office or public trust under the United States," Republican presidential candidate and retired neurosurgeon Ben Carson this weekend said that a Muslim should not be elected president of the United States. And according to a June Gallup poll, 38 percent of Americans agree. Read more
---
DiversityInc.: Ignorance, not anti-semitism, blamed for TV station's offensive Jewish symbol
(Sept. 24, 2015 | DiversityInc.) - During the Jewish holiday of Yom Kippur — the holiest day of the year in Judaism, during which Jews atone for their sins and ask forgiveness from those they've hurt in the past year — it was Chicago television station WGN that was seeking forgiveness from the Jewish community. Read more
---
The most and least racially diverse U.S. religious groups
By Michael Lipka
(July 27, 2015 | PewResearch.Org) - The nation's population is growing more racially and ethnically diverse – and so are many of its religious groups, both at the congregational level and among broader Christian traditions. But a new analysis of data from the 2014 Religious Landscape Study also finds that these levels of diversity vary widely within U.S. religious groups. Read more
---
Thousands of NYC Catholics say goodbye to their Churches
By Zaira Cortes
(July 28, 2015 | Voices of NY) - His gray hair drenched in sweat and his cheeks red from the midday humidity, Aníbal Cordero, 73, barely lifts his eyes from the second-hand furniture he is carefully dusting off in front of the Church of the Holy Agony in El Barrio. Read more
---
41% of #LGB adults do not have any religious affiliation
By Caryle Murphy
(May 26, 2015 | Pew Research Center) - Although many lesbian, gay and bisexual (LGB) adults feel that most major faiths are unwelcoming to their community, a majority of LGB adults are religiously affiliated, according to a new Pew Research Center study. But they are much less likely to be Christian than the general public and are more drawn to smaller, non-Christian denominations.

About 5% of the 2014 Religious Landscape Study's 35,000-plus respondents identified themselves as members of the LGB population. Of that group, 59% said they are religiously affiliated. But only 48% of them reported belonging to a Christian faith group, compared with 71% of the general public. Read more
---
'The New Black' opens new dialogue about LGBT and religion in black community
By Kimberly Winston
(May 15, 2015 | Religion News Service) - Is gay marriage a civil right like black equality? Or is it a sin African-Americans should condemn?
That's the question at the heart of "The New Black," a documentary by filmmaker Yoruba Richen that examines African-American attitudes toward LGBT people leading up to Maryland's public referendum on gay marriage in 2012. Read more
---
Millennials pushing the sharp rise of the religiously unaffiliated in US
By Michael Nam
(May 15, 2015 | DiversityInc.) - America has the largest population of affiliated Christians in the world, but recent data shows a clear trend of people increasingly leaving organized Christianity while secular and other faiths see an uptick in their ranks. The fastest rate of decline seems to be among the millennial generation, a population that has recently been shown to be more open to social change on issues such as LGBT rights and marriage equality. Read more
---
Bangladesh's secularism under threat
By Kazi Anis Ahmed
(April 16, 2015 | Wall Street Journal) - The brutal recent murders of two bloggers, Avijit Roy and Oyasikur Rahman, have drawn global attention to rising Islamist violence in Bangladesh. Roy was a published author, whereas Rahman's audience was confined mainly to readers of his online posts. What they had in common was an outspoken critique of religiosity and a history of tangling with Islamists online. Yet contrary to first appearances, the killings may be a symptom of the Islamists' increasing weakness and desperation. Read more
---
The future map of religions reveals a world of change for Christians, Muslims and Jews
By Cathy Lynn Grossman

(April 2, 2015 | RNS) - Muslims will overtake Christians by the end of this century. India, now mostly Hindu, will become the world's largest Muslim country.

The numbers of people with no religious identity will soar in the United States and Europe, but the unaffiliated will lose worldwide market share as Christians maintain a steady growth.

All these changes are drawn from the Pew Research Center's new  projections, released Thursday (April 2), that map global faith traditions and how they're likely to shift by 2050. Read more
---
Growing religious majority supporting same-gender marriage
By Michael Nam
(March 23, 2015 | DiversityInc.) - Anti–marriage-equality conservatives don't have a monopoly on God, or so the Presbyterian Church (U.S.A.) would tell everyone.
In a recent vote to amend the definition of marriage in its Book of Order, the church changed language to read, "Marriage involves a unique commitment between two people, traditionally a man and a woman, to love and support each other for the rest of their lives." The phrase "between two people, traditionally a man and a woman" had previously read "between a man and a woman." Read more
---
#muslimlivesmatter: Chapel Hill shooting and the mainstream media
(Feb. 11, 2015 | New America Media via Arab American Media) - It took the mainstream media an entire day to report on a possible hate crime that claimed the lives of three Muslim students in Chapel Hill, North Carolina. Deah Shaddy Barakat, 23, of Chapel Hill; his wife Yusor Mohammad, 21, of Chapel Hill; and her sister Razan Mohammad Abu-Salha, 19, of Raleigh, were all shot dead on Tuesday before their suspected killer turned himself in at 5 p.m. Read more
---
Research


New media and communication across religions and cultures

The connection of interfaith and intercultural understanding stems from a conceptual foundation on the dialogue between religions and cultures. These types of conversation are essential for the clarification and reflection of practical opportunities and challenges that these exchanges are facing. New Media and Communication Across Religions and Cultures offers a unique opportunity in both the social sciences, humanities, and communication fields to provide concrete concepts and notions in the areas of inter-religious and inter-cultural dialogue. By exploring this empirical research of relevant experiences, this book is important for researchers, practitioners, and students in varied fields of philosophy, sociology, cultural studies, media students, law, and more.

Source Information
Byline/Author(s)/Organization: Isaac Nahon-Serfaty and Rukhsana Ahmed
Name of Publication/Publisher/Name of Conference: IGI Global
Publication Information (Date/ Volume, Number, Year/ Year): January 2014
URL (if applicable): http://www.igi-global.com/book/new-media-communication-across-religions/84271
Retrieved/Access Date: February 16, 2015
Place of Publication/Conference City (for book and conference paper only): Hershey, PA
Total Page No. (for book only): 328 page
---
Research


Media Framing of the Muslim World: Conflicts, Crises and Contexts

Media Framing of the Muslim World is a fascinating account of how news about Islam and the Muslim world is produced and consumed, and how it impacts on relations between Islam and the West. The topics addressed in this book include how news values and media frames contribute to Western audiences' perceptions and understandings of Islam and Muslims; the extent to which historic conceptions of orientalism remain salient and are manifested in Islamophobia; how reporting on terrorism and asylum seekers impacts on public opinion and policy making; how the relationship between mass and social media contribute to the changing socio-political landscape of the Middle East and our understanding of the Muslim world; and how journalism and audiences have evolved in the decade since 9/11. Together, these topics make essential reading for scholars, students and anyone interested in the Western media's coverage of the Muslim world and its impact on Islam-West relations.

Source Information:
Byline/Author(s)/Organization: Halim Rane, Jacqui Ewart, John Martinkus
Name of Publication/Publisher/Name of Conference: Palgrave Macmillan
Publication Information (Date/ Volume, Number, Year/ Year): June 2014
URL (if applicable): http://www.palgrave.com/page/detail/media-framing-of-the-muslim-world-halim-rane/?K=9781137334817
Retrieved/Access Date: January 20, 2015
Place of Publication/Conference City (for book and conference paper only): New York, New York
Total Page No. (for book only): 216 pages
---
100 Questions & Answers about Muslim Americans
By Joe Grimm
(Jan. 29, 2015 | Maynard Institute) - Last summer, terrorists stepped up attacks in the name of Islam and a Pew Research "thermometer" study showed that American feelings toward Muslims were growing cooler. The Michigan State School of Journalism decided that its next Bias Busters cultural competence guide would be "100 Questions and Answers About Muslim Americans." The guide was published in November. Read more
---
France, Islam, terrorism and the challenges of integration: Research roundup
(Jan. 17, 2015 | Journalist's Resource) - After the January terrorist attacks in Paris — the brutal murder of 12 people at the satirical news outlet Charlie Hebdo, including four journalists and two police officers, followed by the killing of a policewoman and then four hostages at a Kosher supermarket — French society continues to take stock of what it all means for the country. Immediately after the Charlie Hebdo killings there were hundreds of spontaneous mass demonstrations across Europe condemning the senseless violence, defending the liberty of the press and urging tolerance. Read more
---
Why don't Jewish lives matter?
By Lev Raphael
(Jan. 18, 2015 | HuffPost Blog) - The Charlie Hebdo massacres highlighted two different cultures to Americans. The first was already way too familiar: Islamic fundamentalism that drives disaffected young men and women to insane violence -- in this case, the massacre of cartoonists who they felt mocked their religion. Read more
---
12 powerful political cartoons responding to the Charlie Hebdo attack
By Libby Nelson
(Jan. 7, 2015 | Vox) - Political cartoonists around the world are tweeting their response to the massacre at the French newspaper Charlie Hebdo, where armed gunmen killed four French cartoonists. Read more
Related stories:
You don't have to support Charlie Hebdo's cartoons to support free expression (Jan. 8, 2015 | Religion News Service)
Why the Charlie Hebdo attack is not about images or free speech (COMMENTARY) (Jan. 8, 2015 | Religion News Service)
---
Is Islam to blame for the shooting at Charlie Hebdo in Paris?
By Nicholas Kristof
(Jan. 7, 2015 | The New York Times) - The French satirical newspaper Charlie Hebdo skewers people of all faiths and backgrounds. One cartoon showed rolls of toilet paper marked "Bible," "Torah" and "Quran," and the explanation: "In the toilet, all religions." Read more
Related Stories
Muslims on edge after Paris terrorist attack on satirical magazine (Jan. 7, 2015 | Religion News Service)
Muslims around the world condemn Charlie Hebdo attack (Jan. 7, 2015 | The Huffington Post)
---
Bay Area Muslim panels try to shed a light on a diverse religious group
By David Early
(Oct. 4, 2014 | MercuryNews.Com) - Nearly 13 years since the Sept. 11 terrorist attacks, Muslims in America -- and the 250,000 living in the Bay Area -- still face fear, reprisals and a variety of misunderstandings that make daily life continuously difficult. Read more
---
Young Muslims take to social media to condemn ISIS
(Sept. 23, 2014 | The Straits Times) - Muslim youths around are using social media to denounce the militant Islamic State in Iraq and Syria, using the hashtag #NotInMyName on Twitter and other sites, according to web reports. Read more
---
Iran's leaders fight over 'immoral' mobile Internet

President Rouhani is fighting religious conservatives to expand internet access and stop social media censorship
By Zachary Davies Boren
(Sept. 1, 2014 | International Business Times) - Iran's President Hassan Rouhani has refuted claims from a prominent cleric that high-speed mobile internet is immoral and un-Islamic, urging religious leaders not to "close the gates to the world." Read more
---
Online, offline faith go hand in hand
By Cathy Lynn Grossman
(Nov. 6, 2014| RNS) - God bless online media. Almost half of U.S. adults (46 percent) say they saw someone sharing "something about their faith" on the Internet in the last week. And one in five (20 percent) say they were part of the Internet spiritual action on social networking sites and apps — sharing their beliefs on Facebook, asking for prayer on Twitter, mentioning in a post that they went to church. Read more
---

MLK's daughter seeks nonviolent Ferguson response
By Elisa Crouch
(Aug. 27, 2014 | RNS) - The youngest child of the Rev. Martin Luther King Jr. leaned toward the 30 students facing her inside the library at Riverview Gardens High School on Tuesday (Aug. 26). Many of them live near the epicenter of the chaos that erupted in Ferguson. It's why Bernice King chose this school for this discussion. Read more
---
On Rosh Hashanah, Israelis welcome a more diverse set of Jews
By Jacob Wirtschafter
(Sept. 24, 2014 | Religion News Service) - At Beit Daniel, a Reform synagogue in Israel's secular metropolis, 75 members gather for the Friday evening Sabbath service, led by a female rabbi and a guitar-strumming cantor. Read more
---
Atheist coalition wants you to know they are 'Openly Secular'
By Kimberly Winston
(Sept. 24, 2014 | RNS) - A new coalition of atheists, humanists and other nonreligious groups is taking a page from the gay rights movement and encouraging people to admit they are "openly secular." Read more
---
Muslim scholars tell Islamic State: You don't understand Islam
By Lauren Markoe
(Sept. 24, 2014 | Religion News) - More than 120 Muslim scholars from around the world joined an open letter to the "fighters and followers" of the Islamic State, denouncing them as un-Islamic by using the most Islamic of terms. Read more
---
Jewish life before the Holocaust in thousands of never-seen photos
By Lauren Markoe
(Aug. 29, 2014 | RNS) - In 1920, a young Jewish man with a keen eye fled anti-Semitism in his native Russia, arrived in Berlin and began snapping pictures. Roman Vishniac would go on to become one of the 20th century's great photographers. Read more
---
London rally will call for zero tolerance of anti-Semitism, Islamophobia
By Trevor Grundy
(Aug. 29, 2014 | RNS) - Leaders of Britain's small but vocal Jewish community will call on the government, police and public to show zero tolerance for anti-Semitism and Islamophobia at a rally outside the Royal Courts of Justice in central London on Sunday (Aug. 31). Read more
---
After kidnapping schoolgirls, Boko Haram takes aim at churches in northeast Nigeria
By Fredrick Nzwili
(Sept. 2, 2014 | RNS) - Five months after Boko Haram abducted more than 200 girls in Nigeria's Borno State, the Islamic extremist group has begun occupying churches in the country's northeastern region, church officials there said. Read more