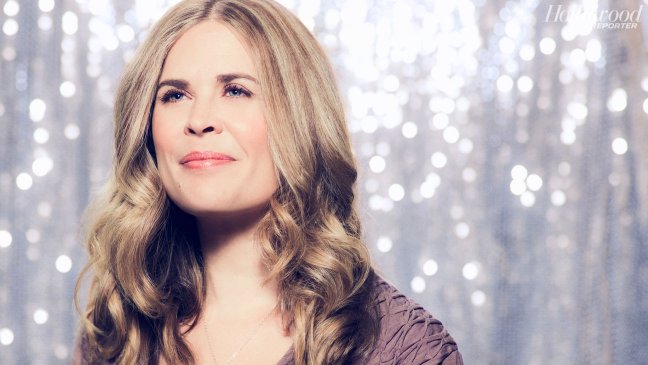 Ramona Rosales (via Hollywood Reporter)
'Frozen' director hopes her movie will inspire more women in creative leadership
By Hilary Lewis
(March 21, 2014 | Hollywood Reporter) - Frozen director Jennifer Lee became Disney Animation's first female director when she co-helmed the hit movie with Chris Buck. It's a change that she told CBS This Morning was long overdue and hopefully leads to more shifts in front of and behind the camera. Read more
Will Hollywood's depressing treatment of women ever change?
By Alyssa Rosenberg
(March 11, 2014 | The Washington Post) - It's the time of year when a host of organizations release their findings about how the movie industry treats women both behind the camera and in front of it, and as usual, the results are depressing. Read more
Women buy half of all movie tickets, but that doesn't mean more female characters
(March 27, 2014 | Slate.Com) - The Motion Picture Association of America released its annual report on moviegoer demographics this week, and women are well-represented in the seats. Last year, women made up 52 percent of the moviegoer population and bought half of all tickets sold.
Those numbers prompted Women and Hollywood to put pressure on Hollywood studios to better reflect its audience on the big screen: "So again, we ask, if women are going to the movies more than men, why do only 15% of the films star women?" Melissa Silverstein wrote. Read more
Campaigners welcome 'milestone' agreement at UN gender equality talks
By Liz Ford
(March 23, 2014 | TheGuardian.Com) - UN Member states have agreed that gender equality and women's rights must be prioritised in future discussions on what should be included in the next set of sustainable development goals.
After two weeks of negotiations in New York, the Commission on the Status of Women (CSW) ended in the early hours of Saturday morning with an agreement that called for the acceleration of progress towards achieving the millennium development goals, and confirming the need for a stand-alone goal on gender equality and women's empowerment in the set of international targets that will be introduced once they expire in 2015. Read more
Maybe it's time for employers to stop neing so sexist when women ask for raises
By Amanda Hess
(March 28, 2014 | Slate.Com) - This week, the New York Times published a salary negotiation guide for women. The primer aims to help female employees ask for raises with a careful blend of masculine aggression and feminine deference that's been proven to disarm employers who secretly hate women who act like men, or women who act like women, or women who act like themselves. Read more
Judge to female lawyers: Love your cleavage, but "tone it down" to avoid looking like a "slut"
By Amanda Hess
(March 27, 2014 | Slate.Com) - Last week, I wrote about the confusing, conflicting standards that dictate how female lawyers ought to dress in court. Are pantsuits acceptable, or should women stick to skirts? How about dresses? With or without a jacket? Should that jacket's cut be boxy or more feminine? And is pink ever OK? The answer depends on the personal tastes of the judge, the stature of the court, and the region of the country it's in—and those gradations add up to an unclear and unfair expectation for women in the courtroom. Read more
Even in supposedly highbrow publications, powerful women are objectified by male journalists who clearly feel threatened by them
By Bronwen Clune
(March 20, 2014 | The Guardian) - A few years ago, while enjoying the indulgence of the weekend newspaper, I was troubled to discover that Marieke Hardy had, among other fine qualities, "nice tits". This was according to a piece in the Sydney Morning Herald's supplement Good Weekend (not online), written by John van Tiggelen, who even verified the fact with Hardy's housemate. Read more
Women still missing in sciences -- what it means for business
By Kathryn B. Vasel
(March 19, 2014 | Fox Business) - Shedding negative stereotypes and reaching gender parity in the sciences would create an additional 300,000 additional doctors in sciences a year, according to a new survey. Read more
Related story: Sexism in the technology industry: the website that says it all (The Guardian, March 28, 2014)
"Paycheck to Paycheck": Maria Shriver found the most sympathetic poor woman in America
By L.V. Anderson
(March 17, 2014 | Slate.Com) - Monday night, the Maria Shriver–produced documentary Paycheck to Paycheck: The Life and Times of Katrina Gilbert will premiere on HBO. (It will also be available to stream for free all week.) The film is the most visible component of the Shriver Report, Shriver's campaign to draw attention to poverty's outsized effect on American women. Forty-two million women live in poverty, the Shriver Report informs us, and 28 million children. Paycheck to Paycheck takes a microscopic view of this vast problem, chronicling a year in the life of one Tennessee woman and her three young kids. Read more


Gender equality in the US House: A state-by-state quarter-century report card (1989-2014)
By Eric Ostermeier
(March 17, 2014 | Humphrey School of Public Affairs) - A study of 5,325 congressional elections finds the number of female U.S. Representatives has more than tripled over the last 25 years, but the rate at which women are elected to the chamber still varies greatly between the states. Read more
Social media and self esteem: Study links spending time on Facebook
and eating disorder
By Katy Waldman
(March 14, 2014 | Slate.Com) - The American Academy of Facial Plastic and Reconstructive Surgery recently surveyed a group of its 2,700 members and discovered that 1 in 3 doctors saw an uptick in procedure requests for 2013. The researchers attributed the rise in part to "patients being more self-aware of looks in social media." Read more
Sali Hughes: No make-up selfies on Facebook will not beat cancer alone (TheGuardian.Com)
"Pink Ghetto": How do women end up in women's media?
By Jessica Grose
(March 19, 2014 | Slate.Com) - Feministing highlights a chart about who writes what in newspapers and magazines, which uses data from the Op-Ed Project. Its results are not especially surprising, even if they are dismaying: Female journalists continue to dominate coverage of family and gender issues, and men continue to dominate coverage of everything else (save "style," which has a 50/50 gender byline split). Read more
Mummy blogs get glamorous makeover
By Zoe Wood
(March 15, 2014 | The Guardian) - Does my bump look good in this? It's a question that preys on the mind of the heavily pregnant fashionista. But help is at hand, thanks to new glossy magazine-style blogs aimed at expectant and new mums more concerned with keeping up with the front row than the hand-wringing of their ante-natal group. Read more
---
How not to talk about the culture of sexual assault
By James Hamblin
(March 29, 2014 | The Atlantic) - "I don't think we've ever done this on this program before," Jian Ghomeshi began his show on Tuesday. His daily radio hour, Q, airs in Canada on CBC, and also reaches an international audience in syndication and as a popular podcast. "It has been quite a 24 hours of an outpouring of reactions to our program yesterday … There has been a lot of anger directed toward this show," Ghomeshi said. He began reading some of those reactions. Read more
How to remove gender bias from the hiring process
By Will Yakowicz
(March 18, 2014 | Inc.) - A new study finds that when equally qualified male and female candidates apply for a job, managers are much more likely to hire the man. Read more
Must every young-adult action heroine be petite?
By Julianne Ross
(March 21, 2014 | The Atlantic) - In a week when the Republican Party marked the one-year anniversary of its reset strategy with women,  Democratic  candidates, particularly women, are hammering their male opponents over equal pay and other women's issues, hoping to drive up turnout and support among "breadwinner moms," a key voting bloc in high profile races across the country. Read more
International Women's Day: More than just a cover story
By Jane Martinson
(March 6, 2014 | The Guardian) - If it weren't for the colour of the veil, this could be any other popular glossy aimed at women getting married. But in place of the traditional white, the beautiful young girl staring from the cover wears a black veil and, instead of a smile, she wears a look of pure fear. Read more
Facebook now offers more than 50 custom gender identifiers
By Will Oremus
(Feb. 13, 2014 | Slate.Com) - Facebook on Thursday added more than 50 custom gender options for users who don't identify simply as "male" or "female." While this was welcome news to LGBTQ advocates, the company did not publish a list of all the options, leaving users to begin typing into an empty text field in order to bring up a drop-down menu of autocomplete choices. Read more
The wage gap between men and women
By Samantha Grossman
(March 6, 2014 | Time) - We all know that women tend to earn less than men, but this infographic illustrates just how much less. The graph at the top shows how the average pay gap across the European Union has fluctuated over recent years, and the map below shows the percentage difference between male and female wages in nations across the globe. Read more
Google Doodle gets it right for International Women's Day