India's Daughter . . .
(Source: Women Make Movies) - India'S Daughter is the powerful story of the 2012, brutal gang rape on a Delhi bus of a 23 year old medical student, who later died from her injuries. In 2012, it made international headlines and ignited protests by women in India and around the world. This month India's government banned the film while the BBC moved their planned broadcast up by days and ignited a new controversy. BAFTA winning filmmaker Leslee Udwin, herself a victim of rape, went to India inspired by the protests against sexual assault. Read more
---
'Not There' campaign removes women from Ads for International Women's Day
By Sydney Ember
(March 8, 2015 | The New York Times) - Women across New York had vanished.
Rosie the Riveter disappeared from her iconic poster in a bus shelter. Serena Williams faded from a giant Beats billboard in Times Square. Gone was Scarlett Johansson from the March cover of Condé Nast's W magazine. Read more
---
Cannes Glass Lion roars for gender equality: 5 questions with Cindy Gallop
By Sheila Shayon
(March 9, 2015 | Brand Channel) - Celebrating creativity that shapes culture in a positive way, the Cannes Lions Festival of Creativity's newest award, the Glass Lion, "is a revolutionary new award for work addressing the misrepresentation of gender in marketing," according to the Festival. "It's a chance to Festival of Creativity showcase campaigns driving change across the industry and society." Read more
---
Patricia Arquette's feminism: Only for white women
By Amanda Marcotte
(Feb. 23, 2015 | Slate.Com) - It's easy to laugh at the timid way that celebrities frequently wade into feminism, offering pat statements scripted by a team of public relations experts to be as nonoffensive as possible. But Patricia Arquette's performance at Sunday night's Oscars shows exactly why that's the best way to go. Read more
Related Article:
Patricia Arquette's remarks explain why some black women don't call themselves feminists (The Washington Post | Feb. 24, 2015)
---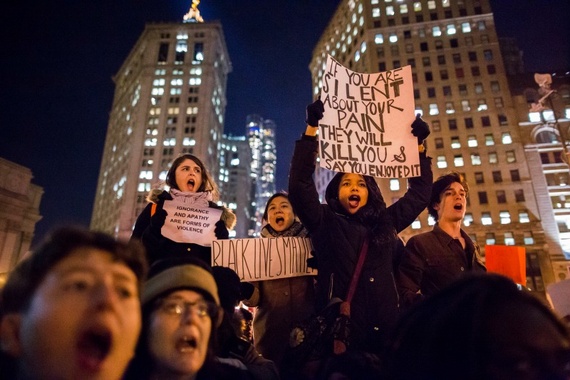 The women of #BlackLivesMatter
By Noah Berlatsky
(Jan. 27, 2015 | Atlantic.Com) - On August 9, Johnetta Elzie ("Netta" for short) was on Twitter scrolling through her timeline when a friend tweeted her to tell her that a black teen, Michael Brown, had been killed near where she lived in St. Louis, and that his body was still lying on the ground. Read more
---
Top 5 moments for women of Super Bowl XLIX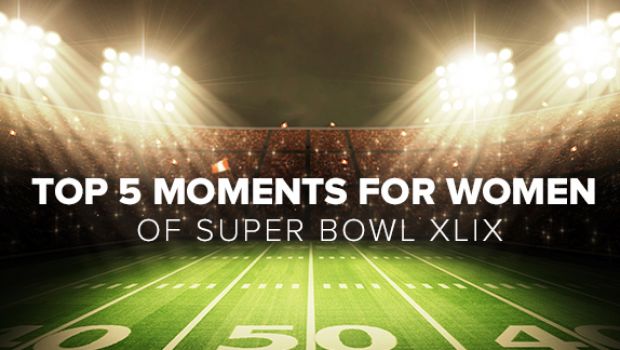 Click on the link to read the story.

Source: MAKERS Team (Feb. 2, 2015)
---
Iconic film 'Thelma & Louise' drives new Utah-based short film contest
By Ellen Fagg Weist
(Jan. 30, 2015 | The Salt Lake Tribune) - For more than 20 years, Geena Davis has been hearing questions about her role in the iconic 1991 film "Thelma & Louise." Perhaps her favorite comment is when movie fans ask about a sequel. A sequel, that is, after the pair drove their convertible off Utah's Dead Horse Point — a scenic stand-in for the story's Grand Canyon setting. Read more
---
Anita Sarkeesian launching new video series focused on masculinity in games
By Stuart Dredge
(Jan. 27, 2015 | The Guardian) - Cultural critic Anita Sarkeesian is planning to follow her Tropes vs. Women in Video Games YouTube series with a new project in 2015 exploring representations of men and masculinity in games. Read more
WMC FBomb appoints high school seniors as new associate editors
(March 9, 2015 | Women's Media Center) - The Women's Media Center is pleased to announce that high school seniors Vicki Soogrim and Chloe Hallinan have been appointed the new Associate Editors of the WMC FBomb. Read more
---
Witherspoon's #AskHerMore campaign to push reporters ask questions beyond actresses' attire
By Vanessa Golembewsk
(Feb. 22, 2015 | Refinery29) - Though the Representation Project launched the #AskHerMore campaign during the 2014 awards season, the Twitter movement has really come into focus this year. #AskHerMore is all about getting better interviews for women — ones that don't focus on what actresses are wearing, but on their career, achievements, and goals. Tonight, Reese Witherspoon took to both social media and her interview with ABC's Robin Roberts to address this very issue. Read more
---
The powerpuff girls redefined what little girls are made of
By Lenika Cruz
(Feb. 21, 2015 | The Atlantic) - The creation myth of The Powerpuff Girls is derived from a nearly 200-year-old English nursery rhyme called "What Little Boys Are Made Of" ("Snips, snails, and puppy-dogs' tails," if you were wondering). The old-timey reference to "sugar, spice, and everything nice" mentioned in the opening credits may feel fitting nearly 10 years after Cartoon Network canceled the wildly popular show. After all, The Powerpuff Girls relied on a slew of tropes that may come off as a touch regressive, if mostly harmless, namely an occasionally cloying cutesiness, and stereotypically feminine visual elements like hearts, flowers, and stars. Read more
---
Only 14% of major fashion mag covers featured a woman of color last year
By Marjon Carlos
(March 2, 2015 | Fusion) - The numbers don't lie: Though we saw six major mainstream magazine March 2015 covers featuring bold-faced black female entertainers, last year, only 14% of major fashion mag covers featured women of color. According to census numbers, non-white minorities — black, Asian, Hispanic, etc. — make up at least 37% of the population. American fashion magazines are doing a poor job of reflecting America's diversity. Read more
Related Story:
Why fashion magazines matter (Source: The Atlantic | Feb. 12, 2015)
---
A-Force assemble! All-female superhero team on the way from marvel
(Feb. 10, 2015 | C|Net Magazine) - This summer, the Marvel Universe gets a big dose of XX-chromosome power with the A-Force. Green mean machine She-Hulk leads this team of female superheroes in the wake of the Avengers break-up during Marvel's Secret Wars. Read more
---
Study finds fewer female protagonists in Hollywood's top films
By Cara Buckley
(Feb. 9, 2015 | Carpetbagger Blogs, The New York Times) - One of The New York Times's most emailed articles this weekend, headlined "Madame C.E.O., Get Me a Coffee," detailed what the authors called "the sad reality in workplaces around the world: Women help more but benefit less from it." Read more
---
Jane Fonda: Shame studios that don't hire women directors
By Ben Child
(Jan. 27, 2015 | Guardian.Com) - Two-time best actress Oscar-winner Jane Fonda has said Hollywood studios that maintain gender-biased policies deserve to be publicly shamed. Read more
Related Article:
Sundance: Brit Marling on the Shift for Women in Hollywood
---
The Megyn Kelly moment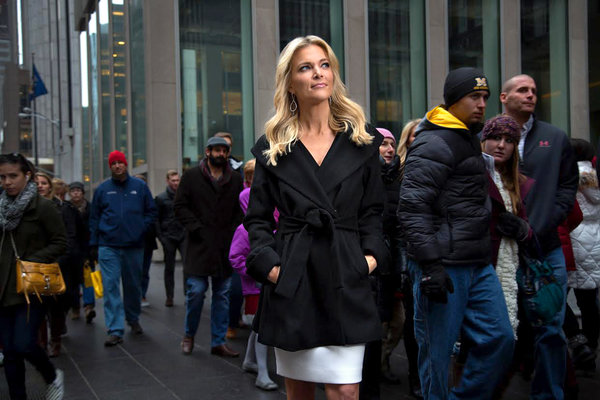 By Jim Rutenberg
(Jan. 21, 2015 | The New York Times) - On a gray Wednesday in November, the Fox News anchor Megyn Kelly and four producers gathered around a conference table on the 17th floor of the News Corporation building in Manhattan. They were there to plan the 281st episode of "The Kelly File," which would be shown live in a few hours, at 9 p.m. Kelly's executive producer, Tom Lowell, a 25-year veteran of TV news, ticked through the program blocks, the between-commercial bits that are the basic unit of television programming. Read more
---
Netmums founder launches YouTube network for British 'mummy vloggers'
By Stuart Dredge
(Jan. 28, 2015 | The Guardian) - The co-founder of parenting website Netmums is launching a new YouTube network called Channel Mum, aiming to find an audience of British mothers and turn some of them into online video stars. The new multi-channel network (MCN) will sign a roster of "mummy vloggers" in the UK and help them build their audiences, while working with popular brands to sponsor their videos. Read more
---