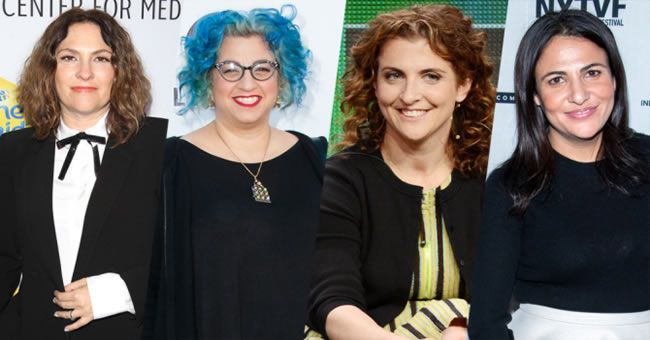 Female showrunners dominate Golden Globes' TV comedy race
By Geoff Berkshire
(Dec. 11, 2014 | Variety) - There are many firsts in this year's Golden Globe nominations, but among the most remarkable is a subtle sea change in the best TV comedy series field. Not only are four of the five contenders first-time nominees (second-season series "Orange Is the New Black" was entered as a drama last year and missed the field), but four of the five are overseen by female showrunners. Read more
---
2014: a year of brave, inspiring, young feminists
By Laura Bates
(Dec. 18, 2014 | The Guardian) - In a year of incredible achievements for the movement and general feminist kick-assery, a wave of young women has demonstrated exactly why the future looks bright for gender equality. It's impossible to list them all, but here are a few of the trailblazers. Read more
---
Urban Outfitters told to remove online ad featuring 'too-skinny' model
By Lindsey Bever
(Jan. 6, 2015 | The Washington Post) - Advertising regulators told Urban Outfitters Europe to pull an online underwear ad from its United Kingdom site that featured a skinny model, saying her "inner thigh gap" promoted an image that was "irresponsible and harmful." Read more
---
Women rule at President Obama's final press conference of 2014
By Lauren Gambino
(Dec. 19, 2014 | The Guardian) - Women, and only women, asked the questions at Barack Obama's year-end press conference on Friday. At the start of the unusually packed press conference, the US president joked that he would consult a "naughty and nice list" drawn up by his press secretary to determine who to call on. Based on Obama's list, it was a particularly good year for female political journalists. Read more
---
One woman's new tool to stop Gamergate harassment on Twitter
By Taylor Wofford
(Nov. 29, 2014 | Newsweek) - For many members of the public, the amorphous online movement "Gamergate," which earned substantial coverage by the mainstream media and broadcast TV this fall, is over. Its advocates' indignant rage over what they saw as a lack of ethics in video games journalism has fizzled. Perhaps the release of a new title in the popular Call of Duty series has provided a distraction. Or maybe the rage of the movement's members wasn't sustainable in the long run without a smoking gun to hold aloft. Read more
---
What powerful Hollywood women really want (Besides an Oscar)
By Brooks Barnes
(Dec. 10, 2014 | The New York Times) - The campaigning starts in the summer with lunch invitations and not so subtle phone calls. In the fall, corporate publicists send elaborate dossiers that lay out the wonderfulness of their bosses. By the end, sometimes flat-out begging and pleading occur. Read more\
---
Advice for journalists on dealing with online abuse
By Abigail Edge
(Dec. 12, 2014 | Journalism.Co.UK) - A study by the think tank Demos earlier this year revealed female journalists receive roughly three times as much abuse on Twitter as their male counterparts. Demos analysed more than 2 million tweets sent to celebrities, politicians, musicians and journalists over a two-week period. Journalism was the only category where women were more likely to be on the receiving end of Twitter abuse than men. Read more
---
13% of 2014 black list scripts written by women
(Dec. 16, 2014 | IndieWire Blogs) - Kristina Lauren Anderson's Catherine the Great topped the 2014 Black List. Anderson's scripted biopic of the Russian royal was the most popular among the 250 film executives who were polled by Black List organizers. Also in the Black List's top ten were Aether by Krysty Wilson-Cairns, Situation Comedy by Cat Vasko, and Tau by Noga Landau. According to this year's list, women are writing nearly half of the creme de la creme of the screenplays out there (or at least the most liked ones), and yet the numbers remain frustratingly paltry for women screenwriters. Read more
---
Watch Shonda Rhimes' amazing speech on the 'Glass Ceiling'
(Dec. 11, 2014 | Time) - Shonda Rhimes is a game-changer; there's really no disputing the fact that she has made an immense impact the portrayals of women in Hollywood. Read more
---
Article on how wives can keep husbands happy is going viral
By Charlotte Alter
(Dec. 11, 2014 | Time) - An article entitled "5 Ways You Are Unknowingly Destroying Your Husband and Killing Your Marriage," published on FamilyShare.com is going viral, with almost five million views so far. Read more
---
Trolls are outing UVA's "Jackie." That's Rolling Stone's fault too.
By Hanna Rosin
(Dec. 8, 2014 | Slate.Com) - It's probably inevitable that the name of the victim from Rolling Stone's story about gang rape at the University of Virginia would come out. Once again, we have Rolling Stone to blame for that. In the story, reporter Sabrina Rubin Erdely called her subject by the name "Jackie," which I think many reading the story assumed was a pseudonym (many of the other characters in the piece go by pseudonyms). Read more
Related Articles:
Everything Rolling Stone did wrong: How it should have protected Jackie from getting torn apart by trolls (Dec. 8, 2014 | Salon.Com)

The Newsroom tackles campus rape, and the results are horrifying (Dec. 8, 2014 | The Atlantic)

A Newsroom writer says Aaron Sorkin yelled at her over rape plot (Dec. 8, 2014 | Time)
---
Wonder Woman: the feminist
By Jill Lepore
(Dec. 5, 2014 | The Guardian) - Wonder Woman is the most popular female comic-book superhero of all time. Aside from Superman and Batman, no other comic-book character has lasted as long. Like every other superhero, she has a secret identity; unlike every other superhero, she also has a secret history. Read more
---
Women in journalism announces Georgina Henry award for innovation
By Guardian Staff
(Dec. 2, 2014 | The Guardian) - Women in Journalism has announced a new annual prize to be presented at next year's Press awards in honour of Georgina Henry, the former deputy editor of the Guardian and one of the founders of the campaigning group. Read more
---

Anti-Rape Video Outrage: Hungarian women's rights groups condemn 'mysogynistic' police video
Related Story:
How not to make a PSA about rape (The Atlantic | Nov. 25, 2014)
---

No one wanted to talk about Bill Cosby's alleged crimes because he made White America feel good about race
By Rebecca Traister
(Nov. 19, 2014 | New Republic) - This spring, I taught a graduate seminar on magazine feature writing. One of the assignments was Robert Huber's 2006 Philadelphia Magazine story, "Dr. Huxtable & Mr. Hyde," a thorough run-down of several rape allegations against Bill Cosby, interwoven with the various charges Cosby himself was leveling at black communities across the nation. Read more
---
Calling out Bill Cosby's media enablers, including myself
By David Carr
(Nov. 24, 2014 | The New York Times) - With public revulsion rising in response to snowballing accusations that Bill Cosby victimized women in serial fashion throughout his trailblazing career, the response from those in the know has been: What took so long? Read more
Related Stories:
Publicly shaming Bill Cosby is the best we can do (Slate.Com | Nov. 18, 2014)
Bill Cosby and drugging: My 34-year-old secret (Salon | Nov. 30, 2014)
Cosby lawyer issues statement; slams media over latest claims (Nov. 24, 2014 | Yahoo! Celebrity)
Why does alleged sexual predator R. Kelly still have a career? (Slate.Com | Nov. 20, 2014)

---
Why did the AP suppress the sexual assault portion of its Bill Cosby interview?
By Amanda Hess
(Nov. 20, 2014 | Slate.Com) - On Nov. 10, the Associated Press released a video featuring Bill Cosby and his wife, Camille, chatting about the collection of African-American art the couple had recently loaned to the Smithsonian. More than a week later, the AP published additional footage from the Cosby sit-down that hadn't made the original cut. Read more


---
A Thanksgiving guide to talking to your relatives about women's issues in the news
By Amanda Marcotte
(Nov. 26, 2014 | Slate.Com) - Affirmative consent, Bill Cosby, feminism—when you sit down to Thanksgiving dinner on Thursday, women's-issues-in-the-news are bound to be on the table. Here's a guide to talking about some of the stickier gender issues that might come up this holiday season to help get you through. Read more


---
More women in senior advertising roles than ever before, study shows
By Mark Sweney
(Nov. 27, 2014 | The Guardian) - The proportion of women holding senior management positions at UK advertising agencies is at its highest for almost two decades, according to a new study.
Women account for a record 25.6% of the 500 roles designated as senior executive management – chairman, chief executive, managing director or partner – according to the Institute of Practitoners in Advertising's 2014 agency census. This compares to 22% in the trade body's 2013 and 2012 reports. Read more
Related Story:
Fairlife's new milk adverts are unoriginal and tediously sexist (Guardian.Com | Nov. 27, 2014)
---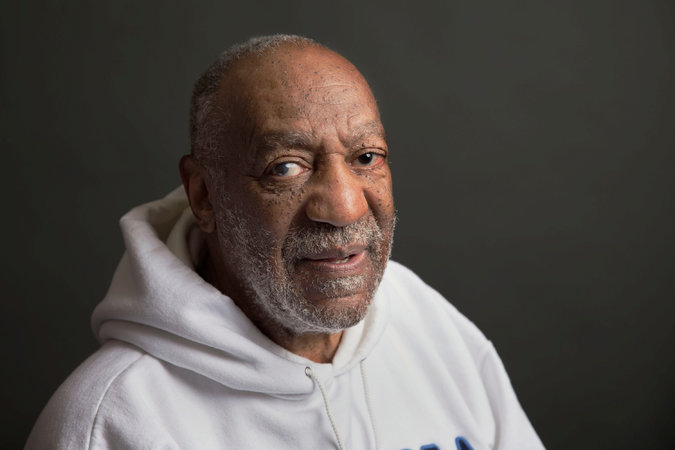 The Cosby Show:

Declining to seriously reckon with the rape allegations against him is reckless. And I was once reckless.
(Nov. 19, 2014 | The Atlantic) - On Monday, 66-year old Joan Tarshis accused Bill Cosby of raping her. Tarshis says the attack took place in 1969, when she was 19 and working as comedy writer: . . .

Tarshis is the fifth woman to publicly accuse Bill Cosby of raping her. There is now a sixth: model Janice Dickinson. In a civil suit brought by Andrea Constand, some 13 women were set to testify that Cosby had raped them too. They ultimately did not testify because Constand settled with Cosby. Tarshis says she was not among those 13, and so the total number of accusers appears to now stand at 15 including Dickinson. Read more
---
Reese Witherspoon takes on Hollywood sexism
Kat Lister
(Nov. 24, 2014 | Marie Claire) - Reese Witherspoon is mad, 'really mad', but exactly how is Hollywood's sweetheart tackling sexism on the big screen? She's taken matters into her own hands and created her own production company. Read more
CNN's Don Lemon criticised for 'insensitive' advice to Bill Cosby rape accuser
By Ed Pilkington
(Nov. 19, 2014 | The Guardian) It was the question that Don Lemon, the CNN anchor, said "I had to ask". Judging from the derision it provoked on Twitter, the consensus of his flabbergasted viewers was: "Oh no you didn't." Read more
---
NBC and Netflix shelve projects with Bill Cosby
By Bill Carter, Graham Bowley and Lorne Manly
(Nov. 19, 2014 | The New York Times) - In the twilight of a long and celebrated career, Bill Cosby was experiencing the kind of comeback few longtime performers enjoy. A new biography described his life and accomplishments. A stand-up comedy special on Netflix, commemorating his 77th birthday, was set for next week. His collection of African-American art became part of an exhibition at the Smithsonian this month. And NBC was exploring a project that would bring him back to prime time, where in the 1980s he became America's pre-eminent TV star with "The Cosby Show." Read more


---
Bill Cosby was accused of rape eight years ago. Why is the story going viral now?

By Sarah Kaplan and Jessica Contrera
(Nov. 18, 2014 | The Washington Post) - "Over the last several weeks, decade-old, discredited allegations against Mr. Cosby have resurfaced. The fact that they are being repeated does not make them true." That statement from Bill Cosby's lawyer was posted Sunday on the comedian's Web page. It was the first response from the Cosby camp since the recent frenzy began over allegations that the entertainer has been a serial rapist. Read more
Related story
Bill Cosby raped me. Why did it take 30 years for people to believe my story? (Nov. 13, 2014 | The Washington Post)
---
Nearly one-third of college men in study say they would commit rape
By Tyler Kingkade
(Jan. 9, 2015 | The Huffington Post) - Close to 1-in-3 collegiate males admitted in a recent study they would force a woman to sexual intercourse, but many would not consider that rape, Newsweek reports. The survey found 31.7 percent of men said they would act on "intentions to force a woman to sexual intercourse" if they could get away with it, but just 13.6 percent said they had "intentions to rape a woman" if there weren't any consequences. Read more
---
Agnès Varda hits out at European cinema's failure to recognise women
By Hannah Ellis-Petersen
(Dec. 14, 2014 | The Guardian) - Agnès Varda, the veteran French film director best known as the mother of the new wave, has made an impassioned plea to see more women celebrated across cinema. Read more
---
Why can't breakfast TV women wear pyjamas, asks Clare Balding
(Dec. 1, 2014 | The Guardian) - Could Clare Balding have the solution to declining breakfast TV ratings?

The BBC presenter says she's fed up of female presenters dressing up "as though they are going to a cocktail party", and puts forward another idea: pyjamas. But just once a week. Read more
---
Our real white male problem: Why Fox News defeats Bruce Springsteen and liberal moralizing every time
By Jim Sleeper
(Dec. 5, 2014 | Salon.Com) - "In the wake of the Ferguson verdict I feel a swirling cocktail of grief, anger and outrage," writes Claudia Horowitz, a spiritual/social activist and interim director of Houston's Rothko Chapel, in the luminous London-based website openDemocracy, "but nothing I'm feeling compares to what people of color are experiencing." Read more
---
U.K.'s new porn laws aren't just out of touch. They're sexist.
By Lauren Razavi
(Dec. 5, 2014 | New Republic) - In a hopeless government attempt to control what Britons get off on, new rules regulating the U.K. porn industry have come into force this week. The Audiovisual Media Services Regulations 2014 imposes restrictions on the content of pornography made and sold within the U.K.—and it does so with a perplexing ignorance about the realities of modern technology. Read more
---
Girl Gone Wild : The rise of the Lone She-Wolf
By Charlotte Alter
(Dec. 8, 2014 | Time) - The first few seconds of Wild sound like sex. You hear a woman panting and moaning as the camera pans across the forest, and it seems like the movie is starting off with an outdoor quickie. But it's not the sound of two hikers hooking up: it's the sound of Cheryl Strayed, played by Reese Witherspoon, climbing a mountain all by herself. Read more
---
International Business Times: Time Magazine apologizes for including 'Feminist' in 2015 word banishment poll
By Dion Rabouin
(Nov. 15, 2014 | International Business Times) - Time Magazine has apologized for including the word "feminist" in its annual list of words to ban for the new year. Read more
---
Shonda Rhimes to receive the Hollywood Reporter's leadership award
(Nov. 11, 2014 | The Hollywood Reporter) - Shonda Rhimes has been tapped to receive The Hollywood Reporter's Sherry Lansing Award at its 2014 Women in Entertainment Breakfast. Read more
---

Eye on education: Program teaches girls how to control media and message
By Paula Ebben
(Nov. 17, 2014 | CBS Boston) - Every day we are bombarded with images in magazines, on TV, and online. And those images can shape a young girl's self-esteem before she even understands what she's looking at. Read more
---

Glamour's girl project will focus on sending girls to school
By Christine Haughney
(Nov. 9, 2014 | The New York Times) - On Monday night at its annual Women of the Year Awards dinner, Glamour is set to announce the Girl Project, a collaboration with four nonprofits to raise money for girls to help them attend secondary school. Cindi Leive, Glamour's editor in chief, said that the magazine started this initiative in part because of recent world events, including the girls kidnapped from their school in Nigeria and the many schools damaged in Gaza. Read more
---
The topics dystopian films won't touch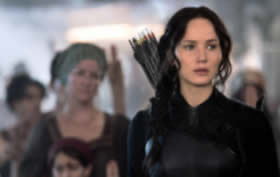 By Imran Siddiquee
(Nov. 19, 2014 | The Atlantic) - Since the release of The Hunger Games in 2012, dystopian cinema has enjoyed sustained interest in American culture. Popular young adult novels are being turned into blockbuster Hollywood films every few months, it seems, and with good reason: Beyond their built-in teen fan base, films like Divergent, The Giver, and The Maze Runner draw on some of adult society's greatest fears of the moment: Is technology tearing us further apart? Will global warming destroy the planet? Will income inequality further create a world of haves and have-nots? Read more
---
It's not your kids holding your career back. It's your husband.
By Jessica Grose
(Nov. 18, 2014 | Slate.Com) - Almost a decade ago, the writer Linda Hirshman exhorted ambitious women to marry men with less money or social capital than they had. In articles and her book, Get to Work, she told women that they should avoid ever taking on more than half of the housework or child care. How to do it? Either marry a man who is extremely committed to equality, or do what she says is the easier route and "marry down." Hirshman explained in the American Prospect that such a choice is not "brutally strategic," it's just smart. "If you are devoted to your career goals and would like a man who will support that, you're just doing what men throughout the ages have done: placing a safe bet." Read more
---

Can these feminists fix Twitter's harassment problem?
By Amanda Marcotte
(Nov. 7, 2014 | Slate.Com) - The feminist media group Women Action Media, known as WAM!, has recently announced a new collaboration with Twitter to tackle the ongoing problem of misogynist Twitter harassment. (Full disclosure: I've DJ-ed fundraisers for WAM! in the past.) "A recent Pew research study found that fully 25 percent of young women have been sexually harassed online and 26 percent have experienced stalking," writes WAM! leader Jaclyn Friedman. Read more
---

Reddit now has a female CEO. Will she make Reddit less horrible to women?
(Nov. 14, 2014 | Slate.Com) - And just like that, Reddit—Reddit, of all companies—has a female CEO. Nitasha Tiku at Valleywag reports that Yishan Wong resigned as Reddit CEO, leaving Ellen Pao, the head of business and partnerships, to take over as interim CEO. Lead investor Sam Altman announced that Wong voluntarily left over a dispute over office space. As for Pao, Altman says, "Because of her combination of vision, execution, and leadership, I expect that she'll do an incredible job." Read more
---
Why don't TV shows and newspapers cater to half their audience – women?
By Laura Bates
(Nov. 13, 2014 | Guardian.Com) - There is a cartoon by the artist Grizelda Grizlingham that shows a group of men sitting around a boardroom table, with only one woman present. The caption reads: "Well, you're the only one who thinks we're a sexist organisation." The woman's face is fixed in a grimace. I can't help but think the cartoon would be equally accurate if a third or even half of the people around the table were women. Because, as recent history has shown, often nothing short of a full-scale campaign is enough to get people to listen to the perspective of "just the women." Read more
---

Arab youth activism for gender equality
By Vickie Langohr
(Nov. 10, 2014 | The Washington Post) - Many of the political changes initiated by the Arab Spring have negatively affected struggles for gender equality. Violence against politically active women has increased, from the "virginity tests" of protesters in Cairo less than a month after Hosni Mubarak's overthrow to the June 2014 assassination of Selwa Bugaighis, a prominent Libyan activist who helped organize the "Day of Rage" protests which started the Libyan uprising and advocated for gender quotas in parliament. Read more
---
Should political sex scandals be news?
By Noah Gordon
(Nov. 12, 2014 | The Atlantic) - In a fascinating piece in this week's New York Times Magazine, Yale professor Beverly Gage uncovers the uncensored version of a letter sent by the FBI's William Sullivan to Martin Luther King Jr. in 1964. In an attempt to discredit the civil-rights leader and drive him from power—and perhaps even to suicide—Sullivan, one of Director J. Edgar Hoover's deputies, warned King in graphic terms that his extramarital affairs were public knowledge. Read more

---
Feminists need to stop sounding false alarms about sexism
By Sally Kohn
(Nov. 13, 2014 | New Republic) - Last week, in his first-ever public Q&A, Mark Zuckerberg was asked why he wears plain gray t-shirts apparently every waking moment of his life. "I'd feel I'm not doing my job if I spent any of my energy on things that are silly or frivolous about my life," the Facebook CEO replied. Read more
---
BBC news chief denies corporation discriminates against older women
By Mark Sweney
(Nov. 11, 2014 | The Guardian) - James Harding, the BBC's director of news, denied that the corporation discriminates against older women and suggested that the issue was largely a "perception problem." Read more
---
What the law can (and can't) do about online harassment
By Marlisse Silver Sweeney
(Nov. 12, 2014 | The Atlantic) - It was late summer when we met, on a patio jutting out onto the Pacific. The night was still warm as I sipped my Gewürztraminer and asked him about his exciting career. His articulate responses drew me in, and I breathed back nerves and adrenaline with the ocean air as we continued this perfect first date. Read more
---